Avid racers looking for petrol-laden thrills in F1 23 are in for the ultimate ride, as developer/publisher duo EA Sports and Codemasters dish out new details on new F1 23 tracks. With the F1 23 release date approaching racers on PS5 and Xbox, the latest glimpse into the construction of the game's many tantalizing circuits reveals a staggering detail about their creations.
Brand new to the F1 23 experience, the first F1 23 Deep Dive episode explains how Las Vegas and Losail are prime examples of the game's attention to detail. "The highly anticipated Las Vegas has been built from the ground up in F1 23, and the game will be the first chance for fans and F1 drivers themselves to experience the track of the race. In-game the track will be as accurate as possible, it was designed from 1000s of reference photos from around Las Vegas," the episode reveals.
When bringing Losail to F1 23 players, the Deep Dive episode clarifies that "for Losail, official farm computer-aided design combined with ArcGIS world atlas aerial imagery, height data, and photogrammetry of the circuit were implemented to create the most accurate presentation of the new track." Furthermore, EA Sports expresses on social media the amount of hard work then goes into bringing these tracks to life in-game: "It took a total of over 2,500 DAYS of cumulative development time to create these two circuits for."
ArcGIS is a "map service [that] presents historical and near real-time traffic information for different regions" around the globe, and can be accessed by developers and members of the public alike. But Las Vegas and Losail aren't the only new tracks making their way into the game, as players can also expect fan favorites such as Portimao, Paul Ricard, and Shanghai.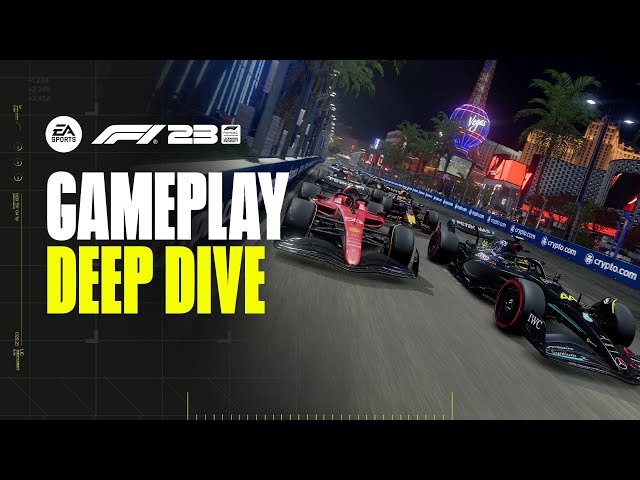 To enhance your experience on these circuits, Codemasters sheds light on the game's refined controls, too. "The balance between aerodynamic grip from the cars and mechanical grip from the tires was fine-tuned to get it much closer to real-life […] the way the engine delivers torque has been refined, making it more progressive-relative to your gear and throttle input."
Precision Drive is a new feature for controller players, which is said to give players a more "precise and rewarding driver experience" on standard controllers. Backed by a multitude of input options, this new feature enables players to tweak virtually any aspect of their input sensitivity and more for an exact setup of your liking.
Though F1 23 crossplay options are yet to be detailed, the forthcoming racer will be a multiplayer bonanza for newcomers and veterans alike and may just end up as one of the best racing games within 2023.