As a Formula One fan who's not quite as good at racing games as he wants to be, I was cautious about jumping into the cockpit for F1 23. While I enjoyed its predecessor, and consider it one of the best racing games of recent times, F1 23 is introducing some new features that strive for more realism. That sounds like a good thing, but with added realism in a precision sport like F1, difficulty often follows.
However, after spending some time racing in a preview build of this game ahead of the F1 23 release date, I'm happy to say that my concerns have been alleviated. This game delivers on the promise of more realism, but doesn't punish players like myself looking for a more casual experience.
If you're wondering how that's actually possible, I find that it boils down to two main factors – one of which is an obvious improvement to the Formula One racing game advertised by this veteran developer, and the other is something rather unexpected given its predecessor: the new vehicle physics, and the traction control assist.
In F1 23, Codemasters has once-again improved the vehicle physics – except this time, it's actually noticeable thanks to the game's improvement to both PS5 DualSense and Xbox Wireless controller inputs. The developer hasn't been keeping these updates a secret, but knowledge of them didn't prepare me for just how much better the gameplay feels in this new racing game. It blew me away, frankly.
When you whip through the quick chicane at the end of Canada's Circuit Gilles-Villeneuve, or navigate the triple-threat of Maggots, Becketts, and Chapel in Silverstone, you really can feel the inertia of the car, but you don't have to wrestle it. The momentum that carries you through these high-speed corners helps you stick to the racing line and it's clear that Codemasters' improvements to aerodynamic physics and car weight mechanics are working perfectly. Last-ditch, inside-line lunges to overtake an opponent have also never felt so satisfying. There's so much more to contend with when it comes to F1 23 on the track, but it never feels overwhelming or inherently harder than it did before.
One thing that helps with that more than most is F1 23's improved traction control assists.
Now, I don't want to be shamed for this, but I play F1 22 with full traction control assists on. Why? Well, because the middling traction control assist options in F1 22 did little to help me string together a complete lap – no matter the AI Difficulty setting. I found the throttle over-sensitive at the best of times, and downright unmanageable everywhen else. However, that's all changed in F1 23.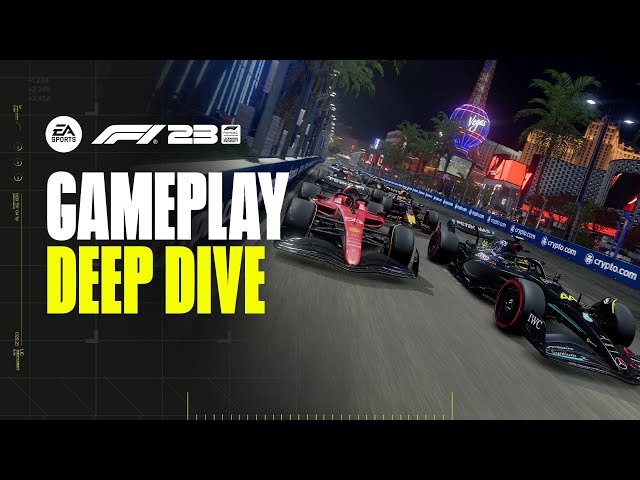 I don't know whether the traction control assist is actually different, or whether this is another benefit of the improved controller input controls, but it's so much better than before. I found it all-too-easy to avoid wheelspin, but – importantly – still something I needed to actively manage when playing with the medium-level traction control assist on.
Sadly, though, as enjoyable as I found my time playing, it isn't all champagne showers on the top step of the podium. The AI drivers are still a problem in F1 23 – at least, when you start ramping up the AI Difficulty setting.
Quite a lot of the time, the AI drivers simply ignore your presence – which is a double-edged sword. It can be a good thing when you're trying to make an unusual overtake, something reminiscent of Alonso's overtake on Hamilton in 2023's Bahrain Grand Prix. However, more often than not, it's a car crash – literally. If you're not giving AI drivers plenty of space, you'll find they have no problems with tapping your back wheel and spinning you out – and then continuing to drive into the side of your car like you're not there.
This is something of a legacy issue for Codemasters' F1 series, so I wasn't expecting the issues to be fully resolved with F1 23. However, it's still a shame to see this tarnish an otherwise quite exceptional experience.
On the whole, I enjoyed what I played of F1 23. Is this going to be one of the best PS5 racing games available? Can it go toe-to-toe with a Forza game and become one of the best Xbox racing games out there? Well, it certainly could. F1 23 is a noticeable improvement on F1 22 – from the driver models and the HUD, to the car physics and the gameplay mechanics. I was only able to race on a handful of tracks offline, so I can't speak for the online experience – or F1 World – just yet. What I have seen, though, is sure to excite Formula One fans.