There's nothing quite like the roar of the stadium in a FIFA game, and you'll be able to experience the same kind of glory in EA Sports FC 24. It is almost time to set foot on the pitch as the EA Sports FC 24 release date approaches, EA Sports takes fans on a deep dive into the new soccer game. Here's what you can expect from the EA Sports FC 24's graphical improvements, matchday experience, and a franchise-first feature.
"Our goal was to make FC 24 really the most immersive and realistic we've ever launched. With the improvements to Frostbite [engine], it's allowed us to bring our players, atmosphere, and stadium to life," says Senior art director Fab Muoio. To enhance those efforts, associate producer Adriano Negri iterates that the game's SAPIEN technology is a huge aid in making FC 24's improvements a reality.
Regarding this technology, Negri says "one of the big changes here is the new player models. We all know every footballer is different and we want to capture those differences, so whether Sam Kerr or [Erling] Haaland or you know, Peter Crouch's lanky frame."
According to a recent statement from EA Sports, SAPIEN technology showcases redesigned player models that include "10x more anatomically precise and correct down to the smallest detail, resulting in smoother animations that reflect the more unique characteristics and body types that make players special."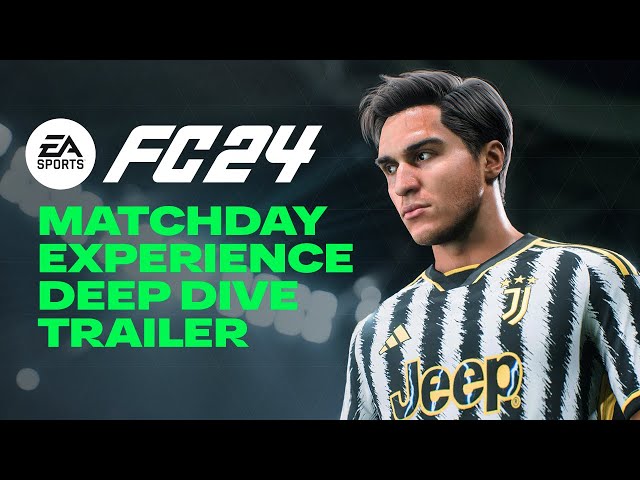 It isn't just the player models that are looking better than ever, though. The fabric of soccer kits is vastly tweaked, offering more realistic reactions, tearing, stretching, and movement in action than seen in titles like FIFA 23. "We completely revamped our cloth system […] it really maintains that athletic form underneath, and just really adds to the overall athleticism of our players," Muoio adds.
Of course, none of this is worthwhile without a proper matchday experience to sink hours of gameplay into. FC 24 brings players new Matchday Menus, that showcase behind-the-scenes moments when you pause the game or enter half-time. In a first for EA Sports, footage of soccer pundits and commentators can be observed in "unseen corners of the stadium," the developer says in a statement.
Motivation is an important factor too, and FC 24 will hammer that home with Dynamic Match Intros that emphasize "where you're playing, who you're playing, and what you're playing for." We'll be practicing our soccer chants for the FC 24 release date, but in the meantime, check out what goodies you can get with EA Sports FC 24 pre-orders.