You can forget your wild Fortnite or Modern Warfare 2 crossovers. The Dead by Daylight Nicolas Cage crossover might just be the best collaboration in one of the best PS5 multiplayer games out there. Not only is the Con Air and Face Off legend heading to the acclaimed isometric horror game, but you don't have to wait to see how Cage fairs within the deep, dark depths of The Fog.
The new look at Nicolas Cage in Dead by Daylight comes via Summer Game Fest 2023, where host Geoff Keighley is joined by the man himself to divulge details about his appearance in the game. Cage explains that he will portray a "heightened" version of himself, playing into the actor's celebrated and "exaggerated" acting style.
His appearance in Dead by Daylight is the stuff of pure Cage gold, of course. The actor says that "he goes to a location thinking he's going to make a movie, but he wakes up in the fog."
But there's more to Cage's role in the upcoming crossover. Taking it upon himself to explore every aspect of his duty to bring himself into the game, Cage expresses "I want you to know that when you're playing as the Nic Cage survivor […] that we're one […] that we're fused […] whatever it is, it's my voice so that we're fused."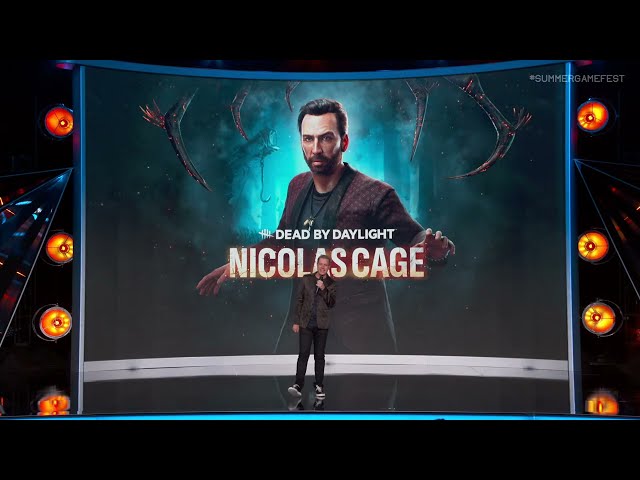 Though Cage's abilities and other spectacular voice lines are yet to be revealed, we already know that his sheer presence is enough to get out alive. The ultimate sentence of 2023 is true: Nicolas Cage is in Dead by Daylight. You can experience his joyous aura from Tuesday, July 25, 2023.
If you don't want to wait for some Cage goodness, though, we recommend checking out The Digital Fix's Renfield review. It's a wicked time and definitely has enough gore to entice horror fanatics. Whether Dead by Daylight's ambitious crossover can help spark a Renfield 2 release date – well that's another matter entirely.
Elsewhere at Summer Game Fest 2023, the official confirmation of Marvel's Spider-Man 2 launch date finally arrives and we even get to look at the brilliant brute that is Venom. Seriously, he is ripped. But if you're not a superhero fan, you can keep up the horror antics with the latest Alan Wake 2 footage.