The first-ever Halloween event in Call of Duty: Modern Warfare and Warzone is looking to be pretty spooky. Recognisable villains Billy, from SAW, and Leatherface from Texas Chainsaw Massacre drop today along with a Zombie Royale mode that many fans have been patiently awaiting since leaks last month.
The Call of Duty: Haunting of Verdansk update brings a new SAW bundle, which includes a Billy skin for Morte, The Phlebotomozier Lethal Equipment piece, and a special throwing knife along with the promise of a lot of blood. The Texas Chainsaw Massacre bundle has similar content. It includes a Leatherface skin for Velikan, the Family Heirloom LMG blueprint, and a unique Stock attachment that allows you to wield the weapon like a chainsaw.
Sadly for horror fans, everything featured in the Haunting of Verdansk Halloween event will run for a limited time and end November 20 – this includes the Zombie Royale mode. At the moment, instead of being sent to the Gulag, dead players will come back to life as a zombie. Obviously, zombies are unable to use weapons, but they will have special abilities such as increased speed, deadlier melee attacks, and thermal vision.
The Haunting of Verdansk is expanding on the lore of the game by introducing Dr Karlov, the electricity-obsessed mad scientist who has been a big part of Verdansk Halloween folklore. The Dr Karlov bundle includes a new skin for Bale, two high-voltage weapon blueprints, an electric throwing knife, a vehicle skin, and a few other cosmetic items.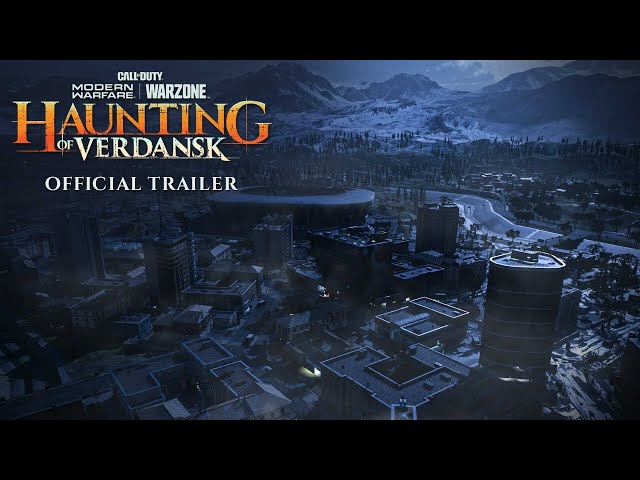 One of the best parts of Halloween is getting dressed up and going out to Trick or Treat. Call of Duty is participating in this joyous past time with Trick or Treat Supply Boxes. Open up these boxes for a chance at getting the epic Return to Dust Assault Rifle blueprint, The Cleaver Legendary Melee blueprint, charms, stickers, emblems, and much more.
With Call of Duty: Modern Warfare now allowing players on all platforms to uninstall unwanted content, you'll have plenty of space for all the Halloween content you could possibly need.