It has been a long time coming, but Infinity Ward and the Call of Duty team has finally detailed what battle royale fans can expect to see from the upcoming Warzone 2 Season 2 update – and, there's quite a lot to be excited about. The long-awaited Warzone 2 Combat Record feature should finally be introduced and there are several interesting Warzone 2 Season 2 weapons to unlock. However, the return of Resurgence and Ashika Island is the big talking point – and it's clear to see why.
Described as "frenetic" by the Call of Duty team in this Season 2 blog post, Resurgence is a faster-paced, smaller-scale battle royale mode that "allows for respawns as long as one squad member is still standing". It isn't as loot-focused as the standard Warzone 2 battle royale mode, but it's a mode that quickly became a firm fan favourite when Rebirth Island was introduced to Warzone during Black Ops Cold War Season 1.
Without going into too much detail, Resurgence is a popular mode because it's something that puts action first and doesn't punish player deaths quite as much as a standard battle royale game. However, it does punish it more than a Team Deathmatch on Modern Warfare 2 does; it strikes a balance that a lot of players – us included – enjoy.
So, what's the problem with Resurgence coming back with Ashika Island in Warzone 2? Isn't that what the players want?
Well, yes – from the chatter online, it's clear that this is what the fans want; it's also clear that a lot of them are looking forward to jumping into Resurgence again. However, we can't help but think Warzone 2 is overcomplicating this returning mode – the very mode that could save it from obselitism – with new mechanics and features that feel wholly unnecessary.
If you're not sure what we're on about, allow us to explain. Firstly, Call of Duty is introducing a new feature called "Restore Honor" to this returning Resurgence mode in Season 2. Through this feature, every player will drop a Dog Tag when killed which, when collected by a squadmate or the freshly-respawned player, "grants a small Cash reward, as well as a single UAV ping that marks both enemy threats and nearby Supply Boxes".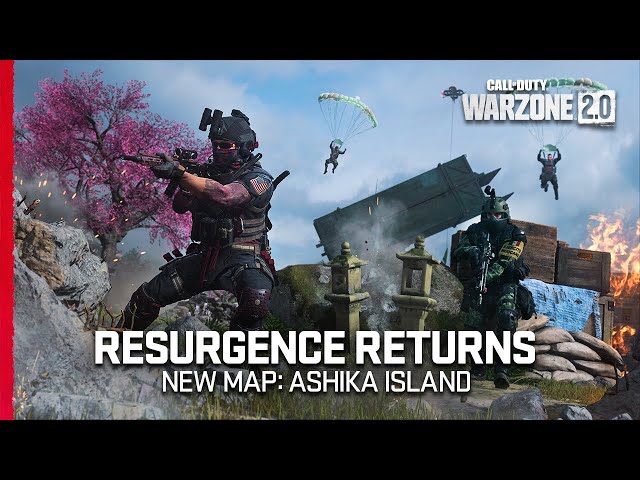 In practice, this isn't the worst idea. However, it feels a little out of pocket when you consider the themeing of Ashika Island and the fact that this has been introduced with the line "it takes incredible courage to return to where you once fell in battle, courage that is worthy of some valuable rewards". It's also worth remembering that Ashika Island is a smaller map than Al Mazrah and – if you've played Rebirth Island before, you'll know this all too well – you're never too far away from a fight, regardless of whether you have access to a UAV or not. All you really need is to make sure you're using the best Warzone 2 loadout – or a build of the best Warzone 2 weapons – to have the best chance in Resurgence.
Adding to this, Warzone 2 is also introducing a Public Event to Ashika Island and the Resurgence mode in-season named Data Heist. Call of Duty hasn't shared when-exactly this will become available, but it's certainly something we can see further complicating things and – to be frank – getting in the way of the core gameplay experience we're looking for in Resurgence.
During a Data Heist Public Event, players will need to download intel from three uplink stations that spawn during the second circle's collapse across Ashika Island. Sure, these will offer you some rewards – namely Cash and XP – but it feels like something that's going to cluster players unnecessarily in the middle of a match. Rebirth Island wasn't that big, and we don't think Ashika Island is much bigger. So, we can't quite understand why Warzone 2 would need to bring players into these focal points mid-game. It's not like there is ever really a lull in action during Resurgence.
Warzone 2 is also throwing a brand new contract – Search and Seizure – at Ashika Island and Resurgence in Season 2. While optional, this again is something that feels wholly unnecessary. The standard battle royale playlist and DMZ are for people who want to spend their time completing contracts; Resurgence is about fast-paced action and a gameplay loop that's constantly being refreshed – if your squad survives long enough.
But, if that wasn't bad enough, Warzone 2 is also introducing a new AI type to Resurgence in-season: the Rusher. AI are notoriously annoying in Warzone 2 and DMZ as it is, and now it's been confirmed that they will be present on Ashika Island with a new close-quarters focused variant.
The Rusher is going to be a little weaker than your standard AI enemy, but will use mini smoke bombs and a short sword to cut you up in close quarters. With Resurgence maps often being smaller and action limited to rooftops and interiors, we can't think of an addition that could be more detrimental to the player experience come the Warzone 2 Season 2 release date than this.
Death isn't as punishing in Resurgence, but it looks like all the new features will make up for that.