When is the Warzone 2 Season 2 release date? It's a question a lot of the battle royale's fans are asking, as the game's rather long first season continues to drag on. Warzone 2 and DMZ are in desperate need of some new content and gameplay tweaks, and Season 2 holds the key to that.
The upcoming season will hopefully shake up the Warzone 2 meta, so expect our rundown of the best Warzone 2 guns to look a little different once Season 2 gets going. If you have all of your guns levelled up (or at least the ones you like), you can always adjust them to fit our best Warzone 2 loadouts list, so you're ready to take on any enemies when Season 2 is finally here.
Warzone 2 Season 2 release date
Warzone 2 Season 2's release date is set for Wednesday, February 15, 2023, according to Infinity Ward. This will launch alongside Modern Warfare 2 Season 2.
Warzone 2 Season 2 gameplay
Warzone 2 Season 2 gameplay has briefly been shown off in the trailer for the brand new map Ashika Island.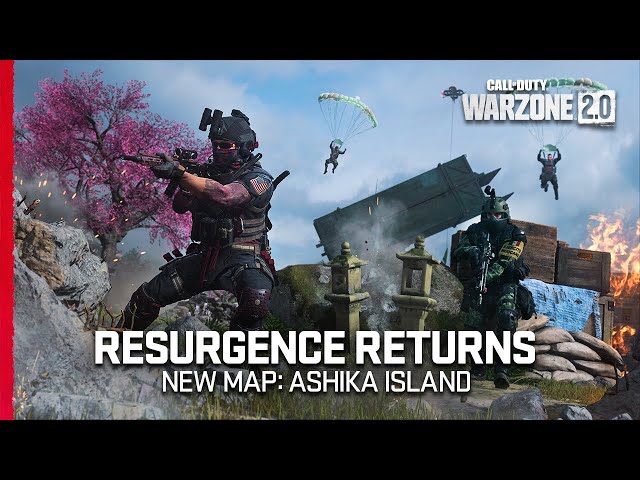 We know that new gameplay innovations include redeploy drones, which allow you to zipline upwards and launch yourself off in order to rotate to a new position, and jet skis are being added as a new vehicle to help navigate the waters of Ashika Island.
There will also be a new type of AI combatant called Rushers, which are fast-moving, aggressive enemies that will come at you with a melee weapon in hand.
More gameplay changes can be seen in the roadmap below.
Warzone 2 Season 2 roadmap
The roadmap for Warzone 2 Season 2 highlights some of the new content coming to the battle royale and to DMZ.
As well as the expected array of new weapons, new Operators, and of course, a whole new Battle Pass, there is a lot more to look forward to.
The new season will bring with it a new smaller map, Ashika Island. The Warzone 2 Ashika Island release date will arrive alongside the Warzone 2 Resurgence release date.
The roadmap also shows a new challenge-based event called Path of the Ronin will be coming to Season 2, as will new missions and a new boss in DMZ.
That's everything we know about the Warzone 2 Season 2 release date currently. Before the upcoming season arrives, make sure to find out the best Warzone 2 assault rifles or best Warzone 2 snipers so you can level them up. Also, it's worth using the best Warzone 2 settings so you have a better chance of winning your next match.