Are you stuck wondering how to get a nuke in Warzone 2? Well, the fabled game-ending event has made its way over to the battle royale and if you are going for it you will need to be at the top of your game and playing winning a lot.
Below you can find the exact steps you need to take to start to be able to get a nuke in a match and then the process to actually call one in and give you an instant win. If you need some help with getting one then our best Warzone 2 guns guide and best Warzone 2 loadouts guide should help you out with crafting a class best suited to your playstyle.
How to get a nuke in Warzone 2
The only way to get a nuke in Warzone 2 is to go on a win streak and then follow a very specific questline.
Here's how you do it:
Win five games in a row
Enter the sixth game and follow the Champion's Quest
Locate and pick up the three elements of the nuke which are scattered across the map: Beryllium, Plutonium, and Tritium
Survive until the bomb site is revealed
Go to the bomb site once it is marked on the map
Deposit the three elements into the bomb site
Interact with the bomb site and arm the nuke
Defend the bomb until it detonates
So to kick things off you will need to win those five games in a row it seems which is no easy task. But once you jump in and start the Champion's Quest in the sixth game you will need to find three elements on the map which take up a backpack inventory slot. A person can carry more than one element.
These elements' general areas are shown, but their exact location isn't. You need to listen out for a Geiger Counter sound which will beep and speed up as you get closer to the element's location within the ring. Picking up Beryllium marks you on the map for everyone to see. Whoever on your team picks up Plutonium will suffer from a radiation leak and slowly take damage over time and distort your vision to some degree. Whoever picks up Tritium will have their radar scrambled.
Once all three elements have been obtained you then need to wait until the bomb site is revealed, surviving and holding off anyone attacking you. Upon reveal, head to the bomb site and deposit the three elements you have picked up into it. From there you need to interact with the bomb site, arming it in the process. This takes about ten seconds.
Finally, it appears that the nuke can be defused as you have to protect it until it detonates. So you will need to ensure no one sneaks up and tries to shut it down. This hasn't been confirmed yet though as we don't have gameplay from the enemy side. You can check out the first-ever nuke in Warzone below and see the steps for yourself: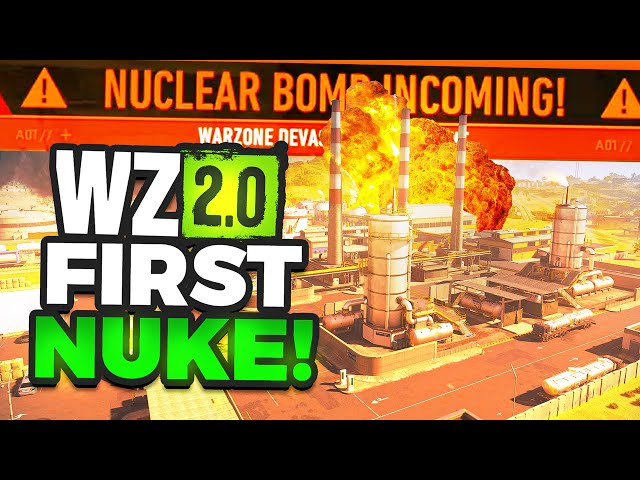 And there you have it. This is an extremely tough challenge and not one that will be easy to complete even for the best teams out there. If you are looking for some builds that will help you get a nuke in Warzone 2 then you will need our guide on the best Warzone 2 settings – trust us, it'll help.