With the highly-anticipated Warzone 2 release date and the ever-exciting Modern Warfare 2 release date fast approaching, there's never been a better time to be a fan of the Call of Duty franchise – and Activision's upcoming Call of Duty Next showcase is just more evidence of that. If you're looking forward to the future of this FPS franchise, we have everything you need to know about the COD Next start time and how to watch Call of Duty Next right here.
First things first, when does the COD Next stream actually start? Well, Activision has confirmed that the Call of Duty Next broadcast is set to start at 09:30 PST / 12:30 EST / 17:30 BST on September 15. At the moment, we don't know exactly how long this stream is going to last. However, we don't think it's an outrageous estimate to expect at least 40 minutes of content from COD Next – there's still a lot we don't know about, right?
If you're finding yourself free at the aforementioned time on September 15 and you want to watch the COD Next stream, you might be wondering how you can do that. Well, you will be able to stream the Call of Duty Next presentation on the official Call of Duty YouTube channel and the official Call of Duty Twitch channel.
If you don't want to go anywhere, then you don't have to – we have the stream itself embedded below and ready to go for when it all starts.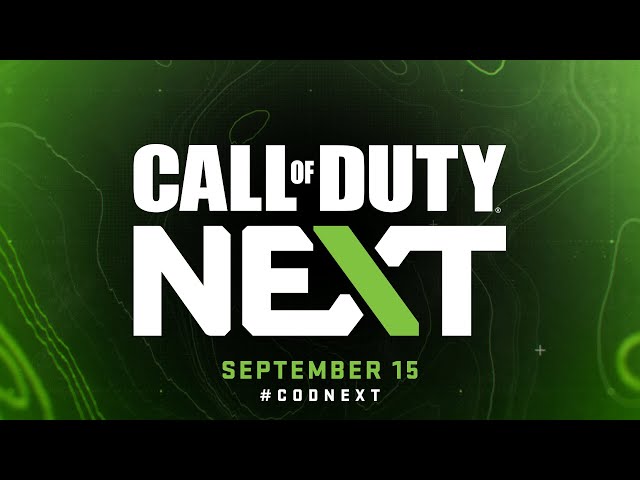 In addition to this, live updates from the showcase will be shared via official Call of Duty Twitter and Facebook channels alongside exclusive behind the scenes content on the official Call of Duty TikTok and Instagram pages. So, you're going to be able to find out more about what's being said during COD Next pretty-much anywhere online.
If you're looking forward to playing the next Call of Duty title, you'll be pleased to know that you can find out more about the Modern Warfare 2 beta pre-load time for PlayStation players right here. We also have everything you need to know about Modern Warfare 2 early access here – and the latest on the Warzone 2 map details here. Will it be the best battle royale game available? We can't say for sure, but we're quietly hopeful.