A new Battlefield 2042 trailer has just been released and it gives us a good insight into how three of the game's most anticipated Battlefield 2042 maps are set to play out. Renewal, Discard, and Breakaway – yep, that's the one with the penguins – are all shown in the trailer, and as you'd expect, it's full of the Battlefield gameplay that we've all come to know and love.
Renewal, the map set in the Eastern Desert in Egypt, is shown first and it's really a tale of two halves. One side of the map is covered in sand and the other? Well, it's like a little metropolis, full of grass, trees, and big buildings. The gameplay shows off both sides of the map and it goes about as well as you can expect. Battlefield 2042 specialists are shown deploying shields and taking out enemies using the DM7, while tanks fight each other on a road.
In another segment, we get to see close-quarter combat inside an office, where one player protects another with a riot shield.
Breakaway is the second map shown, and while the gameplay looks fantastic, there's a astute lack of penguins for my liking. Still, the trailer shows off you can put the wingsuit to good use in maps with verticality and it's a sight to behold.
Discarded, the map set in a shipping yard in India, is interesting, because the landscape is totally different to the other two maps shown. It appears there's lots of room for close-quarter combat in built up areas, but airborne vehicles come in particularly handy when pushing enemies out of position around the yard area. You can watch the trailer in full below.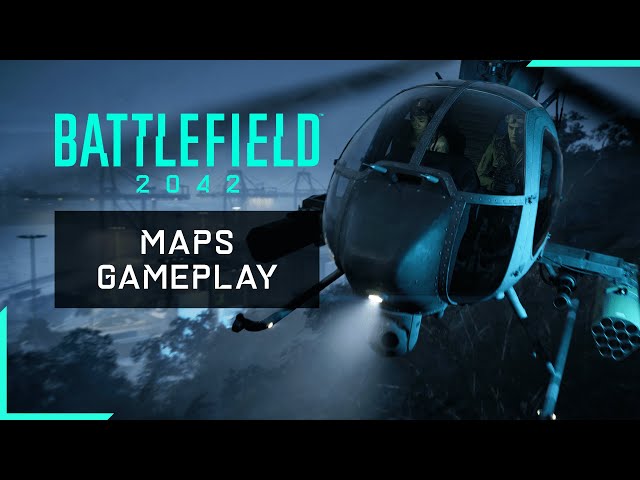 While the trailer certainly provides a promising look to the game's seven map line-up, many are concerned that this trailer does not show many of the destruction elements that have become synonymous with the series. Whether that'll be addressed ahead of of the Battlefield 2042 release date is unknown.
The game launches on November 19 and early access begins on November 12. You can pre-order the game right here.