A new storm is brewing within Battlefield 2042 and not even cowering inside the Orbital rocket station can save you. Get locked and certainly get loaded because the Battlefield 2042 Leviathan Rising event might just knock your socks if you're not careful. Developer EA DICE is ready to unveil a brand new close-quarters game mode, rewards and more too, so here's what to expect.
Players jumping back into Battlefield 2042 will want to make note of the tasty rewards available within the upcoming Leviathan Rising update. According to developer EA DICE, BF 2042 fans can turn their ribbons into worthwhile rewards such as the following in the first week:
Epic 'Contagion' Weapon Charm (15 Ribbons)
Epic 'Kilobyte' Weapon Skin for the AK-24 (40 Ribbons)
Epic 'Code Execution' Specialist Set for Paik (75 Ribbons)
Once you've managed to grind the near-futuristic shooter for these new rewards, week 2 promises more treats for BF 2042 players:
Epic 'Marked for Death' Weapon Charm (15 Ribbons)
Rare 'Domain Authority' Vehicle Skin for the AH-64GX Apache Warchief (40 Ribbons)
Epic 'Denial of Service' Specialist Set for Casper (75 Ribbons)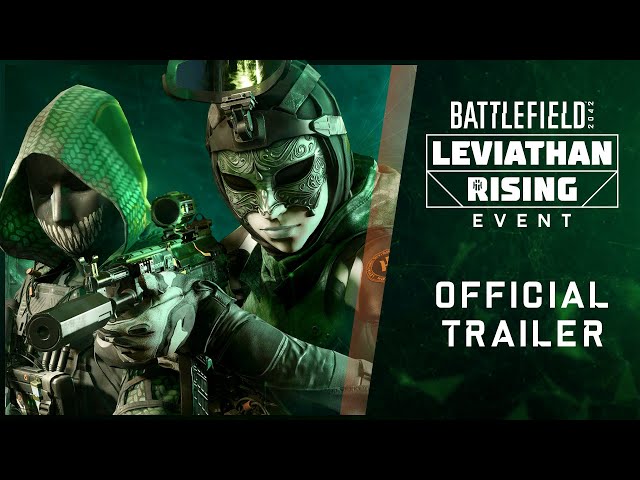 And we all love freebies, don't we? Well, those of you looking for some easy trinkets for your Battlefield 2042 inventory won't be left out of the conversation. Weeks 1 and 2 will see the rare 'Leviathan Division' weapon charm and rare 'Activation' weapon skin for the AM40 become available via the in-game store.
However, the best part of the Leviathan Rising update is undoubtedly the arrival of the fresh Shutdown game mode. "A new, tight 8v8 mode, where class play is imperative. See both sides of the battle and initiate – or thwart – the sabotage of key objectives," says the developer on the new mode. Speaking about those objectives specifically, EA DICE says that is up to players to "infiltrate enemy objectives and plant the Lances […] protect them and score as many points as possible."
Players will need to eliminate "Lance Carriers" before they can emerge victorious. Additionally, the developer states that planting a Lance "results in a shutdown of the objective and fully removes it from the map. Expect pure chaos as you start clearing more objectives and are forced closer and closer together with the enemy team."
The Battlefield 2042 Leviathan Rising event runs from April 11 until April 25, 2023. But before you claim your win, use the best Battlefield 2042 guns and Battlefield 2042 specialists to be the best soldier out there.