We know Apex Legends' Season 18 release date is still a little while away, but that doesn't necessarily mean we'll have to wait quite as long for Apex Legends' Valkyrie prestige skin – which, after quite a few rumors, has been leaked in full. If you're an Apex Legends players who spends any amount of their times playing as the Winged Avenger, this is going to be a must-earn cosmetic. Sitting in quite a nice spot in our Apex Legends tier list, this might also be the perfect time to give Valkyrie a go if you haven't already. She's a force to be reckoned with, no matter the map, and handy if you're trying to climb the Apex Legends ranks.
But, what about that slick new skin? Well, known Apex Legends dataminer and leaker 'HYPERMYST' has shared a first real look at Apex Legends' long-rumored Valkyrie prestige skin online and – as you can see for yourself down below – it leans into classic designs of those mythological figures quite a bit.
At Tier 1, Valkyrie's new skin is nothing more than some shiny silvery armor with angled gauntlets and a futuristic facemask. However, at Tier 2, the facemask is forgotten and a winged helmet akin to traditional images of Valkyries (from Norse mythology and videogames like God of War Ragnarok) is introduced. The body armor itself is also more built-up and more medieval in design.
Finally, at Tier 3, which you will unlock when you deal 100,000 damage as Valkyrie once unlocking the skin, the armor offers even more protection – at least visually – and Valkyrie's helmet is now closed-off with a visor. We think Tier 2 is the best of the bunch, but Tier 3 also comes with a finishing move.
If you want to check that out, Apex Legends fan 'xander_alx' has shared a short clip of that online – which you can see for yourself down below. It's not all about the afterburners anymore, it seems.
NEW Valk Prestige Skin + Finisher, Via KralRindo
by u/xander_alx in ApexUncovered
That finisher is pretty epic, right? Well, if you want to know how you unlock it, we have you covered. You can get your hands on a prestige skin in this battle royale by unlocking (through earning and purchasing) all 24 of a Collection Event's cosmetics when said event is live – as some Apex Legends veterans may know.
For example, if you wanted to unlock Caustic's prestige skin when that was available, you will need to unlock upwards of $100 worth of items in-game. You can check out a breakdown of what this looks like from content creator 'thethak' right here. Of course, there are ways you can make this process cheaper by playing, but it's certainly not a cheap skin to get your hands on.
However, it is one of the best prestige skins we've seen so far and certainly a fantastic option for Valkyrie mains. Unfortunately, though, at the moment, we don't know when this skin will be available, but this leak from 'ILootGames' could suggest that it's coming not-long after the end of the Dressed To Kill Collection Event, which ends on July 4. The duration for the Neon Network event is just shy of 50 days, which might mean that this two-week event starts in about a month or so. You can also check out all the other leaked cosmetics there, too.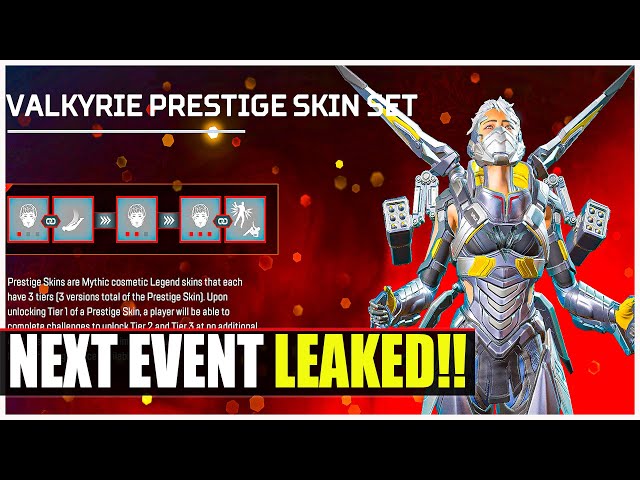 Apex Legends is one of the best competitive FPS games out there, but there's still a lot of ways for it to improve. Offering fantastic cosmetics like this is always good, but these flashy microtransactions can't paint over all the cracks. Thankfully, Apex Legends' rumored Revenant rework will make him even more ruthless and it looks like Respawn Entertainment is leaning further into defining the classes it introduced recently. Who knows, the release of this Valkyrie prestige skin could also coincide with an update to the character. It's certainly not out of the question.