In a competitive FPS game such as Valorant, optimising your setup is crucial if you want to scale the Valorant ranks. Things like picking the right agents on the right maps, properly calibrating your aim sensitivity, and finding the right Valorant crosshair setting for you will all make a huge difference when climbing.
However, sometimes it's ok to trade optimal gameplay if it results in flexing on your opponents. For example, should you dome an enemy with the crosshair we'll be showing you how to make in this guide, they'll find themselves staring at a smiley face in the killcam – an extra layer of disrespect as this smug little crosshair bores into their soul.
The creation of the Valorant smiley face crosshair is possible thanks to the extra functionality added to the crosshair customisation panel in Valorant patch 3.03. Since then, players have been able to get creative with their sight of choice. This has resulted in everything from channelling the power of Christ, to something a little more… sus.
Here's how to make your own smiley face crosshair in Valorant.
Valorant smiley face crosshair settings
Here are the settings you'll need to dial in to remind your opponents to always be happy during a match, even when they're dead.
Colour: Any (we like Green Yellow)
Outlines: On
Outline opacity: 1
Outline thickness: 2
Center dot: Off
Show inner lines: On
Line opacity: 1
Inner line length: 6
Inner line thickness: 10
Inner line offset: 0
Outer lines: On
Outer line opacity: 0
Outer line length: 3
Outer line thickness: 3
Outer line offset: 0
Movement/firing error: Off/Off
Here's a clip of Sentinels' Jared 'zombs' Gitlin trying out the crosshair with some pretty positive results.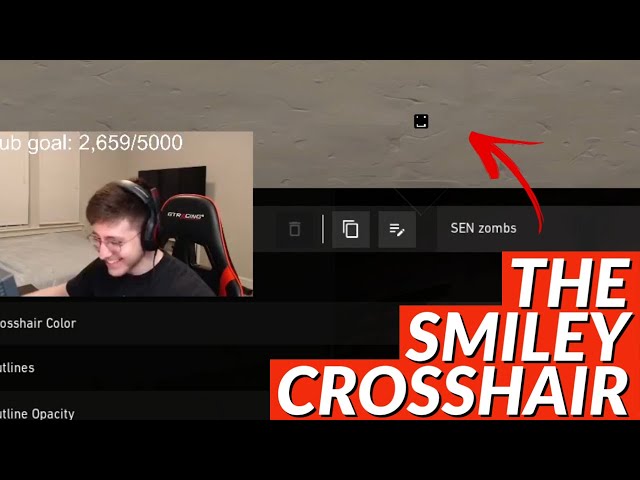 Et voila, one Valorant smiley face crosshair for you to go head-hunting with. Now get out there and spray those positive vibes at your opponents.