The inauguration of Valorant Episode 3 has completely shaken up Riot's popular tactical FPS game, with huge changes hitting everything from weapons to agents. Episode 3, Act 1 also introduced us to KAY/O, an oppressive, suppressive war machine which has already taken a top spot in our Valorant agent tier list.
However, with KAY/O barely having shipped from Killjoy's laboratory, Riot has already teased what could very well be the game's seventeenth agent. During Valorant's one year anniversary celebrations, Riot dropped a music video titled 'Year One Anthem'. The anthem showcased everything Valorant had grown to offer over the past year, though fans were quick to point out a brand new face during the retrospective.
That face, it appears, belongs to 'Deadeye' – Valorant's newest agent. Although little is known about Deadeye right now, dataminers are already hard at work combing through the game's code for even the tiniest morsel of information on who Deadeye is and what he'll eventually bring to the table.
And of course, we've compiled everything fished up so far right here for your convenience. So without further ado, here's everything we know so far about Deadeye, including his release date and abilities.
Valorant Deadeye release date
So far a release date for Deadeye hasn't been set in stone. However, should Episode 3, Act 1 last for the usual two-month Competitive cycle, we could potentially see Deadeye arrive sometime in late August when Episode 3, Act 2 kicks off.
Valorant Deadeye trailer
Deadeye hasn't had a dedicated reveal trailer just yet, but has been teased during Valorant's 'Year One Anthem' celebration video. He appears at roughly 3:22, though we'd recommend turning the speed all the way down to .25 so you don't miss him.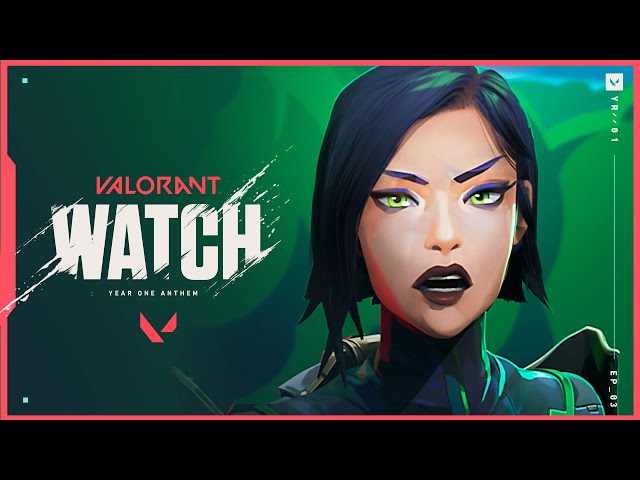 Valorant loremaster 'Cynprel' has also pointed out a number of concept sketches of the game's seventeenth agent, which also appear in the video.
🔻More Images of Possible New Agent🔻

These appear earlier in the video!

| #VALORANT pic.twitter.com/vIIbw8kuJH

— Cynprel // VALORANT Lore // Art (@cynprel) June 21, 2021
Valorant Deadeye leaks and rumours
Alongside concept art for the new agent, the name 'Deadeye' was also spotted during the Year One Anthem teaser. Valorant dataminer 'floxayyy' later reported that 'Deadeye' is also present in the game's code. Whether or not this is the agent's final name, or a codename is currently unclear.
New agent, Deadeye is listed; pic.twitter.com/GMSOn8Ykts

— floxay (@floxayyy) June 22, 2021
Outside of what we saw in the Year One Anthem teaser, there is currently little else circulating about the enigmatic new agent. However, as always, we will be sure to keep you updated as new information crops up.
Valorant Deadeye abilities
With a codename like 'Deadeye' and a rifle that large, it's not hard to imagine that the next agent will be the furthest thing from an Initiator like KAY/O. Although there are no official details yet on what Deadeye's kit might look like, we can make some guesses as to what may be involved.
Based on the assumption that Deadeye will be an agent who works best from afar, that rifle of his won't be any old sniper. We could very well be looking at a high-calibre weapon, capable of wallbanging opponents with ease. Such a weapon would be rather broken if consistently available, so we can see this perhaps being his ultimate ability. This would certainly ship with very limited charges, maybe even a one-and-done type deal.
In keeping with the 'Deadeye' moniker – and in order to actually be able to scope out possible targets – we can also see there being some form of recon tool in the agent's arsenal. After all, every sniper needs a spotter. This may be some form of thermal vision feature baked into the rifle, seeing as drones (Sova) and cameras (Cypher) have already been integrated elsewhere. Alternatively, the marking on his eye may hold some form of power…
While setting up shop for a tidy lineup, a sniper would also want to either deploy an advanced warning system, or maybe even a couple of traps to give them plenty of time to reposition themselves should enemy agents get a bit too close for comfort.
The three diamond-shaped capsules fixed to the side of Deadeye's rifle in the Year One Anthem concept art could perhaps hold the answer to how this might materialise. After all, a triangulated perimeter seems like a pretty comprehensive warning system to us.
Finally, it would be unsurprising to find Deadeye has some escape tools up his well-tailored sleeves, should he ultimately find his position compromised. These could be smoke-based, perhaps with the means to disorient an assailant momentarily while he scarpers – 'Deadeye' could have a more literal meaning in that the agent has the ability to obscure or mess with vision – or even something more otherworldly that is linked to the agent's markings.
These suggestions are of course just guesses, and play only into the theme of Deadeye being a sharpshooter. After all, the agent's final kit would have to also take into account the time when he's not holed up in one position.