The inauguration of Valorant Episode 3 completely shook up Riot Games' popular competitive FPS game, with huge changes hitting everything from weapons to agents. Episode 3, Act 1 also introduced us to KAY/O, an oppressive, suppressive war machine which has taken a top spot in our Valorant agent tier list.
However, with KAY/O barely having shipped from Killjoy's laboratory, Riot already began to tease what turned out to be the game's seventeenth agent – Chamber. During Valorant's one year anniversary celebrations, Riot dropped a music video titled 'Year One Anthem'. The anthem showcased everything Valorant had grown to offer over the past year, though fans were quick to point out a brand new face during the retrospective.
That face, as it transpires, belongs to Chamber. Originally referred to as 'Deadeye' – the codename uncovered early on by data miners – Chamber is described by Riot as a "well dressed and well armed" French weapons designer, who "leverages his custom arsenal to hold the line and pick off enemies from afar, with a contingency built for every plan."
So without further ado, here's everything you need to know about Chamber, including his release date and abilities.
VALORANT CHAMBER RELEASE DATE
When will Chamber be released in Valorant? The Chamber release date has been set for Valorant patch 3.10, which will arrive on November 16. You can find the patch notes here.
While most expected Chamber to appear at the start of Episode 3, Act 3 on November 2, there has been a slight delay. In a recent article, character designer John 'RiotMEMEMEMEME' Goscicki says that this pushback has been made to allow the studio time for the final polishing.
VALORANT CHAMBER ROLE
In September 2021's edition of 'State of the Agents', RiotMEMEMEMEME revealed that new Valorant agent Chamber is a Sentinel.
The developer says that "thinking about different ways to approach the Sentinel role" formed the basis of Chamber's design.
"Early on, our thought process wrapped around the idea of 'someone that bunkers down, and holds a location by getting frags,'" RiotMEMEMEMEME says. "As we worked on Chamber, the evolution of someone who can hold down a site with an array of weapons emerged."
VALORANT CHAMBER ABILITIES
In the September 2021 'State of the Agents', RiotMEMEMEMEME also revealed the new agent would have a kit allowing for "mechanical outplays, with an additional focus of gunplay into the mix for an extra flourish." Here's a little look at Chamber in action.
Ready for the upcoming Sentinel Agent? Here's a little glimpse at what Chamber brings to the scene. pic.twitter.com/tbRVQRPmPU

— VALORANT (@PlayVALORANT) October 29, 2021
Here is the complete rundown of Chamber's abilities.
(C) Trademark – Place a trap that scans for enemies. When a visible enemy comes in range, the trap counts down and then destabilizes the terrain around them, creating a lingering field that slows players caught inside of it.
(Q) Headhunter – Activate to equip a heavy pistol. ALT FIRE with the pistol equipped to aim down sights.
(E) Rendezvous – Place two teleport anchors. While on the ground and in range of an anchor, REACTIVATE to quickly teleport to the other anchor. Anchors can be picked up to be REDEPLOYED.
(X) Tour de Force – Activate to summon a powerful, custom sniper rifle that will kill an enemy with any direct hit. Killing an enemy creates a lingering field that slows players caught inside of it.
VALORANT CHAMBER TRAILER
Chamber has finally gotten his own reveal trailer, 'L'Accord' – and it's as suave and sophisticated as one may hope for the dashing Frenchman.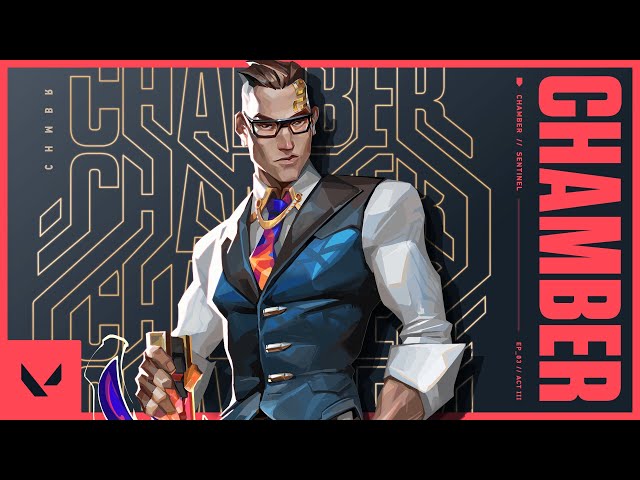 Chamber was first teased during Valorant's 'Year One Anthem' celebration video. He appears at roughly 3:22, though we'd recommend turning the speed all the way down to .25 so you don't miss him.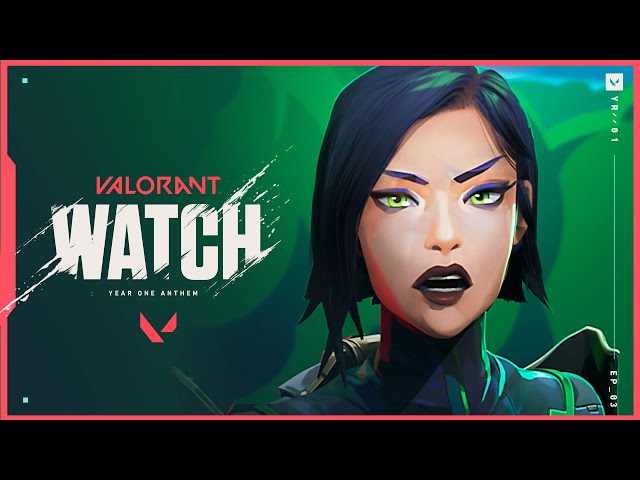 Valorant loremaster 'Cynprel' has also pointed out a number of concept sketches of the game's seventeenth agent, which appear in the video.
🔻More Images of Possible New Agent🔻

These appear earlier in the video!

| #VALORANT pic.twitter.com/vIIbw8kuJH

— Cynprel – VALORANT Lore (@cynprel) June 21, 2021
Chamber has also been spotted in Valorant Brazil's YouTube trailer for the Valorant Champions Tour LATAM Last Chance Qualifier. At 1:06, Chamber appears in one of the pieces of shattered glass – though this time it looks like his design has been updated slightly, as we can see a gold collar chain laden over his tie.
Additionally, there are two more teasers in the shards next to the new Valorant agent. In the shard immediately next to him we can see his watch. Look familiar? Well, that's because we've already seen the timepiece in the 'Manifest Elegance' Player Card, which can be acquired through the Episode 3, Act 2 Battle Pass.
In the shard furthest from Chamber, there is what looks like a patterned streak of light emanating from a fired shot, though it is pretty difficult to make out. If this is the case, then we may have just gotten a sneak peak at one of his abilities.
Most recently, we have been treated to a few cryptic GIFs on the official Valorant Twitter page. The first one doesn't really offer us much, but the sheer opulence and mish-mash of patterns could very well be Riot's way of hinting that Chamber's on his way.
— VALORANT (@PlayVALORANT) October 26, 2021
The second teaser meanwhile shows a bullet that looks almost molten – probably due to the sheer speed it's travelling at. This seems to be a clearer depiction of what we saw in that third glass shard in the LATAM LCQ trailer.
— VALORANT (@PlayVALORANT) October 27, 2021
Finally, a sun-like mock-up of Chamber's gear has been uploaded. From it we can clearly see the new agent's rifle, alongside his heavy pistol. We can also see the agent's calling card, as well as what looks like a player card on the right hand side.
— VALORANT (@PlayVALORANT) October 28, 2021
And that's everything you need to know about the new Valorant agent, Chamber. We're hoping he ranks highly in our Valorant agent tier list, purely for the sauce-factor.