The Valorant Champions Tour EMEA International League is finally upon us. Soon, the ten teams fortunate enough to secure their spots in developer Riot Games' partnership system will brawl it out to stake their claim for a place in May's Masters event in Tokyo. From there, Champions calls.
Leading the charge – not only for the International League but the entirety of the region – is Valorant's head of esports for EMEA, Daniel Ringland. Having taken up the mantle in December 2020, Ringland and his team have worked tirelessly to bring the region to where it is today.
In the days leading up to the new domestic VCT year, we had the chance to sit down with Ringland. Here we discuss the state of the region in 2023 – from Game Changers, to Challenger Leagues, to the International League – Riot's goals for the year, and so much more.
Initially joining the call with a great big grin on his face, Ringland tells The Loadout: "the last time I felt this way was on Christmas Eve when I was nine years old". Having started work on the plan for this year when he was first appointed EMEA esports head, it's clear how much finally being able to show off everything he and the team have been working towards means to him.
"Being here now – the studio's altogether, and the pro players are down there doing their media days – I'm so excited. I cannot wait for Monday for fans to walk in the door and hopefully lose their shit with excitement."
As Ringland tells us, the process has been laborious to say the least – a marathon, sprinted. The tone for the project was set when he first landed in Berlin in December 2020, and was thrust straight into the mix.
"I had just gotten off the 29 hour flight – or whatever it is from Australia – and it was the height of lockdown at the time," Ringland recalls. "I'm in a foreign country, everything's closed, I'm jet lagged, and I jumped on the meeting that we were having internally just to talk about, 'okay, we need to get this started.' It has pretty much been continuously in the works since then."
Enter the Coliseum
For Ringland and the team, planning for the long term, while delivering the best possible Valorant experience in the meantime has been "a difficult juggling act at times". Though from the sneak peek of Berlin's stunning new 150 cap VCT EMEA studio – dubbed the 'Coliseum' – that he proudly gave me while perched in one of its influencer booths, the effort for sure appears to be worth it. You can see it for yourself in the teaser below.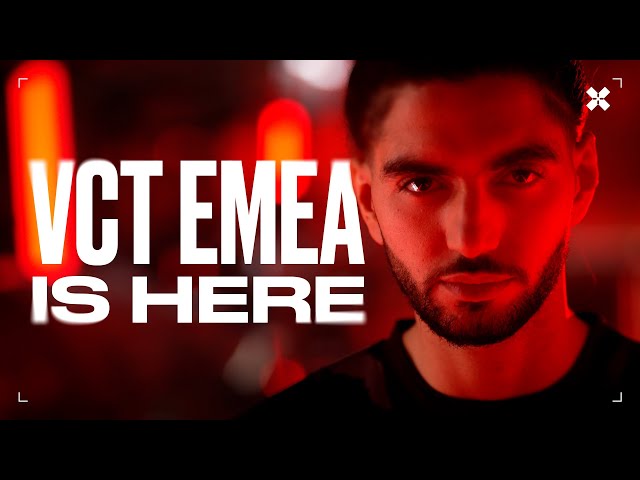 Speaking on the design of the arena, Ringland hopes fans will find it quintessentially 'Valorant', but with an EMEA twist. The player tunnel, he excitedly points out, "is designed to resemble some of the teleporters that we have in some of the maps. So we've really gone for joining the world of Valorant with a sports arena." The Coliseum itself is dyed in the rich reds we see in the League's marketing – we're big fans of the colourway.
So why is it called the 'Coliseum', and why does it just so happen to be 150 cap – coincidentally the same capacity as League of Legends' own Berlin studio? To answer the former, Ringland explains that 'Coliseum' is a pitch that he had been drawn to from the beginning, because the concept was not only "quite powerful", but it's also distinct from sister leagues Americas and Pacific.
The latter, he says, really is "purely coincidence", though the team's desire to opt for a larger construction quickly hit a wall as prospective costs would "start exploding pretty quickly". With that said, the "smaller, more intimate venue feel" passed the vibe check, and so the stage was set for VCT EMEA's gladiators.
Additionally, though we're not quite looking at one of those monolithic structures that have been plucked straight out of Rome, Riot is making use of every square foot of the Coliseum available to provide value to fans. One way it's achieving this is by expanding the availability of non-English coverage – something Ringland says the team has really "made an effort" to work on – with the inclusion of dedicated Spanish and Turkish casting booths.
A "proud father" of the final construction, Ringland is elated by the work put in by his team, and hopes fans love the Coliseum as much as he does.
Howdy, partners
Fortunately, those fans don't have much longer to wait before they can step foot in the Coliseum. Soon, its first two combatants, KOI and NAVI, will take to the stage.
The pair serve as a strong representation of the blend between historic and upcoming organisations present within the ten partnered teams – one of the bonus factors Ringland tells us Riot was looking at alongside the core criteria it used when choosing its representatives. In addition to this, the prospect of utilising team nationality to build local rivalries, akin to what we see in traditional sports like football, was also taken into consideration.
Of course, the numerous teams vying for a place in Valorant's International Leagues didn't make Riot's decision easy. In NA, we saw everything from Evil Geniuses' bespoke website application, to Kroenke Sports Entertainment-owned The Guard lighting up LA's SoFi Stadium with the team's logo. Needless to say, bombast was on full display as organisations across the globe fought tooth and nail to secure their spot.
While perhaps not as flashy as some of its transatlantic counterparts, in EMEA Ringland says the response to partnership was "overwhelming". Of the "65-odd" applications he read through for the region, many of them showcased a "secret sauce" that was tantalisingly tough to turn down. "If EMEA had an 11 or 12 team league, it would not have been hard to fill more slots", he confidently states.
Once the final teams had been locked in, and with little time before the registration cut-off, rostermania well and truly ensued. Just days after the conclusion of VCT Champions 2022, rumours of top talent upping sticks and shifting orgs were flying around at mach speed. While Ringland concedes that teams "could have used a bit more breathing time" to get deals done, he stresses that there's absolutely no bad blood between Riot and the partnered orgs over it.
"When I speak to team owners now they smile about it", Ringland says. "It was clear that it was stressful at the time, but they all did what they needed to do. And when you look at the rosters – not just in EMEA but across all three [International Leagues] – they're really good. They did a really good job. I think we've got a pretty balanced League, so I'm happy with how it all shook out." Going off of the results of the recent VCT Lock In event, EMEA fans can be happy too.
Lockin' it in
With all 30 partnered teams across the International Leagues taking part in one big, São Paulo samba, the VCT Lock In event gave many teams their first taste of LAN action. Sporting an unforgiving, single-elimination format, teams that mis-stepped in this deathly dance's first round were sent home immediately, polarising fans online.
"The format was definitely controversial", Ringland notes, "there's no doubt about that." But, as he explains, Riot's global leadership team made the decision to ditch double-elimination to meet its goal of ensuring that every team had its chance to showcase its stuff to fans the world over. This also meant teams would all get their shot on the main VCT broadcast.
As we know, EMEA's Fnatic finally came out on top after one of the most incredible finales we've ever witnessed – a brutal, almost double reverse sweep against VCT Champions 2022 winner and Brazilian powerhouse LOUD. Musing on the match, Ringland asks, "if you could write a script for the final, would you change anything?" To that we say 'nothing. Nada. Zilch.'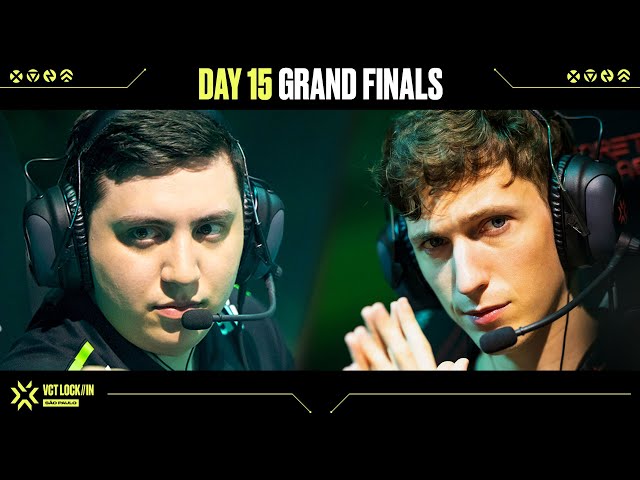 Indeed, there really couldn't have been a better way for Riot to "relaunch" Valorant esports – the main goal of the event. "We've assumed our final form", Ringland smiles. Coming back to discussing the goals for EMEA this year specifically, he highlights two things: creating foundations, and delighting fans.
"We really want to knock the socks off fans and have them super excited", Ringland says. "But we also need to make sure that we're building things sustainably so that we can continue to build over them for the years to come."
A new challenger (league) approaches
While the majority of our chat hinges on VCT, there is of course much going on at every level of EMEA. Many of the organisations that didn't make it into the International Leagues have taken to the region's Challenger Leagues – formerly the Valorant Regional Leagues – in the hopes of attaining promotion to the top division through Ascension.
However, some of the region's bigger hitters like Excel Esports, Guild, and OG LDN UTD, have all either reallocated their energies elsewhere – namely Game Changers – or pulled out of Valorant entirely. Whether these decisions were led by International League rejection, prevailing global economic conditions, or other factors, it's impossible to ignore the loss of some of the scene's most notable players.
As our discussion shifts to the state of the Challenger Leagues, while Ringland is glad to see some of those organisations either committing or recommitting to Game Changers for 2023, he acknowledges that some of the Challenger Leagues are currently faring far better than others – be it as a result of losses like these or otherwise.
"It's definitely fair to say we're still figuring out exactly what tier two and the Challenger Leagues are going to look like for Valorant", Ringland says. Fans of Türkiye's Birlik league were treated to a live LAN event as S2G Esports steamrolled SuperMassive Esports 3-0 – a level of fan engagement the EMEA esports head was really pleased to see.
But conversely, for leagues that aren't doing so hot, Ringland says that Riot's "working closely with licensees" to provide as much support as possible. "Everyone wants them [the Challenger Leagues] to be successful. What's really encouraging to me is that each of these leagues has a community that cares about it, which is starting to grow around it. And that's the most important thing."
Changing the game, again
As previously mentioned, a loss for the Challenger Leagues has, in some instances, been a gain for EMEA's Game Changers circuit. Ringland is "really proud of where GC EMEA is this year", and we're not surprised. Not only did November's Game Changers Championship – set in Berlin's LEC studio – break the viewership record for female esports, but once again EMEA came out on top as G2 Gozen reverse swept Shopify Rebellion.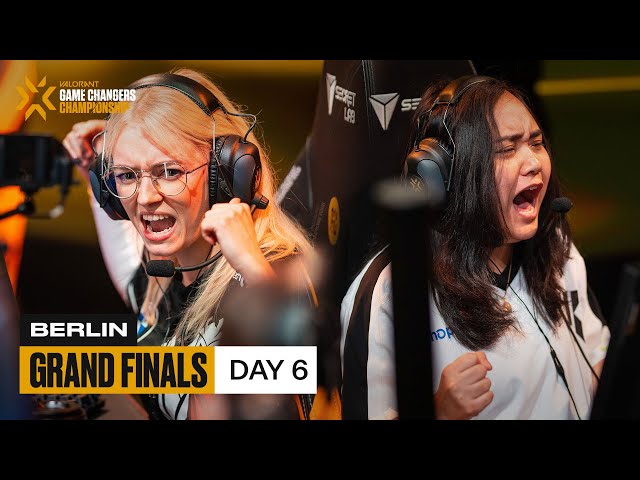 Quick to give credit where it's due, Ringland takes special care to cite the brilliant work of Game Changers EMEA product lead Ashley Washington in propelling the region forward. "She's amazing", Ringland says, "she joined us mid last year, and she took a lot of time to analyse the problem space and understand, 'okay, how do we fix this?'
The result of Washington and the EMEA team's work is a brand new format, with the region's top 16 teams duking it out. "We think that, by taking the top 16 teams and ring fencing them so they only compete amongst each other, their skill level is going to increase a lot," Ringland says.
Naturally, subdividing teams in this way means your average Game Changers player won't get a chance to match up against the Gozens, though there's good reasoning behind that. "One of the things we found last year is something like 70% of Game Changers games ended in a 13-0 score line – that doesn't help anybody", Ringland states. "We're hoping this year the games will be a lot closer – people will learn a lot more from a close game than a stomp – and, most importantly, more enjoyable as well."
Feeding into the main Game Changers league will be the Game Changers amateur league. And with a new Discord server also soon to launch, giving Game Changers players a forum to find new teammates, Riot has built "a multi-layered ecosystem" to accommodate this rapidly-expanding frontier at all levels.
Such is the fervour for Game Changers, Ringland reveals that, compared to 65 teams that had signed up four days after the announcement last year, 100 of 128 open qualifier spots for 2023 have been filled in the same time frame.
But it's not all rosy. As with the Challenger Leagues, Game Changers has faced criticism recently. Though whereas Challengers has stumbled on its building blocks, Game Changers has faced fan criticism when it comes to the small scale of its international events. 2023's Game Changers Championship – which like Lock In will also take place in São Paulo – is no exception.
Though global head of esports Leo Faria has already addressed the issue, firstly on Twitter and then more extensively on Reddit, we were eager to know if there were things that could be done, even regionally, that can elevate the viewing experience for fans in the absence of big live audiences.
"We're going to invest quite heavily into unlocking watch parties this year", Ringland says, "so every game will have an observer in it so that feed is able to get out there." With plenty of "big dogs" that are interested in hosting their own parties now in the scene, Ringland hopes that this, at the very least, will help grow communities – be it through pro team streams or an influencer's channel – that celebrate the scene even in a remote environment.
Clearly, 2023 is already shaping up to be a banger of a year for EMEA. The EMEA International League hype has reached critical mass, strides are being made towards getting the Challenger Leagues into a healthier place overall, and Valorant's Game Changers initiative is undergoing an evolution.
If you're buzzing to jump back into the Valorant ranks grind after reading this, be sureto sort yourself out the best Valorant crosshair you can to ensure you're best equipped to make your own journey to the VCT EMEA stage.