Esports is a booming economic staple in the entertainment industry and yet the career span of its athletes is microscopic. Most professional esports players face retirement in their mid-20s. Isn't this a bit early to call it quits?
Retiring at a young age is a major issue in Call of Duty esports as the game's mature content means players must be at least 18 years old before they're allowed to compete in it professionally. As the majority of players face retirement at 22 or 23, they only have a few years of game time to earn prize money or fame that will secure their future.
After eUnited's win in the 2019 Call of Duty Championship, teams and players began preparing for the construction of franchising. Activision released details about the new city-based system as organisations were faced with the choice of buying into the league or avoiding it altogether.
Under the new system, all professional players will earn a minimum of $50,000 (£40,000) per year with healthcare and retirement benefits. In addition, teams will have to distribute at least 50% of their prize pool earnings to the players. While this is a fantastic step for the Call of Duty league, the benefits of retirement could become unbalanced, especially if their model resembles other sports leagues.
The NBA, for example, has one of the most generous retirement plans, with pensions based on years of service. Players become fully vested after three years of service, and the minimum payout at the age of 62 is around $56,988 (£45,665). The maximum benefit reaches almost $200,000 (£160,000) but requires 11 years of service in order to qualify.
Vince Carter, the oldest active NBA player in 2019, is 42 years old. In the NFL, the average retirement age is 35 years old. A career as a professional football player last can last anywhere between six to 12 years depending on the player's position. While professional athletes are on the field until their mid to late thirties, many esports players are retiring in their early twenties. With players facing early retirement, they may only have a few years of playtime in an environment that never promises success.
Related: Take a look at the biggest esports tournaments.
If the Call of Duty league replicates the franchise system of other sports leagues, retirement could still be a major issue for players. The introduction of stable salaries, however, could potentially increase the retirement age. This new system could create longevity in a career field that once promised no future, healthcare, or financial stability.
maintaining a Healthy Lifestyle in esports
In order to retain a top spot on the leaderboards, professional gamers have to dedicate long hours to practise and scrimmages between travel to competitions. Outside of practising, players juggle streaming, maintaining a social media presence, and fulfilling organisational and sponsorship responsibilities – all while trying to keep a loose grasp on their own social and personal needs.
The pressure to succeed is immense, and it takes more than a couple of hours of play time a day to win tournaments. Combined with the stress of living under the spotlight, the strain can create an unhealthy environment for competitors. Consequently, anxiety and depression are a familiar struggle for competitive gamers, especially since their practise sessions leave them isolated from society.
In addition to the mental risks, physical problems can hinder a player's ability to perform and can create lasting issues that rip them out of the industry altogether. Players often neglect diet, exercise, and sleep hygiene; because of this, their health inevitably deteriorates. Carpal tunnel syndrome and other wrist-related injuries are relatively common among competitive gamers, and some have experienced health concerns such as eye strain and neck and back pain. A sedentary lifestyle also promotes the risk of obesity and blood clots. In an industry that requires players to be on all the time, esports players usually have to risk their livelihoods to have a night off.
Many other competitive gamers and full-time streamers have commented that their work hours pull them away from family, friends, and important responsibilities. Former OpTic player Will 'BigTymer' Johnson dropped out of college to move into the first OpTic House in Chicago. "It was a nervous excitement for me because I had just moved from Arkansas," he says." I had just dropped out of college. I was ten classes away from graduating. I'm still ten classes away from graduating."
Seth 'Scump' Abner, Captain of OpTic Gaming's Call of Duty team, avoided college altogether in order to move into the house. "I remember I graduated [high school] and the very next day I left," he says. "My summer break, I just skipped it."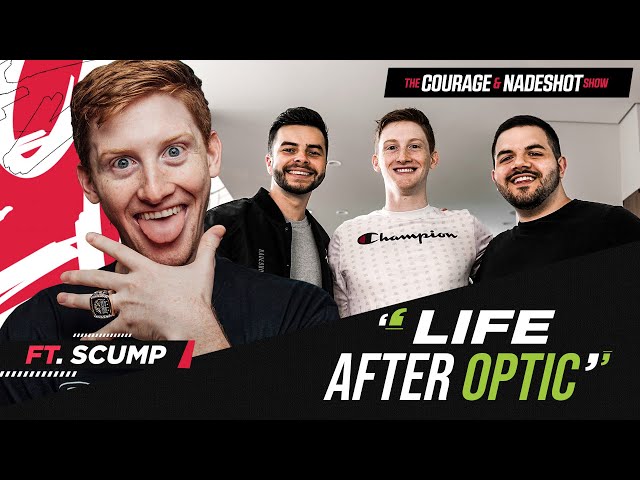 The OpTic House was a huge step toward creating a 24/7 esports atmosphere. Players could practise, create their content, and develop chemistry with their teammates. However, when personalities clash, the team is usually the first to suffer. Scump touched on the issue of negativity between teammates on The Courage and Nadeshot Show, all of which revolve around failure and the desperation of regaining top standings.
On the podcast, the popular competitor was asked about the conflict with his ex-teammate, Matt 'Formal' Piper, revealing that even the relationships of top competitors and friends can deteriorate. "There was a competition, sort of, within the team," Scump says. "Once we started losing, I feel like that competition just ate away at the relationship."
That wasn't the first time Scump fell out with colleagues. Matt 'Nadeshot' Haag, CEO of 100 Thieves and ex-captain of OpTic Gaming's Call of Duty team, recalled on his podcast an infamous argument that temporarily pushed Scump off of the roster altogether.
"This was after UMG Philly and I think we got like 12th or 16th place," Nadeshot says. "We didn't talk the entire time on the way back. So we get back to the house and [Scump] was gone. Me and BigTymer were trying to figure out where he went or what was going on, and we found out that he drove to Philadelphia in the dead of night."
After leaving OpTic Gaming, which was headquartered in Chicago at the time, Scump immediately joined their rival, Team Envy. However, it wasn't long until he was back with the Green Wall. The Discord was entertaining for fans and created a buzz in esports media, but the mindsets of the players often suffer from turmoil within their rosters. When relationship issues develop, players have to push past them and continue practising – or risk the dissolution of the team.
But how players interact with each other is a huge point of entertainment for esports fans. Rivalries create tense storylines, and while villains help stir the pot, being known as one can be detrimental to a player's place. Patrick 'Aches' Price created a name for himself when he clashed with Nadeshot and OpTic Gaming. He embraced the idea of being Call of Duty esports' heel, but the title came with its own problems.
"Being the villain sucks sometimes. People jump on a bandwagon. They hate without even knowing the backstory," Aches says. Eventually, Aches found himself on his own when his teammates' contracts were bought out by OpTic. "OpTic poached my entire roster from Evil Geniuses," he continues. "After buying out all four contracts, OpTic released me. They kept Crim [Ian 'Crimsix' Porter] on the main team, Tyler [Teepee], and Damon [Karma] went to OpTic Nation. I was left to fight on my own."
While Aches has continued on as a professional player, it shows how fragile opportunities can be when you're known as an assertive personality. If you can't fit in, you can't build a lasting career.
Building a Brand in esports
The stark reality in the world of esports is that a player can't just ride along on skill. Competitive esports isn't a life of games and tournaments; it's a profitable industry. In order to stay on top, players need to develop business acumen, especially since they weren't earning consistent salaries until now. Before Call of Duty began its transition into a franchised system, top organisations were often developed by players who simply loved the game and had the cash to spend. Call of Duty's platform was growing, and many owners had to decide how to spend and divide the money their brands earned outside of prize winnings.
Before contracts, sponsorships, and partnerships were normal practice, players often earned next to nothing each month. Hector 'H3CZ' Rodriguez, former CEO of OpTic Gaming, talked about how the first OpTic House was developed on The Eavesdrop Podcast. "I believe at the time [players were paid] $400 a month," he says. "Scuf [Gaming] came on the scene and were like, 'We'll give you the money to pay these guys the $400 a month'."
It was an investment that catapulted the OpTic brand into esports stardom, but it could have just as easily harmed the players' futures.
In addition to money distribution, roster changes were a usual but occasionally unnecessary occurrence, sometimes leaving players displaced and anxious about their futures. In a world where the majority of a player's paycheck came from prize pool winnings, they had no choice but to place well in tournaments.
When gamers' lives are powered by sponsors and fans, they have to keep them interested too. Competitive esports players have to be the face of their personal brand while they compete, which means they must also focus on content creation. But that requires consistency and dedication.
Related: Dig into some of the biggest esports games.
On The Courage and Nadeshot Show, Scump talked about his move away from YouTube, his return to Twitch, and why it's so hard to maintain consistent content creation. "People that have done content creation in the past – it's really a rhythm, and once you fall out of the rhythm, it's hard to get back into the swing of things," he says. "I feel like when I came back to Twitch, it kind of enabled me to immerse myself again because of how much success there actually was."
Players like Scump, who are still active in professional rosters, have to make time for both competitions as well as content creation in order to remain successful. However, for players who are no longer actively competing, retirement from Call of Duty tournaments means looking for a different job.
Some players, such as OpTic Gaming's Tyler 'Teepee' Polchow, secure spots as coaches on esports teams. Others, such as veteran player Joe 'Merk' DeLuca, have utilised their knowledge of the game to become league commentators and analysts. Beyond that, several esports players have maintained strict schedules for content creation, and they have started building a presence on platforms such as Twitch and YouTube in order to keep their brand relevant.
Teepee, while also acting as the coach for OpTic Gaming, demonstrated how successful a retired player can be outside of competition. The ex-competitive player has grown a massive community through streaming. Scump addressed his teammate's success, stating that "people are just generous [on Twitch]. Teepee, for instance, averages two to three thousand viewers and has hit like 17,000 subscribers, and it's consistent."
Nadeshot also found massive success outside of competitive play after developing his own esports team. 100 Thieves exploded onto the scene not only as an organisation representing multiple esports titles and figures, but as a brand that supported content creation and seasonal apparel. The brand has attracted major partners such as Rocket Mortgage, Red Bull, and Cash App as well as partnerships with investors such as Cleveland Cavaliers owner Daniel Gilbert and Drake.
Success as content creators and business owners has opened doors for other esports players who may need to find work after retirement from competitive esports. Although, the implementation of the franchising system in Call of Duty esports may change the way careers and retirements operate in the scene forever. Hopefully it means a more secure future for these professional athletes who have among the earliest retirement ages in the world.