If there's one thing a tactical shooter like Rainbow Six Siege, where fine margins can be the difference between triumphant victory and humiliating defeat, doesn't need, it's extravagant cosmetics. In this title, which you could argue is one of the best competitive FPS games out there, you need to be keenly aware of your surroundings and make certain that you're staying out of your enemies' sight-lines as much as possible. But, that hasn't stopped Ubisoft from monetising Rainbow Six Siege with some rather "out there" cosmetics. And, the latest set of unusual cosmetics has Rainbow Six Siege's Blackbeard fans in something of a chokehold – because it's themed around WWE's Undertaker.
Yeah, we're not kidding around. You can purchase an Elite skin set for Blackbeard that brings the iconic leather duster and wide-brimmed hat of The Pale Rider himself to Ubisoft's methodical FPS.
If this sounds like something you'd be into, the Deadman Bundle for Blackbeard comes with the cosmetics you'll be able to see in the trailer below (a uniform and a headgear) alongside an operator portrait, an Undertaker Championship charm, the Moonlight Brawl background, and the Tombstone skin for the Mk17 CQB.
As you might imagine, Rainbow Six Siege fans are having quite a bit of fun when it comes to joking about this skin and the potential for WWE scenarios and moves in Ubisoft's shooter. However, there's also a section of the fanbase that is simply baffled by the decision to introduce such a collaboration – as it's another step further away from the military realism the Rainbow Six franchise was built around.
The Reddit post below, is a prime example of this, as the comments are filled with a healthy mix of complaints and banter – as you might imagine, looking at the skin itself. You can also find another example of this strange mix of support and disdain here.
"bb is the worst op we've ever made and no one likes him, let's give him an overpriced elite skin, that will give us money"- probably ubisoft from Rainbow6
Still, we don't think it's a bad skin at all. You can also pick up a Becky Lynch-themed The Man Bundle for Thorn, if you really like your wrestling. This includes the cosmetics seen below alongside another operator portrait, the WWE Championship Titles charm, the I Am The Man background, and the Dis-Arm-Her skin for the MK17 CQB.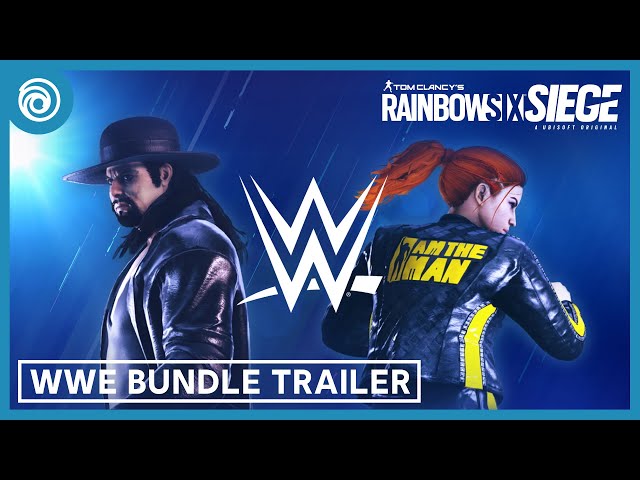 Individually, each bundle will set you back 2160 R6 Credits. However, you can save a little bit on both by picking up the WWE Rumble Bundle for 4080 R6 Credits – although, it really isn't that much of a saving.
So, while we would suggest avoiding these cosmetics if you're looking to climb the Rainbow Six Siege ranks with either operator, they are a lot of fun – and could make callouts very interesting. However, as one of the biggest esports games in the world, you have to imagine if these sorts of cosmetics are really where Ubisoft's resources should be going? The gameplay should always be paramount, right?