Customizability is king when playing the top multiplayer games, from the plethora of skins available in Fortnite to the careful creature selections players make before a death-defying match of Ultimate Chicken Horse. Recreate Games is aware of this, drafting a veritable roster of cuddly Party Animals characters and Party Animals costumes for you to choose from when you're duking it out with your friends in this upcoming party game.
Taking cues from Gang Beasts, you'll battle it out for combat supremacy on a shared screen against pals thanks to Party Animals couch co-op. The character selection roster in Party Animals gives you a range of critters to choose from, but it's important to note that your choice of a combatant doesn't have any effect on your stats while playing – it's purely a cosmetic choice.
Party Animals characters list
The 12 Party Animals characters and costumes are:
Underbite
Nemo
Tiagra
Macchiato
Otta
Morse
Harry
Coco
Carrot
Bacon
Barbie
Valiente
While the individual forms of the avatars will likely give you some different physicality while running and jumping, your choice doesn't appear to have a bearing on the actual gameplay. The Otter won't trump the Corgi as standard, even though it probably should.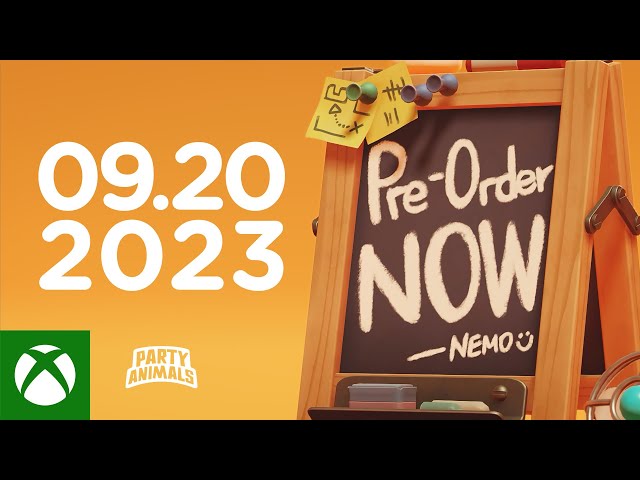 Beyond the initial choice of animal, you can also dress up your critters in a huge number of accessories, giving your avatar a unique style as you take on a variety of game modes. The Recreate Games team has also confirmed that many of the costumes will be available through earned in-game currency, so you won't necessarily need to reach for your wallet when coordinating a fit for your chosen critter.
Underbite
With a dozy expression and toothy grin, Underbite is a dinosaur whose friendly demeanor may earn you some pity in matches. Described on his profile as the '400th annual international nose biting champion', this reptilian challenger has a lot of underdog potential.
Nemo
Despite sharing a name with Pixar's favorite clownfish, the Nemo you'll find in Party Animals is actually a royal corgi with a fuzzy tummy.
Tiagra
Tiagra is one of Party Animals' more adorable critters.; With huge brown eyes and tufts of patterned fur, this creature gives you the physical attributes of a Bengal tiger with none of the strength or skills. Results may vary.
Macchiato
The Garfield energy is strong with this one. Macchiato is a ginger-striped cat whose menacing energy is hidden behind their adorable cat ears and bell collar.
Otta
As you might have guessed, Otta evokes one of nature's cutest creatures, the humble Otter. If you ask me, their vacant expression seems to obfuscate a clear penchant for fuzzy vengeance.
Morse
Is it a moose? Is it a horse? We're not even sure the developers know. This mammalian avatar has the added head weight of antlers which could be a fun physics element to work with in-game.
Harry
The official tagline for this particular character is "all ducks look like this", though we've just conducted a quick survey here at The Loadout, and we don't quite agree.
Coco
Steve Irwin approved, Coco, is a croc adorned with a gold chain and aviators. This mysterious reptile will, at the very least, give you some visual edge.
Carrot
If Looney Tunes has taught us anything, it's that the rabbit is the most mischievous of all the woodland creatures. It's fitting, then, that Party Animals has included this cute critter in its lineup.
Bacon
Just a little on the nose with the naming here… Bacon is a pig avatar whose punk aesthetic and red-tinged mohawk add a playful edginess to its otherwise adorable design.
Barbie
Described as having a heart of gold and muscles of steel, Barbie is the perfect character choice for anyone wanting to rely on intimidation in competition rather than skill.
Valiente
There's a famous saying, Don't hit a cow with a hammer, or maybe it was don't take a bull by the horns. Either way, choosing Valiente means you can use their spiritual bovine strength to take out your friends.
That's all the Party Animals characters we know of right now. We hope you've found your main! For more co-op and PVP mayhem, check out our guide on the Party Animals crossplay functionality and some of the best Party Animals weapons to use.