The 2022 Overwatch League season kicks off this week, giving Overwatch players a prime chance to glimpse all the new content coming to the game when Overwatch 2 releases, and even a chance to play an early build of the upcoming game itself. Those eager to earn beta drops are in with a chance to earn one of 1,500 Overwatch 2 beta codes per hour by tuning in to the OWL 2022 opening weekend.
Professional teams New York Excelsior and Los Angeles Gladiators will be the first to showcase new content over the Overwatch League's opening weekend, where we're sure to see the debut of new hero Sojourn, as well as a slew of new maps, and the new game mode 'Push', which replaces the contentious 2CP mode of previous seasons.
This year also sees the debut of the 5v5 format, which is due to shake up the metagame entirely now that each team has one less tank on the map. Overwatch fans with beta access have plenty of rewards to gain by watching too, as qualifying viewers have a chance to win exclusive skins and OWL tokens to spend in-game – all the more reason to tune in this opening weekend.
Overwatch League 2022 start time
The Overwatch League 2022 opening weekend kicks off May 5 at 4 pm ET / 8 pm GMT.
Matches will air between May 5-8 and feature only the Western Region teams, as the Eastern Region has been delayed by two weeks due to a COVID-19 outbreak.
The full schedule of teams playing this weekend is available here.
Overwatch League 2022 where to watch
The Overwatch League will be streaming all matches live via its YouTube channel.
The opening broadcast can be watched here when the stream goes live on May 5.
Overwatch League 2022 how to earn Overwatch 2 beta drops
For a chance to earn beta drops for Overwatch 2, you will need to watch a live Overwatch League broadcast during the opening weekend between May 5-8 with a YouTube account that has been linked to your battle.net account.
Beta codes are set to drop at hourly intervals to a random proportion of up to 1,500 qualifying viewers per interval. To qualify for an interval, you will need to have logged an hour's worth of viewership of the Overwatch League live broadcast.
When your account has viewed an hour of content, it will qualify for the next nearest hourly interval, giving you a chance to win access to the beta. If you do not gain access during that interval, you will need to view another hour of the broadcast for another chance to win. Accounts that have already gained access will not be eligible for a second beta code.
Once you've earned access to the beta, you should receive a notification from YouTube regarding your reward. If this doesn't appear, check your battle.net account by going to the Overwatch hub page. Above the 'Play' button is a dropdown menu for 'Game Version' – if a version titled 'Overwatch 2 Tech Beta' has appeared, you have gained access to the beta.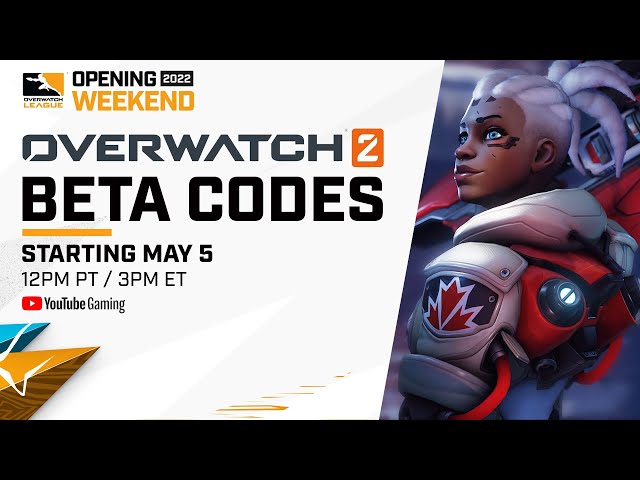 If you've been informed by YouTube that you have gained access, but can't yet see this option in your battle.net client, you may need to double-check whether your YouTube account is correctly linked to your battle.net account. If it is correctly linked and there is a delay, it may be on the behalf of Blizzard – in which case, you may have to wait a while longer for access.
For those looking to earn Overwatch League skins and tokens, simply follow the same process of linking your battle.net account and tuning into the live broadcast. For every hour of live games watched, you'll earn Overwatch League tokens, and if you log five hours across the weekend, you'll be able to claim an official Winston Overwatch League skin for use in-game.
With all that information in tow, now all that's left is to tune in when Overwatch League's opening weekend goes live! Will the Shanghai Dragons be able to retain their dominance and their title from last year? Will the renewed attention for the esport be enough to bring in new Overwatch League 2022 sponsors? It's set to be a season unlike any that have come before, so be sure to tune in on May 5!