The Overwatch 2 beta is finally out there, but it hasn't been smooth sailing for everyone looking to play it. Eager gamers have been scrambling to figure out how to access the beta after a campaign on April 27 had viewers watching Twitch for beta code drops from streamers, with many reporting difficulties getting in and even more missing the brief eight-hour window entirely.
In response, the Overwatch League has offered an alternative to the Twitch drops, by promising to give out 1,500 Overwatch 2 beta codes per hour to viewers of the opening weekend of the esports fifth season. The opening weekend will kick off on May 5 at 4 pm ET / 8 pm GMT with a live event hosted via the Overwatch League's Youtube channel, and matches will continue until Toronto Defiant play Houston Outlaws on May 8 at 8.30 pm ET / 12.30 pm GMT.
Viewers will need to have a Youtube account that is paired with their battle.net account to be eligible to win a code and gain access to the beta, the details for doing which have been made available on the Overwatch League website. The beta is set to end on May 17, so this comes as the last chance for those who missed out the first time around.
Overwatch players looking to earn bonus skins for their favourite Overwatch League teams in-game can also earn Overwatch League tokens while watching from a paired account over the opening weekend. These tokens accrue every hour, and players can earn double the tokens for tuning into the following opening matches:
Los Angeles Gladiators vs. New York Excelsior
Vancouver Titans vs. Boston Uprising
Washington Justice vs. Toronto Defiant
Florida Mayhem vs. Paris Eternals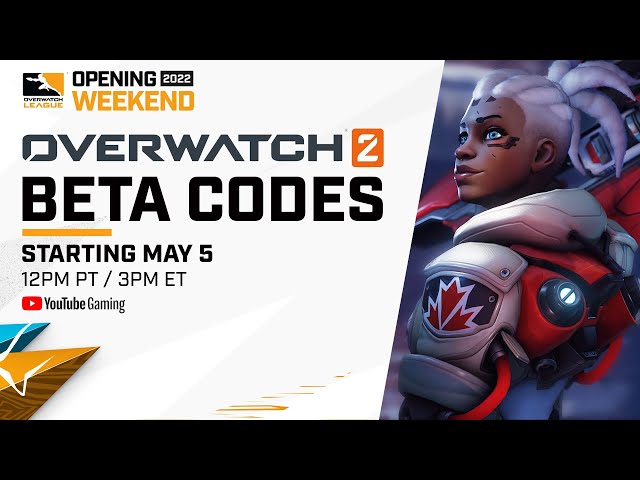 Given that this season's Overwatch League will be showcasing an early build of Overwatch 2, it's understandable why Blizzard would want to give viewers a chance to earn access to the early build for themselves. It also tracks that, seeing as the Overwatch League still doesn't have any major sponsors going into the 2022 season, the potential of earning beta code drops for viewers should bring new eyeballs to the stream and help drum up viewership numbers in time for the company's next big sponsorship bid.
While the rest of us wait until the League starts for our next shot at gaining access to the Overwatch 2 beta, at least we can still watch streamers like xQc uncovering map exploits and feel like we're testing the beta vicariously. Those who planned to watch the Overwatch League regardless will instead be hawkishly eyeing the upcoming schedule as the countdown to next season finally draws to a close.