Just a few months after Square Enix's premiere 2.5D JRPG studio released Triangle Strategy, the studio is back with Octopath Traveler 2. Yes, the well-received JRPG covering eight different characters is back! But, what do we know about the Octopath Traveler 2 release date, gameplay, story, and more?
The game was a surprise announcement at the September 2022 Nintendo Direct with the series now seemingly becoming one of Square Enix's major franchises. The original game has sold more than 2.5 million copies and was an Xbox Game Pass games library hit, so hopefully, the sequel can live up to fans' expectations.
Octopath Traveler 2 release date
Octopath Traveler 2 is set to release on February 24, 2023, on Nintendo Switch, PS5, PS4, and PC.
Interestingly, the game is skipping Xbox considering the first game did release on the platform and not on PlayStation.
Octopath traveler 2 story
The story takes place in Solistia with eight new travellers who are all on a journey where paths differ between day and night and their paths intertwine.
The eight new characters include Hikari, the Warrior, Agnea, the Dancer, Partitio, the Merchant, Osvald, the Scholar, Throné, the Thief, Temenos, the Cleric, Ochette, the Hunter, and Castti, the Apothecary.
Octopath traveler 2 gameplay
The individual character's path actions will differ between day and night which will change up the gameplay in a number of ways. Similarly, the towns and areas will vary between day and night.
The classic Break and Boost battle system from the first game is back to break enemies and inflict damage and then boost your travelers to enhance their abilities. The new Latent Power battle element has also been introduced in the sequel which can unleash a powerful ability once the gauge fills up.
You can watch the reveal trailer below: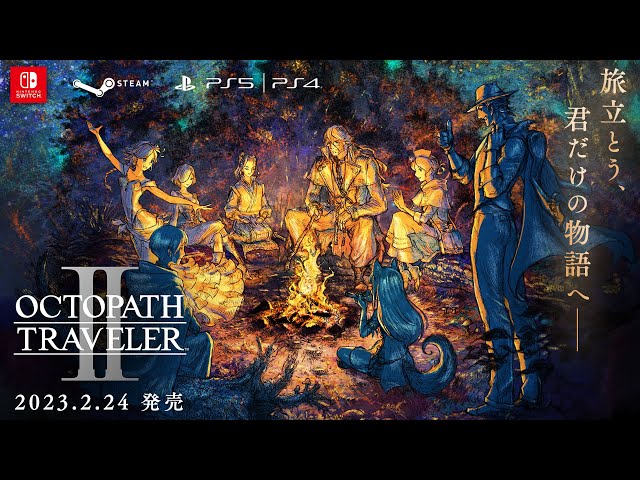 And there you have all the information you need to know about the Octopath Traveler 2 release date, gameplay, and more. Overall it is looking like an exciting sequel to the original game. While you wait for another look at the game or to get your hands on it, check out some of the best Nintendo Switch games to play right now.