At long last, Marvel's Midnight Suns developer Firaxis Games has detailed what fans can expect in the first DLC update for the game – the one featuring everyone's favourite mouthy mercenary Deadpool. Titled "The Good, The Bad, and The Undead", this expansion is going to introduce new story content centred around The Hunter, Deadpool, and the rest of the Midnight Suns dealing with a particular Hydra-fuelled vampire problem. While this seems all nice and dandy on paper, with Blade a prominent member of the aforementioned group, it does suggest some issues down the line. Why? Well, because Morbius is one of the upcoming DLC characters.
As you may already know, thanks to Jared Leto's performance as Michael Morbius in 2022's Morbius, Morbius is a vampire. Well, he isn't your standard vampire, of course, but he suffers from a form of vampirism that forces him to feed on fresh human blood from time to time. So, that's why he's referred to as "Morbius the Living Vampire" in Marvel Comics.
Anyway, Firaxis Games has announced that Morbius will be joining Storm, Venom, and the upcoming Deadpool as Marvel's Midnight Suns' DLC characters. We already knew Blade would cause some friction as a vampire hunter, but the fact that this upcoming DLC expansion is all about vampire killing? That can't be good, can it?
Well, we can't imagine it will be – and we can't wait to find out how Morbius will react to this. He is something of a villain in the Marvel Universe, despite whatever Sony was trying to do with its' movie. So, we might see him adopt something of a 'loner' role in-game when he arrives. However, we also can't imagine Venom will start becoming best friends with Captain Marvel. So, perhaps these DLCs will see a third faction of villainous characters arise in The Abbey. Only time will tell. But, we can't wait to find out.
You want to see what Deadpool looks like in-game? Check out the trailer below: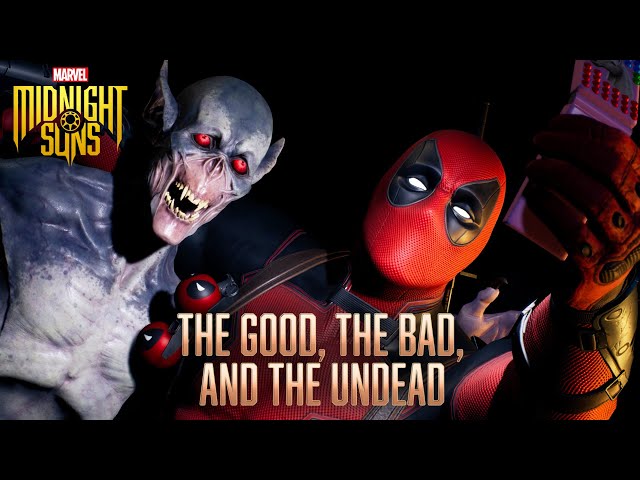 Marvel's Midnight Suns' first DLC pack featuring Deadpool is due to arrive on January 26. It's going to feature new cosmetic items, new attack and skill cards, and new "bad guys doing bad guy stuff" – some of which are (as you may have guessed) vampires.
It's also going to feature a Food Truck upgrade for The Abbey, that should lead to a few more interesting interactions among The Hunter and their teammates.
If you want to know more about them, though, you can read up on all the Midnight Suns characters right here. We also have an explainer regarding Midnight Suns' new game plus mode, if you're looking forward to starting that when Deadpool arrives.