What is the best Mario Kart 8 kart? In Mario Kart 8 Deluxe, choosing who you race with and what you race in is a core part of the game. Much like your choice of character, picking the kart you want to race will be a matter of preference for most, despite the associated stats. But, it's not only that. You're faced with a big decision – whether you want the kart to couple up with your character's strengths to boost the stats even more or whether you use it to balance out your character's weaknesses. So, we've done the heavy lifting for you to come up with the Mario Kart 8 best kart combinations.
Each kart comes with its own set of stats based on speed, acceleration, weight, handling, traction/grip, and mini-turbo. So, picking a kart can be difficult, especially if you want to be the top player in one of the best racing games. And, you'll need to take into account your favorite Mario Kart 8 Deluxe character picks too.
Mario Kart 8 best kart
Here's the Mario Kart 8 best kart as of Version 3.0:
Kart: Teddy Buggy
Wheels: Roller
Glider: Cloud Glider
It's not just the kart that determines what will hopefully earn you a place on the podium. You're also going to want to consider the weight of your character, what kind of tires you equip, and your glider – though there's a very clear handful of favorites here. We'd recommend some of the mid-weight characters, like Peach, Yoshi, Daisy, Peachette, or Birdo as the best choices with this kart combo.
You can see more information about this build in the video below from 'Sersun' on YouTube:
As for the body of the kart, the Teddy Buggy is generally the best thanks to its superb speed and mini-turbo stats that make it an agile and scrappy choice, especially when paired with one of the best characters. However, if you'd like even more acceleration and handling at the cost of max speed, you could use standard characters like Mario.
There are also 22 sets of tires to choose from. A lot, right? Well, for this setup, we'd recommend the Rollers. These offer a well-balanced set of speed stats on the ground, in the air, in water, and even in anti-gravity areas. As such, you'll be zipping around the track at high speeds, although it does look a little silly when paired with such a large character as Bowser or Donkey Kong – though we're looking for the best kart, not the most stylish.
There are variations to this setup that you might feel play better, but if you're looking to cover all the bases, this is what we'd recommend.
Some more of the Mario Kart 8 best karts and combinations include:
| | | | | |
| --- | --- | --- | --- | --- |
| Performance | Driver | Body | Tires | Gliders |
| Balanced | Mario, Luigi, Ludwig, Iggy, Kamek | Pipe Frame, Varmint, City Tripper | Roller, Azure Roller | Cloud, Flower, Parachute, Paper |
| Speed and Turbo | Yoshi, Peach, Daisy, Birdo, Tanooki Mario, Villager (Boy), Inkling (Boy) | Teddy Buggy, Cat Cruiser | Roller, Azure Roller | Cloud, Flower, Parachute, Paper |
Generally, the biggest decision you'll have to make when deciding upon the best kart for you is which racer you'd like to play (we all have our favorites) and which body to use. Unfortunately, there is a very clear meta when it comes to tires and gliders, so you'll more often than not be using the Rollers and the Cloud with your favorite combo.
Remember, there are six weight classes when it comes to characters, affecting your speed, acceleration, handling, and traction.
| | | | | | |
| --- | --- | --- | --- | --- | --- |
| Very light | Light | Medium | Medium-heavy | Heavy | Very heavy |
| Baby Mario, Baby Luigi, Baby Princess Peach, Baby Princess Daisy, Baby Rosalina, Dry Bones, Lemmy Koopa | Bowser Jr., Isabelle, Koopa Troopa, Lakitu, Larry Koopa, Shy Guy, Toad, Toadette, Wendy, O. Koopa | Cat Peach, Inkling (Boy & Girl), Princess Peach, Princess Daisy, Tanooki Mario, Villager (Boy & Girl), Yoshi, Kamek | Iggy Koopa, Luigi, Mario, Ludwig Von Koopa | Donkey Kong, King Boo, Link, Metal Mario, Pink Gold Peach, Roy Koopa, Rosalina, Waluigi, Wiggler, Petey Piranha | Bowser, Dry Bowser, Morton Koopa Jr., Wario |
If you'd like a better understanding of how each of these moving parts interact to make the Mario Kart 8 best kart combinations, check out the MK8DX Builder. This will show you the overall stats of the kart build, depending on which driver, body, tires, and glider you have equipped.
What else can help your Mario Kart 8 Deluxe kart?
Simply put, boosting (or mini-turbo) will massively help you in reaching first place. Racing in Mario Kart 8 Deluxe is not all about max speed, but it certainly helps. Thankfully, there are a few different options for performing boosts in the game that, if used correctly, can give you a real advantage over other players even if they have a higher max speed stat.
First up, there's the starting line boost. From the offset, you can utilize a boost from the word go. To do this, you press and hold down the accelerator when the number two appears in the starting countdown. Performed correctly, you'll boost ahead of your opponents. Used incorrectly, you'll suffer a stall that could set you back a little bit.
There's also the drift boost. To perform this, hold down the R button round corners whilst still steering with the analog stick to keep on track. The boost then builds up as you clear the corner and can be released by letting go of R to leave your competitors in your dust. There are three levels – the mini-turbo, super mini-turbo, and ultra mini-turbo, depending on how well you perform it.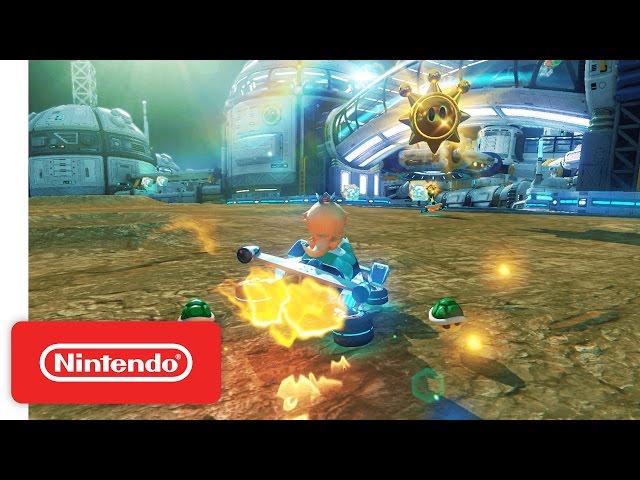 Next up, there's the stunt boost. Whilst heading over ramps or bumps in the track, players can also press the R button to hop a little higher which can give you an extra boost.
And, if you fancy it, you can take advantage of a slipstream by positioning yourself behind another player long enough to get boosted by the air they are generating behind them. Not quite the boost of the rest, but still something that can help you zip ahead in your kart.
That's everything we've got on the Mario Kart 8 best kart combinations. The deep yet light-hearted thrills are what make MK8 one of the best Nintendo Switch games, and the growing list of Mario Kart 8 tracks only makes it better. Yahoo!