When it comes to collecting my thoughts on the Horizon Forbidden West Burning Shores DLC, I really do have nothing but good things to say about it. Graphically, Guerrilla Games continues to surprise me with how breathtakingly beautiful this open world RPG is – and the studio is still delivering some of the best animation work out there right now. Mechanically, this feature-rich RPG continues to challenge with new Machines and blockbuster combat sequences that you can't help but want more of. However, as was the case with the Horizon Forbidden West itself, the character work and narrative is what really stands out when it comes to The Burning Shores – but, this also proves that Aloy shouldn't be the sole star of the series going forwards.
Throughout Horizon Forbidden West, you meet some truly wonderful characters – and Aloy herself continues to be a wonderful lens to see the world through. However, as you might already know, she does come across as a bit of a know-it-all at times – she's a chatterbox, whether she's talking with other characters or not. As you can read more about in our Horizon Forbidden West review here, Aloy's "not-so-internal" monologue can become a little grating at times – but, when you consider how much more about the world she knows than her peers (thanks to the Focus) it makes a lot of sense. She's never intentionally condescending, but it's clear that her time as an outsider has left her needing a helping hand when it comes to her interpersonal communications. And, as much as I love Aloy, it all started to get a little stale.
Thankfully, though, we start to see the winds of change stirring in the tail-end of Horizon Forbidden West's main narrative – and these winds are blowing fully by the time Aloy touches down on The Burning Shores of a far-future, post-apocalyptic Los Angeles. There's a new threat on the horizon, and Aloy is – understandably – a little worried about it.
In this expansion specifically, though, Aloy comes face to face with the sea-faring Quen tribe. They're someone she's met before, but she doesn't know nearly as much about them as she'd like – and they know nearly as much as she does about the old world. It's safe to say that this is something that throws her off her game a little bit, and then Seyka comes to swoop Aloy off her feet. As Guerrilla Games rightfully expressed ahead of release, Horizon Forbidden West's Aloy meets her match in The Burning Shores' Seyka – and this is, without a doubt, the best thing to happen to the series so far.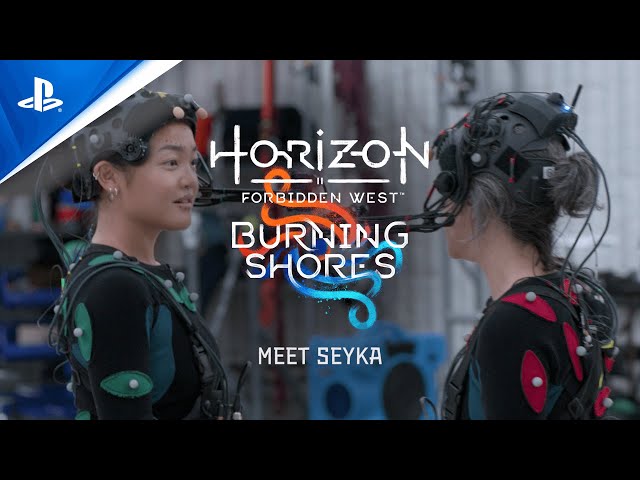 A Quen marine with the strength and skill to match Aloy in almost any situation that's presented to her, Seyka is a character that pushes our chatty protagonist into unfamiliar territory – both literally and figuratively. These are both things we don't see very often at all in Horizon Forbidden West. Despite travelling to new lands, meeting new people, and going toe-to-toe with new Machines in Horizon Forbidden West, Aloy's journey of self-discovery and growth has plateaued somewhat. She doesn't have time to learn new things and continue to grow as a person, there are world-ending threats to deal with and a never-ending list of problems to solve.
In Burning Shores, though, despite being a continuation of the above, Aloy finds herself coming face to face with an evil that's more insidious than anything she has faced before in Zenith Walter Londra – who is portrayed truly excellently by the ever-talented Sam Witwer. That's not all, though, but she's also finding herself experiencing feelings more intense than anything she's ever experienced before when it comes to Seyka – who is portrayed equally as excellently by Kylie Liya Page.
These opposing extremes, emotions that can be boiled down to hate and love respectively, are exactly what the Horizon series needed; they're exactly what Aloy needed to continue growing as a character. By the end of Horizon Zero Dawn, she had learnt almost everything she can about her own past and has proven herself adept at taking down Machines of all shapes and sizes. When we reach the end of Horizon Forbidden West, Aloy has fully embraced her role as humanity's impromptu saviour – and, once again, proven that she can take down any enemy that dares to face her. Throughout The Burning Shores, though, it all feels as though it's getting that little bit more personal.
Through Londra and his wicked machinations, Aloy is forced to face a foe that challenges her physically – and disgusts her. Through Seyka, though, Aloy is faced with an ally that challenges her emotionally – one that makes her feel vulnerable, too. Not only this, but Seyka is someone that keeps Aloy on her toes. Seyka is someone that can match Aloy's energy, someone she can bounce off of, someone she can laugh with and learn from.
So, while I don't think Aloy needs more allies to help her take on the rogue Nemesis AI intent on destroying Earth and any other Machines that get thrown her way, I do think Aloy needs more allies that allow Guerrilla Games to add a tangible depth to the story this franchise is telling – one that is rooted in emergent real-world problems, but still feels so fantastic and far away.
Seyka, in particular, should be front-and-centre alongside Aloy in Horizon 3. She's someone worth fighting for and, without allies like that, you have to imagine the next game in the series will quickly become stale. The threat of Aloy's enemies needs to feel more real, and giving Aloy someone to love – and letting her love her – raises the stakes in a way that hits much harder than bigger machines. Aloy can handle herself in a fight. Now, it's time for something more.