Guerrilla Games' upcoming Horizon Forbidden West expansion, The Burning Shores, promises to thrust protagonist Aloy into another adventure fresh from defeating the Far Zenith and Nemesis in the explosive finale of the open world RPG. As someone who has fought against countless foes – both machine and man – and travelled far and wide since the opening sequences of Horizon Zero Dawn, it's safe to say that we're pretty certain Aloy can handle whatever's thrown at her. However, it looks like Burning Shores' Seyka – a new character being introduced through this DLC – is going to prove herself a match to Aloy and then some.
Fully introducing Seyka to the world ahead of the Horizon Forbidden West Burning Shores DLC release date through this short video titled "Meet Seyka", Aloy actress Ashly Burch has revealed that Seyka is "such a different character" to what players have seen Aloy interact with before, stating that "Aloy may have met her match" when it comes to her.
A Quen marine, Seyka is someone who knows how to hold her own. However, "because she's so similar to Aloy, there's a strange power dynamic that Aloy's not used to" – according to Burch.
Seyka actress Kylie Liya Page, as you can see below, has explained that this new character is somebody that "matches [Aloy's] level" and that she hasn't really seen that before. However, that isn't to say the two will butt heads forever. Page has suggested that Seyka shares her Quen community with Aloy – at least a little bit.
Discussing her experience portraying Seyka as someone new to motion-capture work, actress Page added that the experience was "intimidating" and "very foreign". However, it's clear that she's been a driving force behind the characterisation of Seyka. Horizon Forbidden West's narrative director Ben McCaw has explained that Page's ability to draw on both anger and vulnerability was "pretty awesome" – and brought an emotional intensity to the character.
If you want to see all this for yourself, you can below: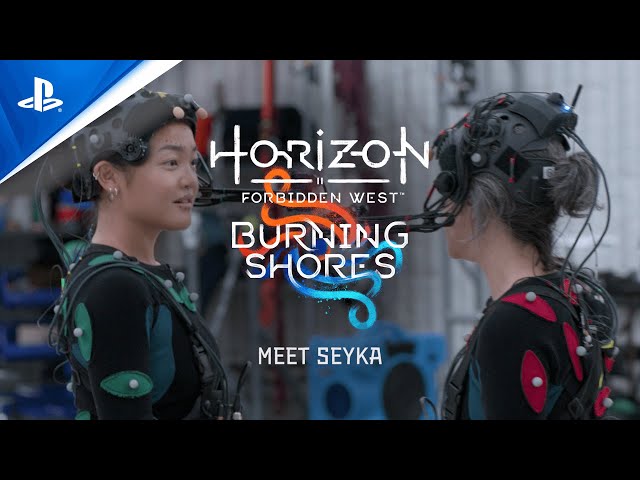 Horizon Forbidden West is one of the best PS5 games out there right now and this expansion promises to bring a new adventure, with a new mystery for Aloy (and players) to solve. If you want to know if you can play Horizon Forbidden West Burning Shores on PS4, you can find out more here. One Horizon Forbidden West DLC battle will push the PS5 to it's limits and we can't wait to dive in.