Without a shadow of a doubt, Horizon Forbidden West is one of the most graphically impressive PS5 games available right now – even over a year after launch. It's clear that Guerrilla Games is using everything this new-generation hardware is offering to deliver a feast for the eyes alongside a rich open world environment and a thrilling narrative. If you're a fan of Aloy, you'll be pleased to know it doesn't sound like that is changing come the Horizon Forbidden West DLC – The Burning Shores. In fact, it sounds like one particular boss battle is going to push the machine to it's limits.
In a Q&A session with SIE senior content communications specialist Gillen McAllister published to the PlayStation Blog, Horizon Forbidden West game director Mathijs de Jonge has hinted that the upcoming Burning Shores expansion is going to utilise everything the PS5 will have to offer and deliver another blockbuster chapter of Aloy's story to fans.
When asked about taking advantage of the PS5's hardware when developing the expansion, de Jonge revealed that "a particular battle scene" will "require a LOT of memory and power" in The Burning Shores. When you consider how much power Horizon Forbidden West must already use, something de Jonge comments on, this sounds like it's going to be one big battle indeed.
Sadly, though, de Jonge doesn't go into too much detail about what that battle entails. He does express that Guerrilla Games was able to "squeeze a lot of activity" into the "cityscape ruins of LA" – the setting of The Burning Shores and a location that will be "highly detailed and require a lot of processing power". However, he doesn't mention what we're going toe-to-toe with in the DLC, at least in this "particular battle scene".
Looking at the trailer Guerrilla Games has shared with the world, though, would suggest that it's going to have something to do with the giant machine shown – which you can see for yourself below: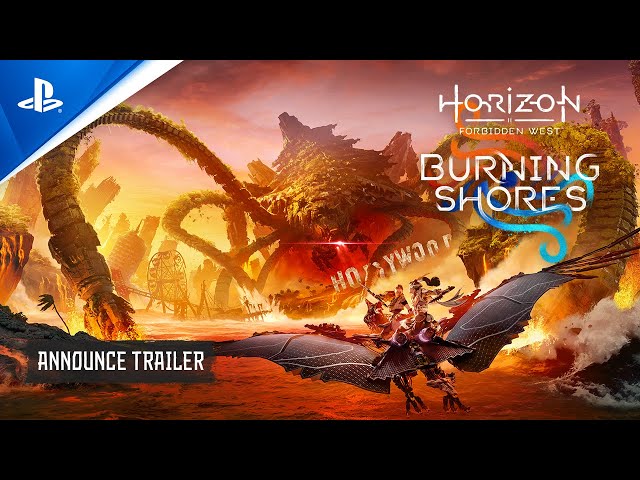 We don't know about you, but that looks like quite a tough fight. Still, the Horizon Forbidden West Burning Shores DLC release date is almost here and we can't wait to jump in. This is one of the best PS5 games out there and you really should check it out if you haven't yet – it's on PS Plus Extra now, you know.
While you're here, why not read up on the latest Horizon Forbidden West multiplayer leaks right here and more on how Horizon Forbidden West players have spent over 2,300 years underwater in-game; how wild is that?