Ahead of the highly anticipated release of Avalanche Studios' Hogwarts Legacy, it has been revealed that popular British actor Simon Pegg – who you'll know from Edgar Wright's Cornetto Trilogy (Shaun of the Dead, Hot Fuzz, The World's End) and the Star Wars franchise (Unkar Plutt, Dengar) – will be portraying Hogwarts' headmaster in the upcoming action adventure game: Phineas Nigellus Black. From what Pegg tells us in a video on Headmaster Black's legacy, this isn't going to be the school of witchcraft and wizardry we know and love – at least when it comes to this particular position in the faculty.
Those of you with a keen eye and a fountain-like knowledge of the Wizarding World will know just who Phineas Nigellus Black is; for one, he's Sirius Black's great, great grandfather. Not only this, but he's actually hanging as a portrait in Dumbledoor's office. However, if you're not sure who this character is, and why he's going to stand out in Hogwarts Legacy, Pegg has you covered.
"He's sort of pompous, disinterested… He's not a good teacher, or headmaster, in any way," Pegg explains. "I don't think he has any interest in children's education or being, in any way, a role model. What he wants is the kudos of being the headmaster of the greatest wizarding school in the world."
Also described as "a bit of an idiot" by the actor, it's already clear to see that this is one Hogwarts Legacy character that fans are going to enjoy seeing Pegg portray – but, one they might not get along with.
If you think Phineas is going to be anything like the aforementioned Sirius Black – someone who exudes honour and bravery – you"ll be saddened to know that this isn't going to be the case. He's going to be more of a hinderance than a help to players, from what we've seen so far. So, don't expect any sort of assistance in the same vein as Dumbledoor's assistance to Harry Potter in the main series of books.
However, as deplorable as this character sounds, Pegg is clearly thrilled to finally be involved in the Wizarding World franchise and the magic it brings to the screen. He's even gone as to say that it feels like "something has finally been put right", after noting that almost every British actor worth their weight has been involved in this iconic franchise in some capacity.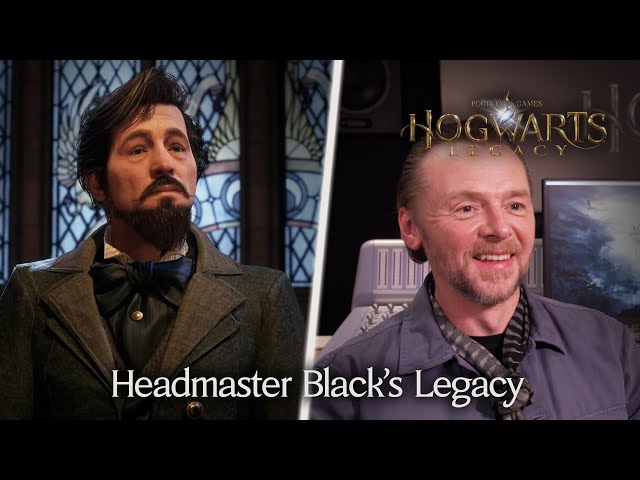 If you're not Simon Pegg's biggest fan, and we can't imagine why you wouldn't be, there are quite a few other talented names in the Hogwarts Legacy voice actors cast. Lesly Nicol, known for portraying Ms Patmore in Downton Abbey, voices deputy Headmistress Matilda Weasley. In addition to this, Modern Warfare 2's Nova, Kandace Caine, will portray Professor Onai alongside Modern Warfare's Otter, Jason Anthony, as Nearly Headless Nick.
Luke Youngblood, who portrayed Lee Jordan in the film series, is joining the cast as Ravenclaw student Everett Clopton alongside WandaVision's Asif Ali as fellow student Mahendra Pehlwaan.
When it comes to this game, there's a lot to look forward to – Harry Potter could be in Hogwarts Legacy, too. You can find out more about the Hogwarts Legacy release date and whether you can look forward to Hogwarts Legacy multiplayer features here.
Hogwarts Legacy has drawn considerable criticism during its development, largely due to the fact that the creator of the Harry Potter series, J.K. Rowling, has made a number of transphobic remarks on social media in recent years.
While Avalanche has confirmed that J.K. Rowling is not "directly involved" in the development of Hogwarts Legacy, it is working with "her team" and Portkey Games, a Warner Bros. label dedicated to launching new experiences inspired by J.K. Rowling's original stories. It is currently unclear whether she will earn any royalties from the game's sale, but it is likely given it is based on her original body of work.
If you would like to learn more about transgender rights or lend your support, we'd encourage you to check out the National Center for Transgender Equality in the US and Mermaids in the UK.