We've seen plenty of space-themed shooters appear as of late, but Helldivers 2 is poised to arise as something special. The Helldivers 2 release date is a moment to look forward to, especially as Arrowhead Game Studios is set to deliver some planet-shattering, gory action. That's what the Helldivers 2 age rating is teeing up at first glance.
Our first glimpses of Helldivers 2 gameplay have been fiery, but it appears the game is harboring its more violent moments behind closed doors: "Combat is accompanied by realistic gunfire, cries of pain, and blood-splatter effects; some areas of the battlefield depict bloodstains and dismembered corpses."
The first game depicts gunfights from a top-down perspective, akin to games like Diablo 4. It definitely has its violent tendencies, but the sequel's new perspective will take it to a new level. While you may know that Helldivers 2 is making the leap to third-person from the top-down POV this time around, the game's enemy types are somewhat of a mystery.
The ESRB age rating for the game confirms that players can expect to see familiar foes from Helldivers lore return: "From a third-person perspective, players use pistols, assault rifles, sniper rifles, flamethrowers, turrets, grenades, and rocket launchers to shoot and kill enemies (e.g., robots, cyborgs, giant insects)."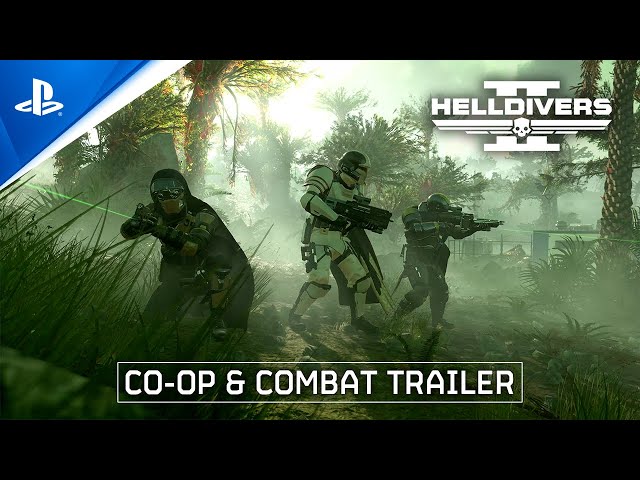 That means we'll be fighting against the Illuminate civilization once more, as well as Bugs across ranks like Scout, Infantry, Tank, Elite, and Master. The Illuminate, also known as the Squ'ith, navigates through time and space using a technological vast network – similar to that of the Vex Network from Destiny 2. Bugs aren't as advanced, but their evolution in Helldivers lore spans millions of years, leaving many mysteries behind regarding how they also travel across the universe.
Don't worry about taking them all down alone though, as Helldivers 2 multiplayer is all about co-op gameplay, between a total of four players. Friendly fire is active on the battlefield though, so choose your shots wisely when mowing down enemy forces. Although, it might be hard when it comes to this absolutely bonkers weapon that the developer has crafted. Helldivers 2 looks to be taking on a far more edgier tone than its predecessor too, with its aesthetic design giving us some major Destiny 2 and Remnant 2 vibes.
The stars are aligning for Helldivers 2 to become of the best PS5 multiplayer games out there. If you're after a different thrill, though, don't forget to check out the best FPS games already on PS5 and best PS5 games overall.