Codemasters has come a long way in recent years, releasing the excellent DiRT 5 last year which was mighty impressive on PS5 and Xbox Series Series X|S. The studio was also scooped up by EA to become its main racing game machine (sorry, Need For Speed), resulting in the latest F1 game making a big splash.
With GRID Legends, the next game from Codemasters, the studio's trend of releasing great racing games looks set to continue. GRID Legends certainly steps things up a gear in comparison to the 2019 GRID game that rebooted the series.
It's clear that Codemasters has benefited from being under the EA banner, with a racer that looks and plays better than ever before. With an ambitious content plan, a complete absence of microtransactions, and tons of modes and race types packed in at launch, GRID Legends looks like it could grip players next year in the same way it gripped me during my play session.
My big takeaway from a recent hands-on preview with GRID Legends is that Codemasters' custom-built engine has never looked better. With stunning, redesigned lighting systems and new-gen reflections, racing across the snowy, cobbled streets of Moscow or through the night-time lights of London felt enrapturing. Add to that the enhanced vehicle controls and you get a decent level of immersion when on the track.
The increase to 22-player races is also a plus, and GRID Legends constantly feels intense and challenging, keeping you focused on racing precision.
I played this preview on a PC, but new-gen consoles will have 4K support, alongside a 120fps performance mode which will undoubtedly please long-time GRID fans. Pair that with full cross-play for online modes, the ability to quickly drop into partially-completed races, and play lots of custom-made tracks in the Race Editor, it feels like GRID Legends could be a great pick-up-and-play experience for any fan of traditional racing games.
To add to that, the game's career mode has a wide variety of race types, including an electric vehicle series for the first time and the return of fan favourites like Drift and the battle-royale esque Eliminator mode.
While most of these were great fun, some of the other events, such as the multi-class races, didn't work as well. They often felt unfair and poorly balanced, but this is something I hope Codemasters will fix ahead of the game's launch in February.
On top of that, the game asks you to pay for your vehicle's repairs with your in-game earnings in the career mode, which bewildered me considering the player count has been upped to 22 and the game is focused on tight-knit pack racing. Scrapes and scratches are unavoidable and it also feels like you can flip far too easily right now. All of that meant that I was finishing each race having to pay 75%-80% of the money earned during that race for vehicle repairs, which I imagine will cause some progression issues.
There does appear to be perks you can buy in the Driven To Glory story mode (which I didn't get to try) but it is unclear if those perks have an effect on vehicle repair costs and if that will carry over to other modes.
One thing that lets GRID Legends down is the lack of an infinite rewind feature. While the game does have a number of accessibility options, it's lacking in this department. I'm not someone who plays hardcore racing experiences often, and, as such, I found myself getting frustrated at being rammed off the racetrack by an overly aggressive AI racer.
Racing games are becoming more and more accessible, but I'd like to get to the point where I can just enjoy the racing experience GRID is offering, without having to worry about sacrificing a whole race because I ran out of rewinds.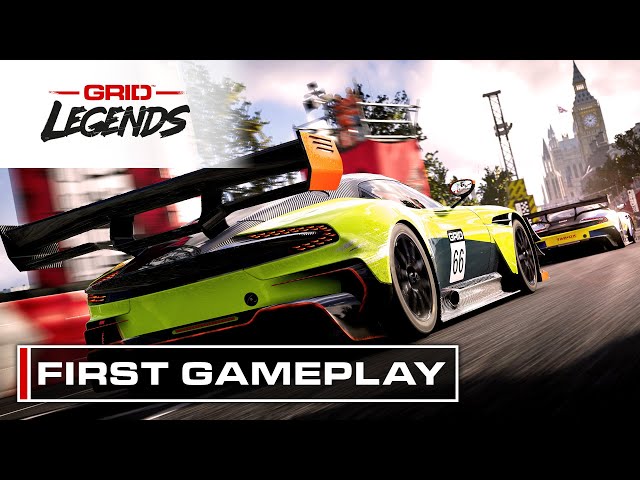 Despite those sticking points, GRID Legends feels like the first true new-gen middle ground racing experience that blends the realistic with the fun and creative with ample cars, tracks, and modes to keep you busy.
And all of that is without getting hands-on with the Netflix-style documentary mode 'Driven To Glory' where you play through different racers' best moments in a season. While I was disappointed not to have an opportunity to play that mode, I'm keen to see how the more ambitious parts of this game will come off and whether it'll be the first traditional racing game to pull me in and keep me engaged.