The amount of Fortnite skins out there is truly overwhelming. Whether you're suiting up as John Wick or hitting the griddy as Master Chief, there's a Fortnite skin for everyone. However, all skins end up in the Epic Games vault eventually. Unless you make a grand return like the Sureshot Fortnite skin.
If you're an avid Fortnite skin collector, you'll know that time is of the essence for snapping up the latest cosmetics. I'm sure we've all missed out on that one special skin over the years, hoping one day it might come back. Yes, we're looking at you Wolverine. Nonetheless, if you're a hardcore Fortnite fan from the Chapter 1 days, then you'll be glad to know that the Sureshot skin has emerged from the vault.
Dropping with the latest Fortnite item store refresh, the Sureshot skin is a classic cosmetic that hasn't been seen since September 26, 2019. The camo-clad character first appeared in Chapter 1, Season 10 – with over two appearances up to now.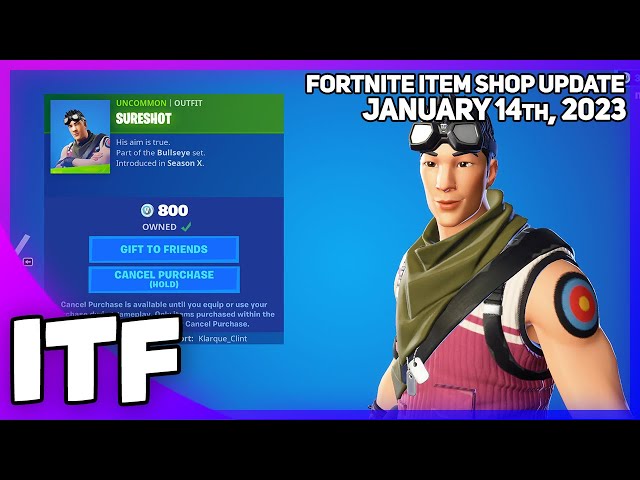 According to Fortnite Youtuber 'I Talk', Sureshot used to be in the "top 10" when it comes to the rarest Fortnite skins. Sureshot is available for 800 V-Bucks, which means you'll need to top up at least $7.99/£6.49 worth of V-Bucks onto your account. He doesn't come with any glamorous accessories – but you will own a very uncommon skin.
He's also part of the daily item store refresh, so be sure to act fast. For those of you hiding in bushes, you should be pretty well-hidden thanks to his neutral outfit colours. Sureshot definitely isn't dressed to brave the cold of Brutal Bastion, though.
However, if you're aware of the best Fortnite Chapter 4 Season 1 landing spots, we're you'll be netting a win soon enough. Sureshot isn't the only one arriving on the island. Fans of The Witcher franchise are in for a treat. If you want to know how to unlock and get Geralt of Rivia in Fortnite – this is the place to be.