Epic Games' new Fortnite Spider-Verse skins might be a little cheaper than expected, but that doesn't necessarily mean you should pick them up – although, you still may want to claim this free Across The Spider-Verse Lobby Track reward. In fact, on this occassion, Fortnite is missing out on including a brilliant easter egg when it comes to the new Spider-Man 2099 skin – based on this character's appearance in Spider-Man Across The Spider-Verse Part One. Unlike Thor Odinson, and Captain America, this new Spider-Man 2099 skin can't use Mjolnir, and it really should be able to. This is supposed to be one of the best battle royale games out there, after all.
Rightfully highlighted by Redditor 'BigPaleontologist520' online, the new Spider-Man 2099 skin in the Fortnite Item Shop can't wield the pickaxe based on Thor's Hammer, Mjolnir, that was released with the Herald Thor skin bundle in Chapter 2 Season 4. This might not seem like something out of the ordinary at first – only those worthy can lift Mjolnir canonically, after all – but, it is. Why? Well, because the Captain America skin can.
In this battle royale game, the only other skin able to wield the Mjolnir pickaxe is the default Captain America skin. If you're a fan of the Marvel Cinematic Universe, or Marvel's numerous comics, this is clearly a reference to the fact that Steve Rogers is-indeed worthy of lifting Mjolnir; in this particular case, we imagine it's a reference to the blockbuster moment in Disney's Avengers Endgame where Captain America calls for Mjolnir, defying the odds, in a battle against Thanos.
However, opening this cosmetic item up to Captain America – especially when it isn't an MCU iteration of Mjolnir or either character – sets a precedent that everyone worthy should be able to use it in-game, doesn't it?
Well, apparently not – as this new Spider-Man 2099 skin shows. Miguel O'Hara, the man behind the mask, is one of the few canon Marvel characters worthy of wielding Mjolnir – as you can see for yourself in 1998's 2099 Manifest Destiny #1. You could argue that the fact the Spider-Man 2099 the Fortnite skin is based on is Spider-Man 2099 from Earth-928, and not the Spider-Man 2099 from Earth-96943, is the reason why he can't wield Mjolnir – and you'd have a reasonable point, if you did.
However, that still doesn't quite explain why a character like Captain America can wield Mjolnir, but characters like Silver Surfer, Doctor Doom, Loki, and Moon Knight can't. In a DC Comics crossover, even Superman has been shown to wield Mjolnir – and if anyone's worthy of it, it's him.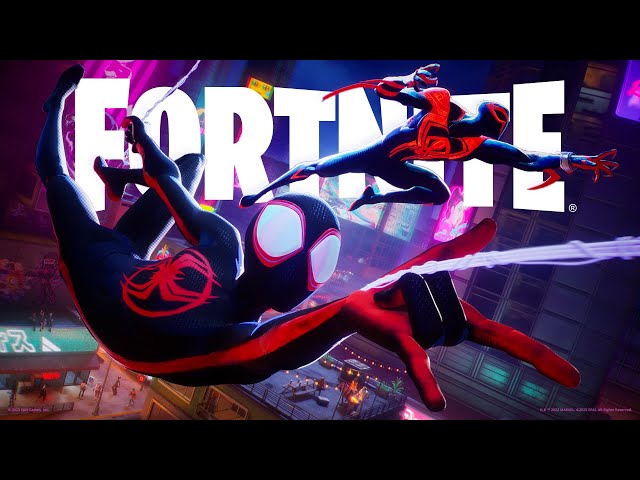 Fortnite may be one of the best free PS5 games available and one of the best free Xbox games out there right now, but it's playing fast and loose with the rules when it comes to Mjolnir and we just don't think that's very fair.
Still, as frustrating as that is, the Across The Spider-Verse crossover isn't so bad. In fact, the Fortnite Web Battles event is offering up some free Spider-Verse themed rewards and there's really never been a better time to show off your cosmetics with the introduction of Fortnite Ranked. We do hope, though, that Epic Games decides to change the rules regarding Mjolnir. The cosmetic itself is great, but it just doesn't seem worthwhile when you can only use it with two skins – especially when you consider the fact that there are so many great Peely skins in Fortnite. He has to be worthy of Mjolnir by now.