Ahead of Spider-Man Across the Spider-Verse swinging onto the big screen, many Marvel fans are anticipating the Fortnite Miles Morales skin release date. Joining the likes of over 50 Marvel-themed skins in one of the best battle royale games available, the addition of Miles Morales and Miguel O'Hara isn't that far away – according to a new claim from a reputable Fortnite leaker.
The Fortnite Miles Morales skin release date is Tuesday, May 23, 2023, according to Fortnite leaker 'ShiinaBR'.
In a recent post from Fortnite leaker and enthusiast account ShiinaBR, the Fortnite Miles Morales skin will be implemented into the game in just mere days. "Miles Morales & Spider-Man 2099 will be given out to creators tomorrow. The skins will be available on Tuesday," claims the leaker. Reported in collaboration with Fortnite content creator 'Jinskow', the claim comes after the purported return of fan-favorite Spider-Man Mythic items that were last seen in Chapter 3, Season 1.
Spider-Man's web shooters quickly became a hit with casual players and Marvel diehards alike, with many fans taking the opportunity to slight Marvel's Avengers' portrayal of Spider-Man's agility. Other items have since appeared with similar traits, such as the Attack on Titan ODM Gear and the Grapple Glove, though they don't hit the same joyous feeling as swinging around the island. We've spent many hours soaring through the skies with the John Wick skin, because, well, why not.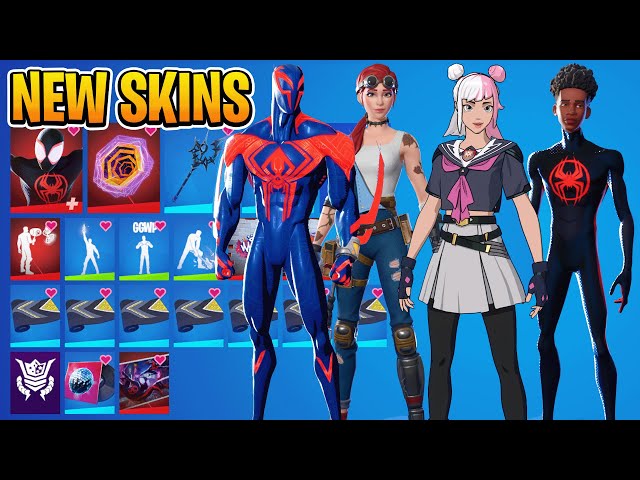 Before the Fortnite Miles Morales skin arrives in the Fortnite store, you're probably eager to see how Epic Games has translated the excellent, unique aesthetic crafted by Sony Pictures Animation into the game. Luckily for you, ShiinaBR has posted a showcase to their YouTube channel, which examines the Miles Morales and Miguel O'Hara skin bundles in their full glory.
Epic Games hasn't revealed a price for the upcoming Marvel skin bundles, but we speculate that will it fall into the usual pricing of at least 2,800 V-Bucks for a bundle that encapsulates both heroes. On their own, Miles or Miguel may cost around 1,800 V-Bucks just to gain access to their skins, with no back bling, harvesting tool, or emote included.
As you gear up for bundle drop, don't forget to register for Fortnite Web Battles, which grants you free Spider-Man Across the Spider-Verse rewards just for playing the game.