If you ask the internet, Forspoken is a meme-worthy game that's full of cringey content. But that's not what Luminous Productions, the team behind Final Fantasy XV, set out to do. The plan was to make an action RPG, full of magic and fantasy, that was fit for the current generation. Unfortunately, it's clear the team got a little lost along the way.
While Luminous does indeed transport us to the fantasy world of Athia, with Frey as our guide, it doesn't exactly feel very current-gen. Instead, this mystical world feels dated and bloated in design, almost like the studio picked up a paint-by-numbers canvas, filling the open world with unnecessary side quests in the process. And the story doesn't do it any favours either.
At the start of the game, Frey is running out of luck in New York. After becoming indebted to a group of gangsters and having her apartment burned down, she finds a magical glowing bracelet called Cuff in a pawn shop, which ends up taking her into Athia. Here she discovers a world rife with corruption caused by four powerful creatures, known as the Tantas.
It all sounds good on paper, but in the first few hours, the pacing is very choppy. Frey and Cuff's journey is stop and start from the moment they enter Athia, with the narrative seemingly stopping you wherever and whenever it can. Defeat a group of enemies? Have a cutscene. Talk to someone in the Athian capital of Cipal? Cutscene. Every single moment in the build up is interrupted by a cinematic, and honestly, it sucks the enjoyment out of it.
When the game does kick into gear, your access to Forspoken's magic is pretty limited. And while the narrative does a serviceable job, I was desperate to get a hold of some more powerful abilities. During this time, your exposure to the writing, which feels like it's aimed at a very specific young adult audience, reaches boiling point. While this dialogue is nowhere near as bad as you see in viral clips online, thanks to Ella Balinska and Jonathan Cake's performances, it appears stiff due to the way it's animated in-game.
The other problem is that, outside of Frey and Cuff, no one is really likeable. Every character you meet is stuck behind the safety of the capital walls, struck with fear over the possibility of impending doom. Yet despite this, they're completely oblivious to Frey's emotions. They want her to risk her life for them without much in return. Their demands – and they are demands – come across as pretentious, and while Frey should save them, they offer no single reason to.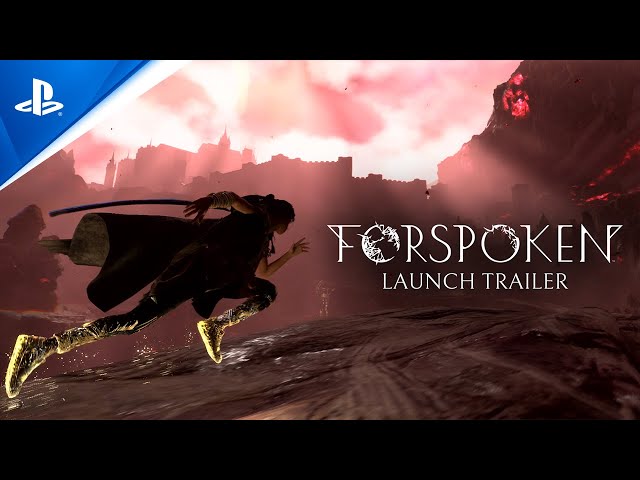 Thankfully, over time you get access to a wide range of spell sets and this is where the game comes to life. Mixing your Forspoken spells together with magical parkour honestly makes for some thrilling action. While many of the quests boil down to fairly formulaic journeys outside of Cipal and into the corruption itself, the gameplay in itself if good.
Sadly, the combat doesn't get much time to shine. Most of the side quests are forgettable, so much so that I can't remember a single boss fight that wasn't in the main questline, and while I do have much more of Athia to explore in my own time and pace, I don't expect that to change much.
It's a shame too because on performance mode, Forspoken genuinely looks good – for the most part, anyway. The world, despite not really pushing any barriers, looked good and felt good, and the detail and quality of the particle effects are stunning. It's no surprise that most of my photo mode screenshots are action shots instead of stationary shots.
I had high hopes for Forspoken, but I'm afraid it won't be raising the bar when it comes to the best RPG games anytime soon. It's simply a bog standard run-of-the-mill action game with a less than stellar narrative and a decent combat system.
In its current state, it's not worth its $70/£60 price tag, but RPG fans might get a kick out of it when it eventually goes on sale.
Forspoken review (PS5)
Forspoken is a magic-by-numbers game that is marred by a generic narrative. While the world of Athia can feel bland, the occasional spark of magic from the combat helps it along.