What are the best ways to get free packs in FC 24? It's Ultimate Team season once again as EA Sports FC 24 has finally arrived, and everyone's focus is on building the most broken team possible. While you may think FC Points and coins are the only ways to open up packs, let's not forget there are plenty of ways to earn free FC 24 packs in Ultimate Team too.
No, we're not joking, free packs in FC 24 are very real – you just need to have your wits about you, follow our advice, and you'll have a ton of packs to open. We can't do anything about your awful pack luck though, unfortunately. FC 24 is the biggest sports game of the year, but that doesn't mean it's immune from dishing out some free rewards from time to time. Here's everything you need to know.
How to get free packs in FC 24
In FC 24 Ultimate team, the best ways to earn free packs are:
Grinding objectives in Squad Battles
Squad Building Challenges
Ranking up your season progress
FUT Moments
Amazon Prime monthly rewards
Whether it's reaping rewards from a subscription service, or ticking off objectives using some of our handy tips and tricks to speed up the process, there's plenty of opportunity to earn free packs in FC 24, despite the game being so microtransaction-heavy.
Grinding objectives in Squad Battles
For seasoned FIFA players, this is the old faithful method of getting free packs, and that's no different in FC 24. Take yourself to the objectives page in Ultimate Team and you'll be sure to find plenty of free packs on offer. It's crucial to work your way through the Foundation and Milestone challenges each year because the rewards are actually quite good and will help massively with one of our later suggestions.
So why grind these in Squad Battles and not any other mode in FUT? Well, it's because you can play against the AI as a solo player on the easiest difficulty, that's why. This means that even if you've got a weak team, you can still smash in double-figure numbers of goals per match because of the easy difficulty. A solid grinding session of a few hours could see you complete dozens of objectives for things like goals scored, assists, and match wins.
Simply put, objectives will always be the best way to earn free packs in FC 24, especially in the first few weeks of the game, and Squad Battles is the easiest place to complete them. It's very rare that the packs you get as rewards are tradable, but the worst-case scenario is you build up a hearty collection of SBC fodder. Speaking of SBCs…
Squad Building Challenges
Whether it's in-game, through the Web App, or the mobile Companion App, SBCs are a fantastic way to earn free packs and quite often your rewards are tradable so there's profit to be made too!
Our favorite challenges are the weekly Marquee Matchups where you complete four separate challenges, each more difficult than the last but stacked with worthwhile, tradeable rewards. Better still, once all the matchups are complete, you get a further bonus reward for completing the set – what's not to love? Building up fodder through packs in objectives is a great way to turn untradable cards into profit, all through free packs earned without spending a penny.
Monitor your season progress
Every season there are plenty of free packs on offer in the season pass. Usually, these packs get pretty good towards level 30, so it's always worth keeping an eye on ways to earn quick and easy XP to boost your season level as quickly as possible. Often these packs can be league-specific too, which reduces the risk that you'll be getting cards that are of no use to your team.
It's also worth noting that if you're subscribed to EA Play, you will receive an XP boost towards the beginning of each season that clears a few levels for you. If you're an Xbox player with Game Pass, remember that that applies to you too as EA Play is included as part of your Game Pass subscription!
FUT Moments
Moments were introduced last year and offer yet another path to free packs in FC 24. Completing these challenges isn't always plain sailing, but they do offer worthwhile rewards. If you're hopping intp FC 24 as a relatively new player to the series, they're also a great way to get used to the new mechanics and are arguably better than the in-game tutorials. The last thing you want to do is jump into online pay unprepared, so give Moments a go and reap the rewards.
Completing Moments rewards you with Stars, and then there is essentially a separate store where Stars can be exchanged for rewards. Alongside things like Draft Tokens and high-rated loan players, packs are often on offer in the FUT Moments rewards store, so stack up your Stars and swap them in for a sweet, sweet pack.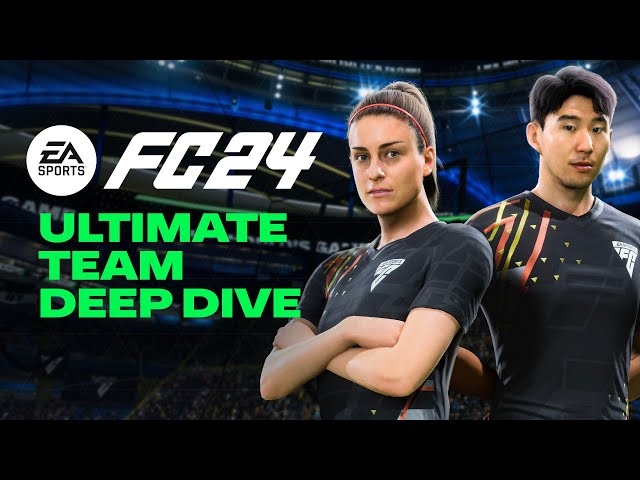 Prime Gaming
If you or a family member is subscribed to Amazon Prime, then you'll want to take advantage of Prime Gaming, which dishes out the most fruitful free packs that FC 24 Ultimate Team has to offer. Each month, provided you're subscribed to Prime and your EA account is linked to it, you'll receive a reward. It will contain loan players, but more importantly, FUT packs.
These packs seem to have a weird, anecdotal voodoo around them that helps improve their drop rate – players often report getting excellent players out of these packs. So make sure you've linked your Amazon account to your EA account (you can find full instructions for that here) so you don't miss out on the easiest free packs FC 24 has to offer! Prime Gaming also has free rewards for loads of other big games like Destiny 2, Call of Duty Warzone, and PUBG.
That's everything you need to know about earning free packs in FC 24 Ultimate Team. While bagging free packs is nothing new for seasoned Ultimate Team players, what is new is the Evolutions upgrade mechanic. Check out our recommendations for the best FC 24 Evolutions to commit to and to help get your head around this new system. Also, make sure you read up on which game modes have FC 24 crossplay enabled, as there have been some changes compared to last year's game.