Codemasters' F1 23 is shaping up quite nicely to be one of the best racing games of the year and the returning story mode, Braking Point 2, is a huge part of that. The balance between realism and recreation the improved F1 23 gameplay mechanics offer is worth shouting about, but Formula One fans have been waiting a whole year to play the next installment of Braking Point. I was fortunate enough to preview the first three chapters of this mode in F1 23 and it doesn't disappoint.
Continuing the growing rivalry between fictional drivers Aiden Jackson and Devon Butler, who are now teammates driving for fictional 11th team Konnersport Racing Team, Braking Point 2 takes players through key moments in the 2022 and 2023 season. You might not be missing out on a whole season of story, but that does mean Codemasters has a lot of ground to cover. While I did enjoy what I played of Braking Point 2, it isn't quite as innovative as I had hoped. However, there is only so much you can do when it comes to implementing gameplay in a racing game's story mode – and F1 23 does all of this as well as can be expected.
In a similar fashion to the first iteration of Braking Point, this story mode features a blend of impressive cinematics, on-track action that may or may not be scripted (depending on the situation), and office-based storytelling. When you're in the office, you're able to check your social media feed and take important phone calls – all optional, but valuable, additions to the narrative being told.
The cinematics, though, are the most impressive part of Braking Point 2. Codemasters has really stepped things up a notch when it comes to the quality of the animation and the opening chapters I was fortunate enough to play through were certainly exciting. The influence of Netflix's immensely popular Drive To Survive series is clear, though.
Sure, there were press interviews in the first iteration of Braking Point, but now there's a healthy mix of DTS-inspired interviews among the more-traditional cutscenes as well.
These elevate the story, in my opinion, and help Codemasters flesh out the characters around Aiden Jackson, while still keeping him as the focal point. But, that hasn't stopped me from worrying about how predictable this story is going to be.
Devon Butler is clearly the main antagonist going into Braking Point 2 and I can't see that changing with the introduction of F2 superstar Callie Mayer – the first woman to win the championship and a driver gunning for a seat at Konnersport in the 2023 season.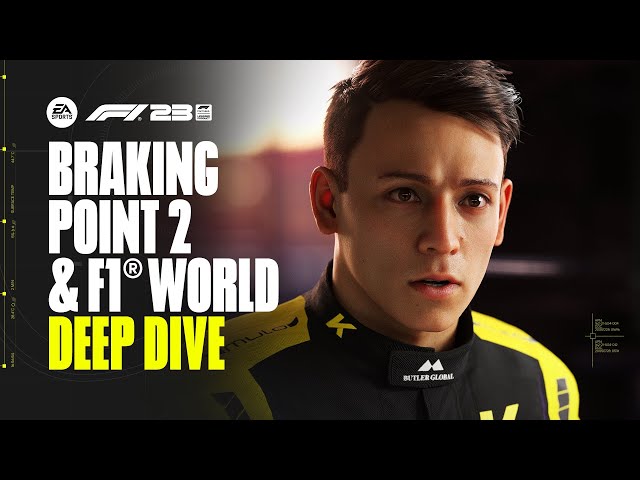 So, challenging yourself with a higher AI Difficulty setting is going to be an important part of keeping you engaged. I found hitting bonus objectives on lower difficulty settings far too easy and detrimental to the dramatic narrative being told. Aiden Jackson is supposed to be struggling to get to grips with the 2022 Konnersport Racing Team car, but then I would make seven overtakes in one lap.
All that being said, Codemasters has confirmed that various in-game objectives will "have a lasting impact on how a storyline plays out" in a blog post. I wasn't quite able to experience this in the three chapters I was able to play, but I would like to think this would lend itself well to some results-based twists and turns. You can also make key decisions as Konnersport Racing Team's team principal Andreo Konner – something that, I can only imagine, will have more impact the further you progress into the story.
One thing I am a little concerned about is the length of Braking Point 2; for those of you who want to experience a full season of drama, you might find this lacking. In F1 21, there were 16 Braking Point chapters to play through. For a 23-race season, that's fairly decent coverage. You're not going to play through every single Grand Prix weekend, but you're seeing quite a lot of it.
In F1 23, though, this mode covers both the Formula One 2022 season and the current Formula One 2023 season. So, if we get the same amount of chapters as we did in F1 21, we're all going to be missing out on quite a lot of the on-track action. The three chapters I was fortunate enough to play covered three races spread out across the 2022 season – with each chapter essentially representing one race. I can't say how many chapters Braking Point 2 is going to offer players, but you might want to make sure you're checking out the game's career mode if you want a season-long experience.
Even if Braking Point 2 is a little shorter than I'd like, the F1 23 release date can't come soon enough. As a fan of Formula One, this story mode is going to be a lot of fun after spending some time with it and it adds some fantastic narrative content to what's shaping up to be a truly brilliant racing game.