If you want the best weapon in the PS5 version of Demon's Souls, you're gonna have to work for it. While there might be at least several top-tier weapons to comfortably carry you through New Game+ and beyond, there's one two-handed sword in particular that pulls ahead of the lot – provided you plan in advance and follow this here guide.
Much like in the 2009 original, the hefty Northern Regalia puts most of its competitors to shame. Its base stats are nothing to scoff at, but it's the fact that the sword's damage scales with your character tendency that makes it so darn special. In order to unlock its true potential, you need either pure white or pure black character tendency.
Sadly, you can only hope to acquire the Northern Regalia once you've taken down the game's two final bosses: the False King and King Allant. Prior to the start of your fight with the False King, you'll encounter Ostrava of Boletaria, who will either be alive or dead depending on your earlier actions. So, chat to him or loot his corpse to net yourself the Mausoleum Key.
Now proceed with the False King fight, kill him, and nick his soul. Do not for any reason consume the False King Demon Soul earned via this battle. Once that's done and dusted, head on back to world 1-1 and defeat the Red Eyed Knight who stands guarding the mausoleum.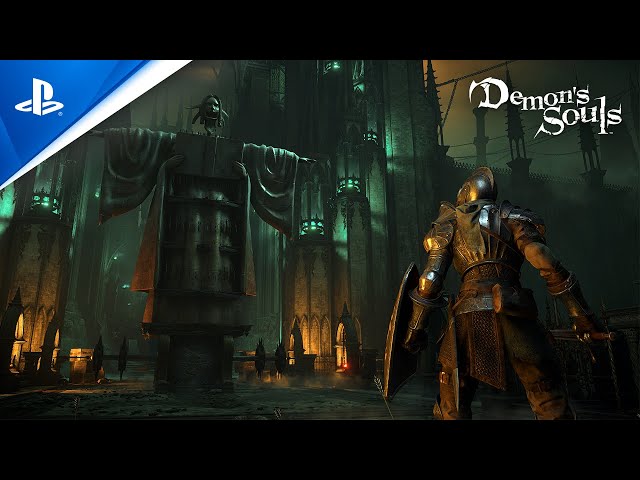 Once you've cracked open this dusty crypt, you'll find an even trickier foe lurking inside – Old King Doran. This guy is a right pain in the backside, so you need to use your mad parrying skills to deal with him. Once he's at around 75% health, he'll yield and offer you his middling Demonbrandt sword.
Now find yourself an Archstone Shard, or make sure you have the Evacuate spell handy, head out to take on the game's true final boss, King Allant, and claim his Soulbrandt weapon. From here, you can either finish the game and proceed to New Game+ or return to the Nexus using your Archstone Shard. Picking the former option will require you to play through a chunk of New Game+ before you can acquire the Northern Regalia.
Warp on over to world 2-1 and pay Blacksmith Ed a visit. He can be found below the elevator shortcut at the start of the level. You'll have to give him Flamelurker's Red Hot Demon Soul to unlock his crafting and upgrade abilities. Now simply enter the upgrade menu and use the Demonbrandt, Soulbrandt, and False King Demon Soul to craft your shiny new Northern Regalia. Congratulations – you've certainly earned it!
If you're still struggling to make your way through the deadly land of Boletaria, you might just find our guides on the Demon's Souls infinite soul glitch and duplication glitch to be of some use. We've also put together a guide to the best soul farming spots and Pure Bladestone farming spots. Despite it being tough as nails, we still reckon Bluepoint's remake is among the best PS5 games around, though if you'd rather turn it into a cakewalk, here's a guide on how to kill every Demon's Souls boss in one hit.