Valve has confirmed that Counter-Strike 2 is real, and it's on the way sooner than you think. Despite the fact that this has been quite a long time coming, FPS fans are excited to get their hands on the new shooter and incessant data miners aren't wasting time diving into the files they can find for more information on what to expect; to their credit, though, this was how the world found out about CS2 to begin with. One interesting new feature data miners have stumbled upon is this: Counter-Strike 2 players will have two different announcers to choose from. This has led quite a few CS2 fans to hope that Valve introduces one popular Dota 2 feature to its' new FPS game.
Full stack developer and self-proclaimed Counter-Strike aficianado 'Aquarius' has been at the forefront of the latest CS2 leaks for a little while now and they have recently shared that "in Counter-Strike 2, you will be able to choose between [two] announcers straight from the settings".
In the tweet linked above, you can see that Aquarius has QRT'ed a post from 'ALE' showcasing several voice lines from two Counter-Strike 2 announcers – one male, and one female. If you want to listen to that, you can just click on the 'ALE' above.
If you're sitting there thinking that this is interesting in itself, you'd be right. It is quite an interesting update for the sequel to one of the best competitive FPS games out there. However, Aquarius has suggested that this could lead to Valve introducing a "new cosmetics type" that Dota 2 players will be familiar with seeing: Announcer Packs.
As you can see below, it looks like we're going to see a "CS:GO Classic" announcer available alongside a new masculine and feminine option. We know this doesn't give us a whole lot, but it's certainly exciting to see these new features are coming to elevate the Counter-Strike 2 experience beyond gameplay refinements and graphical improvements.
Now, before you get too excited, it's important that this is all speculation. However, we certainly don't think it's something that seems impossible – especially when you consider how successful this cosmetic has been for other games. For example, as mentioned above, these are quite popular in Dota 2. Players can pick up a number of Announcer Pack cosmetics featuring the voices of some of Dota 2's most popular characters, or other games – like Fallout 4, Deus Ex, and Portal. Can you imagine the possibilities when it comes to Counter-Strike 2?
Well, with any luck, you won't have to imagine it for much longer. For now, though, why not check out this video about the new responsive smokes coming to Counter-Strike 2? This is certainly something that will change the way people play – hopefully for the better.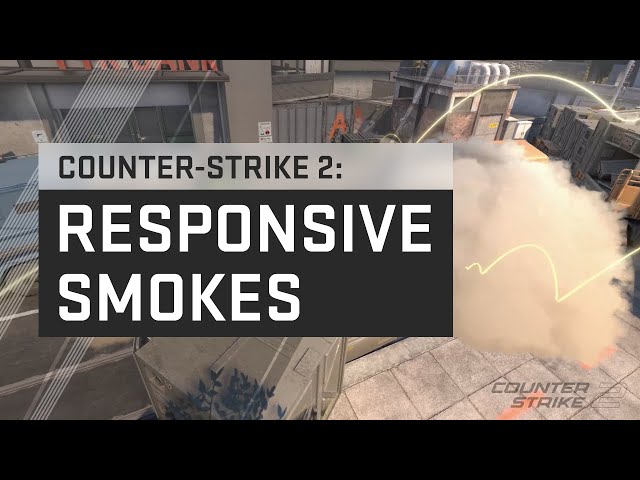 We know Valve has popped shots at Valorant with "CS:GO killer" Counter-Strike 2, but we don't think that's necessary. This FPS sequel is shaping up to be fantastic. You can learn more about all the confirmed Counter-Strike 2 maps here, and how to access and play the Counter-Strike 2 beta right here.