As I sit and type this in my eight foot-by-eight foot box of a room, I am surrounded by reminders of my once-illustrious (so I like to believe) streaming career. An Elgato Streamdeck here, a TC Helicon GoXLR Mini there – all of these numerous devices were gradually collected over a pandemic-riddled year, and now sit largely ignored while taking up what little desk real estate I have. In retrospect, what I really needed was an all-in-one solution, that I could simply connect my PC, microphone, and webcam to, go live with, and then neatly pack away when I was finished.
Fortunately, there are devices on the market that offer such capabilities – the most recent of which being Cooler Master's new vision-mixer, the StreamEnjin. Packed to the brim with features, the StreamEnjin and its supporting app offer pretty much everything you need to set up a professional-grade livestream from the comfort of your home. Commanding an MSRP of $849.99 (£749.99), though, it is demanding an eye-watering amount of cash in return for what it provides – but does it offer enough bang for the buck for your average streamer?
To answer this question, let's start by getting to know what we're working with a little bit better. Hardware-wise, the StreamEnjin's incredibly sturdy control console comes complete with buttons to switch scenes or select which audio track you wish to tinker with. The buttons themselves feel good to the touch, even if they don't look particularly premium.
There's also a transition slider which allows you to manually pace how quickly you shift between scenes, which is great for those who are used to more traditional production setups – likewise with the included rotary encoder for tweaking sound.
There's a lot to like on the back of the StreamEnjin, too. The unit sports three HDMI inputs, making the device a dream for TV or live music producers operating in smaller spaces, or anyone who can leverage its multi-cam support. Of the two HDMI outputs, one supports 4K passthrough – a great feature for videogame streamers looking to showcase their PlayStation 5 or Xbox Series X|S content, while retaining the crispness of the image they see on their own screen.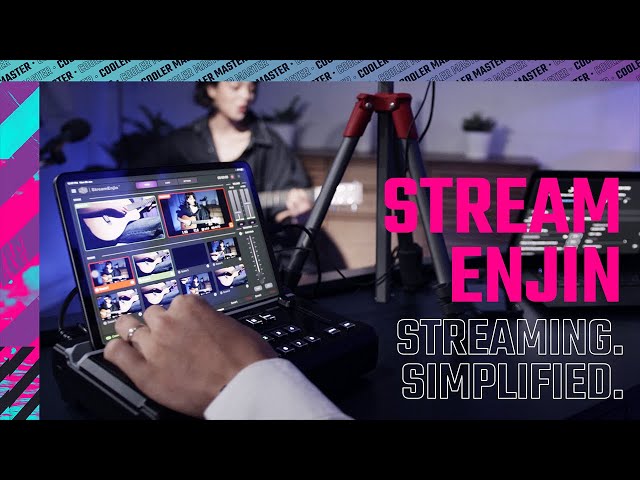 Turning to audio, there's a 1/4" jack which can be used for connecting a microphone to, as well as RCA audio in for hooking up external audio devices. At the centre of the panel, you'll also find an ethernet port for getting online, and a USB 3.2 port which can be used to record your broadcast to an external harddrive should you wish to review it or upload it later.
While the feature set is great from a traditional production standpoint, I feel like Cooler Master might be trying to stretch the StreamEnjin's intended purpose too far by also trying to market to the more modern approach to livestreaming, particularly in the world of Twitch and YouTube.
Take, for example, the types of peripheral commonly used by content creators. The best streaming microphones all utilise either USB or XLR connections – something which the StreamEnjin lacks. This is because the sorts of production this seems to be geared towards would traditionally call for something like a lavalier mic, which would fit nicely into the 1/4" jack with a 3.5mm adapter if necessary – though even in that industry XLR is a more common standard nowadays.
Likewise, the best streaming webcams are of course USB, and although the StreamEnjin has that USB 3.2 port, it cannot be used for peripherals. This means that, for streamers trying to save some cash by not getting a fully-fledged PC rig, costs will still be incurred elsewhere with the StreamEnjin by having to opt for a camera with a clean HDMI out signal, instead of their trusty old Logitech C920. However, if you already have something like Sony's a6000, then you're good to go.
So what about the brain behind the StreamEnjin – the StreamEnjin app? Well, to actually use the StreamEnjin, you're going to need a tablet as the app isn't supported on mobile phone devices. It's also only on the Apple store right now, so you'll need to invest in an iPad if you don't have one already – though Cooler Master assures me that Android support is on the way. Regardless, you're already over a grand-deep into the solution by the time you have the components required to use it.
Once the app is installed and the tablet connected, you can finally get to work setting up your stream.
While it doesn't quite pack the granularity of something like OBS, the StreamEnjin app is a solid starting point for Cooler Master to iterate on in the future – something the brand's marketing manager for Benelux and the UK, Aniek Stavast, tells The Loadout its Business Unit is hard at work on. The user experience is intuitive, thanks largely to its relatively simple UI that stresses function over form. Upon loading it up, you'll be presented with three different tabs from which you can control each scene, the audio of each source, and your stream settings.
Overlays and other graphical elements are a breeze to add to each scene from your tablet's gallery through the video tab, and can be moved into place or cropped down to size with just the swipe of a finger. There are also preset video source layouts, which allow you to either quickly set up picture-in-picture if you want to show your cam over your gameplay, or display two video sources in split-screen – the latter is especially useful if you're co-producing a video podcast with someone, for example.
However, streamers won't be able to use all of their fancy browser sources from tools like Streamlabs, and StreamElements, so visuals connected to their streaming platform of choice such as subscription alerts and chat boxes are a no-go for now.
Meanwhile, the audio tab allows you to easily adjust the various sound inputs coming into the StreamEnjin to ensure that optimal mix. While having that visual mixer is great for ensuring your footage isn't drowning out your voice, the app currently lacks filters and other tools, so don't expect to be able to add an equaliser or compression to your microphone in-app.
A further production limitation of the StreamEnjin can be found within the settings tab. Although it's great to see the device is capable of simultaneously streaming to both YouTube and Twitch, it can only do so at either 720p at 60 FPS or 1080p at 30 FPS. For gamers hoping to stream new-gen content – where games are pushing 1080p at 60 FPS across the board – Cooler Master could look to give the StreamEnjin a performance tune up should it commit to future revisions.
Perhaps the most unfortunate disconnect between the StreamEnjin and its app is actually a physical one. You see, I thoroughly enjoyed the fluidity of the app experience – just as much as I loved the tactility of its main console – but if you press too hard on the screen, then you risk knocking the tablet off the back of the unit due to the shallow trough the StreamEnjin provides for you to sit the device in.
As such, a detachable back would undoubtedly be a massive quality of life improvement here, though you could also just buy a separate stand for your device. Cooler Master also tells me that an update is on the way that will eliminate the need to wire up your tablet to the StreamEnjin, so you'll be able to control it remotely from afar.
So where does this leave the StreamEnjin? Well, it's part-streaming PC and part-capture card, part-mixer and part-stream deck, but it doesn't do any of these things particularly brilliantly for your average streamer on Twitch or YouTube. Relative to those larger vision mixers from brands like Blackmagic used in traditional production settings, the StreamEnjin is a great option for smaller-scale operations.
Likewise, if you desperately need multi-cam support, and don't want to shell out big bucks for that specialised gear, then this could very well be the solution for you. However, for the majority of streamers out there on Twitch or YouTube, the StreamEnjin is very much a square peg for a round hole – and an expensive peg at that.
Regardless of its limitations, the StreamEnjin is a really impressive concept, and could very well pave the way for future innovation in this space – even if it clearly draws heavily from ATEN's StreamLIVE PRO design. The potential for multiple users who want to get into streaming, but without splashing the cash on full PC rigs, to chip in for a shared unit that they can build their schedules around is certainly an interesting proposition.
But is this, alongside the discussed features, enough reason to merit investing in the StreamEnjin if you're outside of the very specific area of the market it's clearly designed for? Not really.
So what's next for Cooler Master and the StreamEnjin? Well, Stavast admits that the brand is very much aware of the StreamEnjin's limited appeal. "The StreamEnjin at its current state is a perfect solution for streamers in certain situations," she says, "but not for all." Having received similar feedback from others regarding things like XLR support and other I/O options, Stavast says the brand's Business Unit is "very open to feedback" like this, so we could very well see major changes should there be a second iteration
However, according to Stavast, we're more likely to see a separate solution geared more towards modern streamers in the future. "There are plans for more streaming products in the future, though none of them are confirmed yet," she says. Although he doesn't know if the next product to come from Cooler Master will be that exact solution, she's confident that we'll see more from it in this space going forward.
In the meantime, if you're a space-starved streamer who's not fussed about sliders and rotary encoders, then we would recommend investing your funds into one of the best gaming laptops, alongside something like Elgato's HD60 S+ if you need to capture footage from an external device. Elgato's Stream Deck meanwhile will handily replace the missed buttons on the StreamEnjin's main console.