When is the Cities Skylines 2 release date? After several years of support for the first game and a current-generation port, Cities Skylines is finally getting an ambitious sequel. This article will have everything you need to know about it from the new gameplay additions to the trailers right here for you to watch.
So, if you are looking for what could become one of the best PS5 games or best Xbox games, be sure to look at everything we know about the sequel, Cities Skylines 2. With Summer now here, we should start to hear a lot more from Paradox Interactive.
Cities Skylines 2 release date window
The Cities Skylines 2 release date is Tuesday, October 24, 2023, as confirmed by Paradox Interactive. The game will release on PS5, Xbox Series X|S, PC, and Game Pass. Unfortunately, there won't be a PS4 or Xbox One release of the game, and it isn't coming to Switch either.
The release date was revealed during the June 2023 Xbox and Starfield Showcase.
The game was announced at the Paradox Announcement Show on March 6, 2023, and won't receive a last-generation port as it is built as an ambitious next-gen sequel that will expand to new cities and skylines across the globe, giving players greater variety and customization.
Cities Skylines 2 story
Cities Skylines 2 doesn't have a story mode, as your focus in the game is to create successful and large cities, while also keeping your citizens happy. As we mention below in the gameplay section, the most exciting new mechanic for the series in Cities Skylines 2 is Citizen's unique lifepaths, where you need to keep them happy so they stay and live their life in your city.
You can check out the announcement trailer for the game below for a taste of what to expect in Cities Skylines 2.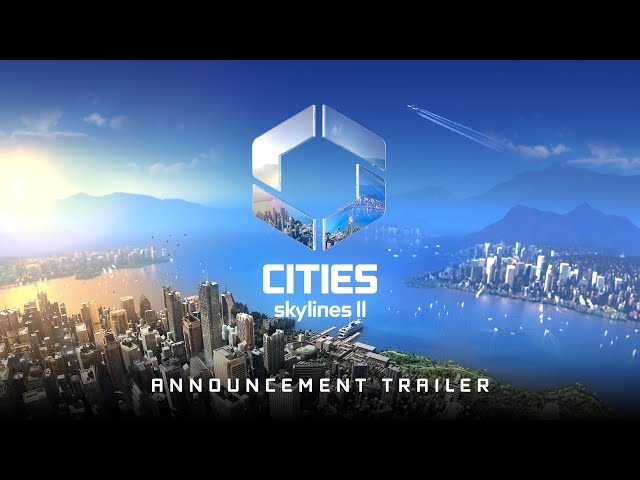 Cities Skylines 2 gameplay
Trying to beat its predecessor, Cities Skylines 2 will offer a range of new gameplay features. This includes better road tools, advanced traffic, advanced economic systems, and Climates, which will change the way your city looks and functions as the seasons change.
Interestingly, the maps in Cities Skylines 2 are smaller than in the first game. However, Paradox Interactive is allowing you to unlock almost all tiles, so each map should feel bigger.
That being said, the most interesting feature is the citizen AI though. Each citizen has a lifepath, either being born in your city or moving and finding a home there. If you can keep your citizens happy, they'll reach old age and die in peace in your creation, giving you an indication as to whether your citizens find your city a great place to live.
Paradox Interactive is releasing a new blog post each week until mid-September, with each post focused on a different mechanic in Cities Skylines 2, varying from entirely new features to revamped existing ones. You can check these out on the Cities Skylines 2 website.
At the June 2023 Xbox and Starfield Showcase, we finally got a glimpse at what Cities Skylines 2 gameplay will entail, which you can check out for yourself below.
That covers everything we know ahead of the Cities Skylines 2 release date. Be sure to keep an eye on this article for even more on the anticipated city builder as we approach the full release on Xbox, PS5, and Steam.