Call of Duty Warzone is still going strong and has introduced the Vargo S to try to shake up the assault rifle game. Focused on long-range attacks, the Vargo S will definitely shake things up from the previous meta, whether you are gunning after wins or just playing with your friends. But, if you want to truly get a grip on the weapon, you will need the best Vargo S Warzone loadout.
Thankfully, we have compiled that here for you, covering the attachments you want to use to really succeed and make the most of the weapon's strengths, as well as diving into our recommendations for perks, equipment, and a secondary.
So, without further ado, read on below for the best Vargo S Warzone loadout that you can put together in one of the best battle royale games out there right now!
Vargo S Warzone Loadout
Youtuber 'WhosImmortal' has come up with a long-range-centric build for the Vago S that looks to be the best set-up you can get for it right now. The best Vargo S Warzone loadout available is:
Muzzle: MX Silencer
Barrel: Mirzoyan 313mm Custom
Optic: G16 2.5x
Stock: Mirzoyan ANC
Underbarrel: Carver Foregrip
Magazine: 7.62x54mm R 60 Round Drums
Ammunition: Lengthened
Rear Grip: Hatched Grip
Perk 1: Hard-Scope
Perk 2: On-Hand
The MX Silencer makes a lot of sense when it comes to the Vargo S as it boosts damage range and recoil control, which is exactly what you want for a long-range focused weapon like this. Then, instead of a short-range scope, you will want to use the G16 2.5x to really compliment the distanced fights you want to be getting into with other players.
Adding to this focus is the Carver Foregrip, Hatched Grip, Mizoyan ANC stock, Mirzoyan 313mm Custom barrel, and the Lengthened ammunition.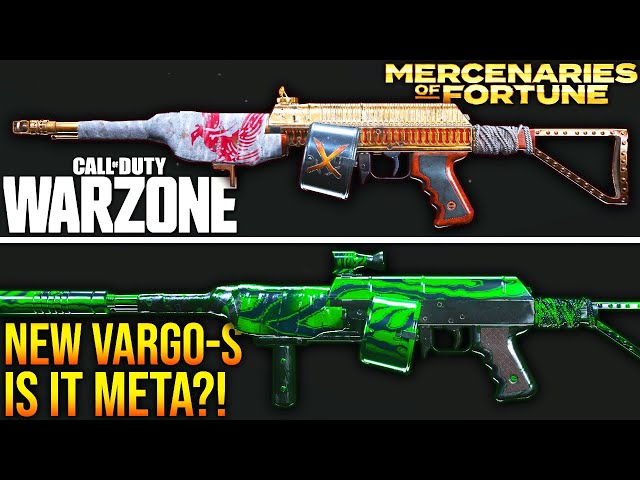 Vargo S Warzone Loadout Secondary
When it comes to a secondary weapon, you are going to want something that can make up for the faults of the Vargo S at close range.
So, we recommend you use this best H4 Blixen loadout to be able to react to any enemies that sneak up to you or catch you off guard!
Vargo S Warzone Loadout Perks And Equipment
For perks, we'd recommend running with Double Time, Overkill, and Combat Scout within this best Warzone Vargo S loadout.
For grenades, you are going to want standard frags to be able to throw grenades at a mid-range and let them do their work!
If you are looking for something to fight with from a longer range this Vargo S best Warzone loadout should have you covered. Let's just hope that it can stay away from Raven's balancing claw over the coming months.