Spooky season is finally here, and with it comes the promise of some frighteningly festive fun, and Call of Duty: Warzone is no exception to the rule. 2020's The Haunting of Verdansk event saw zombified players stalk the living around a moonlit and bloodstained Verdansk in the Zombie Royale limited time mode.
Meanwhile, two characters of horror royalty – Billy the Puppet from SAW and Leatherface from The Texas Chainsaw Massacre – were given their own operator skin bundles for Morte and Velikan respectively. Players could also earn goodies through the Trick or Treat mission.
So what's on the cards for the Warzone Halloween event 2021, then? Well, so far nothing's been confirmed, though known leaker 'TheGhostOfHope' has given us a name for it – All Hallows Eve.
With that said, here's everything we know about the Warzone Halloween event 2021 so far, including when it kicks off, skin bundles, and all the other ghoulish goodies All Hallows Eve has in store.
Warzone Halloween event 2021 start date
While All Hallows Eve has yet to be officially confirmed, we can make an informed guess as to when the event will kick off when it finally materialises. Last year's The Haunting of Verdansk began on October 20, and ended on November 3, so we can imagine this year's festivities will span a similar two-week period.
As such, it looks like the Warzone Halloween 2021 event will once again begin on or around October 20.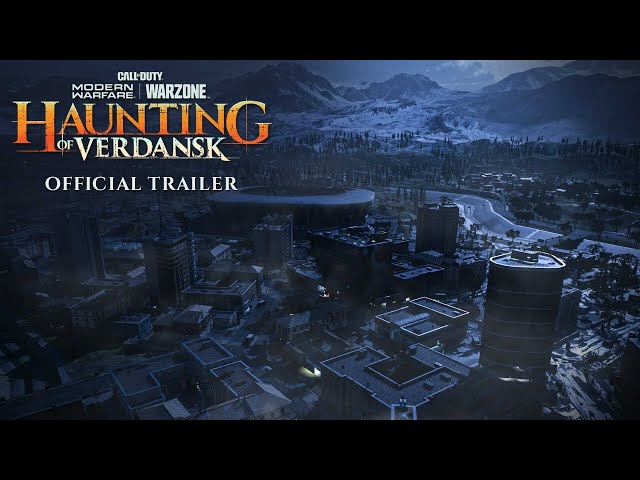 Warzone Halloween event 2021 game mode
Again, nothing's been set in stone just yet regarding All Hallows Eve's limited time mode, but with Call of Duty: Vanguard's Zombies mode set to be fully-revealed soon, we reckon there could very well be a tie-in there with this year's event.
Additionally, with the introduction of Iron Trials '84, it wouldn't be a stretch to posit a revised version of last year's Zombie Royale with a revamped ruleset. The 2020 game mode saw killed players transform into zombies, with unique abilities and one goal: dispatch two enemies, steal their syringes, and bring yourself back to life.
This time around, you may have to shred through a chunkier health pool to get back to the land of the living, should Iron Trials' rules be incorporated. Regardless, it's time to dust off one of your best Warzone guns of choice to protect yourself when the sun goes down in Verdansk.
Warzone Halloween event 2021 operators
The Haunting of Verdansk event last year introduced skin bundles for two of the horror genre's best known (or unknown) faces: Billy the Puppet from SAW, and Leatherface from The Texas Chainsaw Massacre. But who are the operators for this year's Warzone Halloween event?
Well, TheGhostOfHope states in his All Hallow's Eve tweet that we'll be saying 'wassup' to Ghostface from Scream this time around. This makes sense seeing as Scream 5 is dropping early next year.
Alongside Ghostface, dataminer 'Nanikos' has reported code that potentially pertains to a character from Donnie Darko – most likely the nightmarish bunny man, Frank.
wristaccessory_t9_s6_analog_donnie
wristaccessory_t9_s6_analog_donnie_desc
emblems_ddarko_s6
callingcards_ddarko_s6

See where I'm going with this? https://t.co/QBBr5L61AG

— Nanikos (@_Nanikos_) September 12, 2021
Alongside the operator skins themselves, this year's bundles are likely to come loaded with new calling cards and emblems – which have already been hinted at from Nanikos' report – among weapon skins and other cosmetic goodies like those present in last year's sets.
And that's all we have on the Warzone Halloween event 2021 so far. While nothing's been set in stone just yet, you can be sure that we'll update this guide as soon as it is.