What is the best Warzone 2 M16 loadout? The M16 is the Big Mac of Call of Duty weapons – it's familiar, welcoming, and hits the spot when all else fails. Fortunately, the old reliable is back in Modern Warfare 2, and Warzone 2 by extension. While it's not quite the beamer it was in Verdansk, a well tweaked loadout can still perform admirably down in Al Mazrah.
While it might not quite rank among the best Warzone 2 guns and the best Warzone 2 assault rifle options right now, the M16 did receive a number of buffs in the Warzone 2 patch notes for Season 1, indicating that developers Infinity Ward and Raven Software are keeping tabs on its performance. As a mid-range option, the M16 is a great companion in firefights no matter where on the Warzone 2 map you are.
Best Warzone 2 M16 loadout
According to Call of Duty creator 'HAYDZ' this is the best Warzone 2 M16 loadout out there right now:
Muzzle: FTAC Castle Comp
Barrel: 14″ Carbine Shroud
Underbarrel: FSS Sharkfin 90
Rear Grip: Sakin ZX Grip
Optic: SZ Lonewolf Optic
Kicking off with the muzzle, the FTAC Castle Comp plies the M16 with plenty of horizontal and recoil control, adding to those Season 1 buffs. Recoil control is also the name of the game when it comes to the barrel. Here, HAYDZ opts for the 14″ Carbine Shroud, which trades it for a small hit to mobility and effective damage range.
Under the barrel sits the FSS Sharkfin 90, which gives a nice boost to aiming idle stability, though overall aiming stability takes a hit in favour for recoil control when it comes to the rear grip – the Sakin ZX Grip.
Finally, HAYDZ slaps on a SZ Lonewolf Optic and calls it a day. Of course, if the Lonewolf is not to your taste, then you can opt for something that is more to your liking in this category, be it the Cronen Mini Red Dot or otherwise.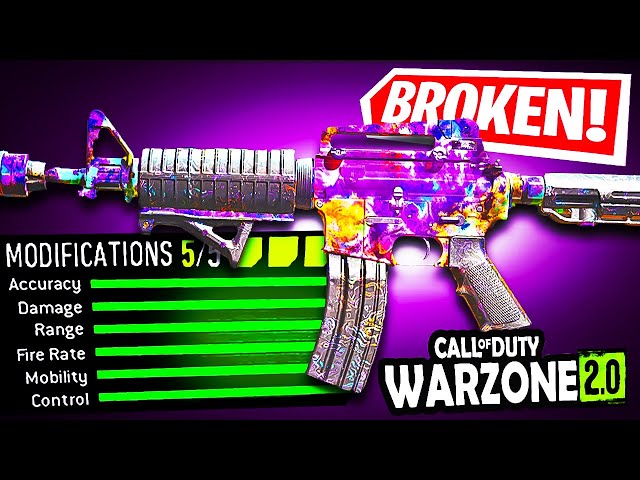 Now you have the best Warzone 2 M16 loadout to hand, it's time to talk class setup. After all, what good is a gun without appropriate perks and equipment to help it shine?
Warzone 2 M16 class setup
If you choose to run a secondary weapon, your options are pretty diverse. As a close-to-mid-range weapon, the M16 has you covered at most distances. If you're used to running SMGs at close range, then the best Warzone 2 Lachmann Sub loadout is your best friend.
Conversely, if you like to post up on a cliffside and take potshots with a sniper, then either our best Warzone 2 MCPR-300 loadout or best Warzone 2 SP-R 208 loadout will suit your needs.
When it comes to equipment, on the lethal front we're big fans of Drill Charges for clearing out holed-up enemies, especially when used in-tandem with the Heartbeat Sensor in the tactical slot.
Finally, for perks, Overkill is a must for that second primary weapon, so pick up the Weapons Specialist perk package. The other perks in the setup aren't necessarily the best for solo play, so if you're happy going without that second primary, then we're big fans of going off-grid with either Scout or Spectre.
And that's everything you need to get the trusty M16 up to snuff for an outing in Al Mazrah. If you're shopping around for other assault rifles then you can't go wrong with our best Warzone 2 Kastov 762 loadout – a gun that doesn't have much recoil.