Sniping is one of Call of Duty's greatest joys – landing that perfect headshot is a high you'll continue chasing for the rest of your gaming life. If you're looking for a great all-rounder in the sniper department, then you need to take the best Warzone 2 LA-B 330 loadout for a spin in Al Mazrah.
Though it is outclassed in different aspects by its classmates, and narrowly misses out on our best Warzone 2 sniper rifle list, if you're after something that has great mobility, power, and firing rate, then the LA-B 330 will be your best friend on the Warzone 2 map. While not currently in the Warzone 2 meta, we feel the rifle really should be, especially with this build.
Best Warzone 2 LA-B 330 loadout
The best Warzone 2 LA-B 330 loadout that we've seen comes from Call of Duty creator 'Polar':
Muzzle: Nilsound 90
Barrel: 23.5" Fluted R-67
Laser: Corio LAZ-44 V3
Bolt: FSS ST87 Bolt
Ammunition: .300 High Velocity
This LA-B 330 build seeks to massively increase the weapon's damage output and accuracy at range, at the cost of handling.
Kicking off at the front end, the muzzle-barrel combination of the Nilsound 90 and 23.5" Fluted R-67 sacrifices stability for bullet velocity and damage range. Much of this lost stability and ADS speed is regained by slapping on the Corio LAZ-44 V3 laser, which is only visible to enemies while aiming – this isn't really a negative when you're going to have a sniper glint anyway.
While you're not exactly going to be quickscoping with this weapon, you do want to make sure you're getting off your shots quickly, especially if that intended headshot ends up in your opponent's shoulder and you need to follow up before they scarper. The FSS ST87 Bolt, therefore, is the bolt of choice to bump up the rate of fire.
Finally, Polar rounds out the build with .300 Armor Piercing rounds. However, their guide was posted before this ammo type received a major nerf. As such, we'd recommend either using the .300 High Velocity rounds to maximise the LA-B 330's bullet velocity potential, or sacking the unique ammo in favour of a different optic if you don't vibe with the stock scope.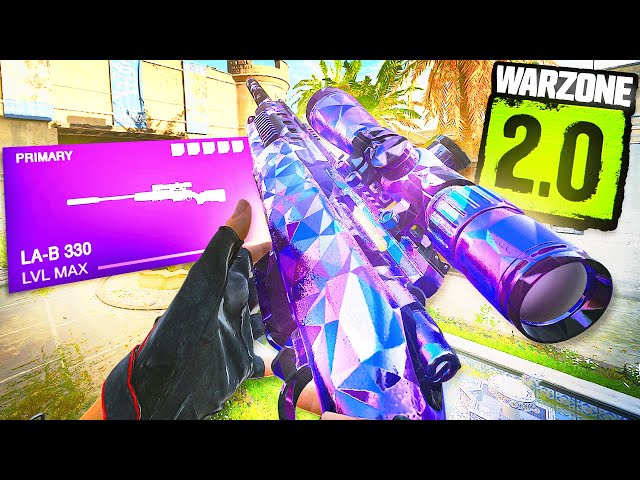 With the LA-B 330 build established, it's now time to talk class setup.
Warzone 2 LA-B class setup
When running a sniper in Al Mazrah, there are two routes you can take with regards to perk packages: taking a second primary weapon, which requires Weapons Specialist to access Overkill, or simply running a sidearm and opening up your options to packages that will help keep you alive.
If you do want to run that second primary, then be sure to consult our best Warzone 2 SMG or best Warzone 2 shotgun lists for loadout inspiration. On the flipside, if you don't care for more firepower, then the Specter package is perfect for detecting where you might run into trouble, while keeping yourself hidden from enemy reconnaissance.
As for equipment, load up on Claymores in the lethal slot to keep yourself nice and safe while posted, and a Heartbeat Sensor in the tactical slot to gain advanced warning of enemy occupants when looking for a new building to call your home.
And that's it for the best Warzone 2 LA-B 330 loadout. With this jack of all trades in tow, the inhabitants of Al Mazrah won't stand a chance.