When it comes to dominating your opponents in Al Mazrah and the new Call of Duty battle royale experience, the EBR-14 is an excellent option. This marksman rifle can hit hard at a distance and shouldn't be frowned upon as floor loot, either. However, here's the best Warzone 2 EBR-14 loadout available – you know, if you want a long-range options for your next game.
With the right attachments, this is one of the best Warzone 2 marksman rifle options available – and could be considered one of the best Warzone 2 guns right now, if we're talking adaptable long-range options. Of course, you're not going to be dealing quite as much damage as the best Warzone 2 sniper rifles with this EBR-14. However, a few well-placed shots should be more than enough to crack enemy Armor Plates.
Best Warzone 2 EBR-14 loadout
So, let's get stuck into it. Here's the best Warzone 2 EBR-14 loadout and weapon build, courtesy of Call of Duty content creator 'FaZe Booya':
Muzzle: ZLR Talon 5
Barrel: 22″ Boremaster Barrel
Underbarrel: Phase-3 Grip
Optic: Schlager 3.4x
Magazine: 20 Round Mag
Kicking things off with the 20 Roung Mag attachment is a no-brainer. The EBR-14's default magazine size is lacking to say the least and this will give you more than enough rounds to dispatch of an opponent before you need to reload.
Similarly, the Schlager 3.4x optic attachment is a fantastic choice from FaZe Booya – although you can swap this out for another optic depending on your personal preference.
As for the rest of this build, you're going to want to improve this weapon's recoil control and stabilisation with the Phase-3 Grip attachment and the muzzle attachment detailed above. The 22″ Boremaster Barrel is going to improve your damage range, too – so, you don't need to worry about any negative effects there.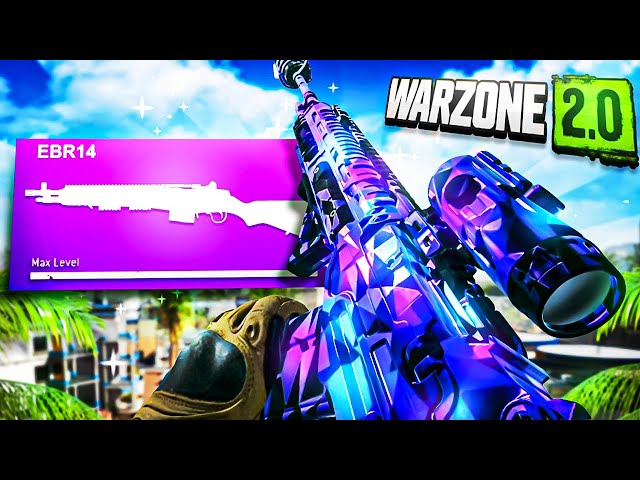 Well, that's pretty much all there is to it. If you're looking to throw together one of the best Warzone 2 loadouts, this is certainly a good starting point. Keep reading to find out more about the rest of the class, though, below.
Best Warzone 2 EBR-14 class setup
In a battle royale game like Warzone 2, you're going to need to make sure you're just as prepared to deal with enemies up-close as you are at a distance. The EBR-14, for all its positive attributes, isn't the best option when it comes to close-quarters combat. So, that's why we recommend checking out the best Warzone 2 Lachmann Sub loadout or the best Warzone 2 Fennec 45 loadout – when it comes to choosing a secondary weapon.
However, that's not all that makes a complete custom class and we need to talk about equipment options. You'll find there's quite a lot of these to loot in Al Mazrah, so you don't need to worry too much about running out of them. However, we still recommend opting for the Drill Charge and the Heartbeat Sensor. The Drill Charge lethal is going to allow you to deal precision explosive damage at a distance and flush enemies out of cover; meanwhile, the Heartbeat Sensor will help you keep track of any enemies trying to flank you.
Finally, we need to mention what the best Warzone 2 Perk Package is for this class. If you're looking to get your hands on your chosen secondary weapon as soon as possible, the Weapons Specialist perk package is the way forward – as this has Overkill. However, if you don't mind splashing out on picking up your secondary weapon from a Buy Station seperately, then you should opt for Vanguard.
But, that's really everything there is to it when it comes throwing together the best loadout using the EBR-14. If you want to double-down on improving your chances in Al Mazrah, you can find out about the best Warzone 2 settings and best Warzone 2 FOV options here.