We have been experiencing the fallout from a global pandemic for some time now, largely cutting off physical contact from our loved ones. During times such as these, the importance of staying connected has never been more prevalent. Fortunately, the noble videogame remains a powerful vehicle for collective entertainment, no matter how far apart you are from each other.
However, distance isn't always geographical. As such, while we're offering up some of the finest games for you all to enjoy over Zoom and the like, this guide also features some of our favourite split-screen titles across different platforms that can be savored offline.
Whether it's cutting up your friends at every corner in Mario Kart, or cutting up tomatoes to help prepare your family a delicious meal in Overcooked, there's a game for everyone in this here guide, so read on if you want some ideas to keep you and your family entertained during these cold, dark evenings.
the best party games
Our best party games list features a concoction of titles that are sure to get you and your merry band of players giggling away. Some titles – such as the Jackbox Party Packs – require a working internet connection to create lobbies, while others can be played offline altogether.
Among Us
The brainchild of indie developer InnerSloth, Among Us is a social deduction game like no other. The game's basic premise is simple: a crew of adorable bean-like people must go out and complete various mini-tasks in order to get everything spick and span. However, among them are two devilish impostors whose task is to covertly assassinate their (hopefully) unsuspecting prey. Throughout the game, players must work together in order to deduce who the impostors are, before it's too late…
Among Us is a game where even your dear, sweet grandma will carve you up like a Christmas turkey, leaving the remnants of your poor, beany body in some dark, secluded hallway for another unwitting player to find. But grandma doesn't just have a big shiny 'kill' button at her disposal, as she can also sabotage certain parts of the map, potentially luring her target into a nefarious trap.
As such, Among Us is super fun, and only features cartoonish violence, meriting its family-friendly rating. There are also a number of third-party mods for the PC version of the game, including proximity chat so you can hear little Timmy's final, fleeting moments as you run past his unfortunate demise. InnerSloth itself continues to update the game as well, with a brand new airship map set to drop in early 2021.
Among Us is available on Steam, iOS, Android, and Nintendo Switch. If you're looking for other social deduction games, then here's a list of games like Among Us.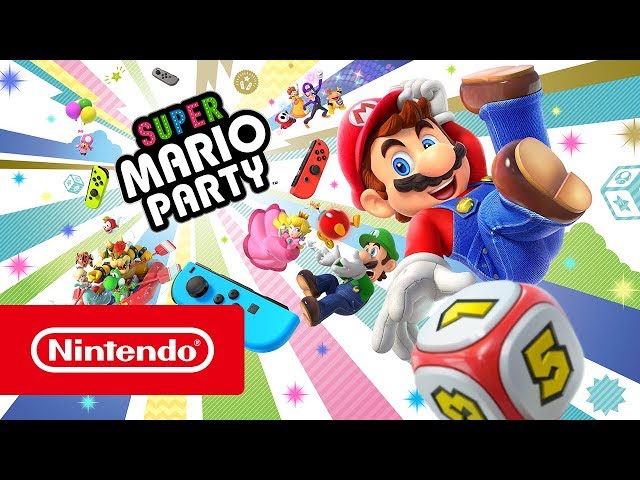 Super Mario Party
Super Mario Party for the Nintendo Switch is a collection of a whopping 80 minigames, stretched across five different modes. You will be facing off against your nearest and dearest in a board game-style format, with each roll of the dice taking you ever-closer to victory. However, certain spots on the board – as is tradition in a classic tabletop game – will throw you all into special events (such as the aforementioned minigames, some of which you can check out here).
During the course of the game, players will accrue coins to spend on items and stars. Stars themselves are the key to victory, as the player sporting the most at the end of the game is deemed the victor. To spice things up a bit, Nintendo has also implemented a number of different boards, ensuring a different (but equally disorderly experience) each time.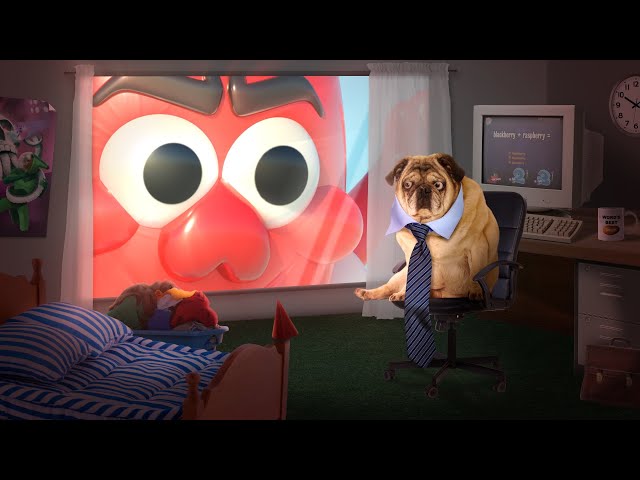 The Jackbox Party Packs
The Jackbox Party Packs are a real mixture of magical minigames. Each pack usually consists of five games – the details for what the most recent pack entails can be found here – of varying design that will either require collaborative camaraderie, or result in a fierce battle to out-wit your foes.
The Jackbox Party Packs are also pretty accessible from a hardware requirement standpoint, as older PCs can easily run the game. Adding players is also really simple, with players only requiring a smartphone to join in with a game code on the Jackbox website. What's more, only one player needs to actually own the game, saving plenty of pennies for everyone involved. The Jackbox Party Packs are available on Steam.
If you don't fancy picking up a whole pack, then you can nab two of Jackbox's most popular mini-games individually.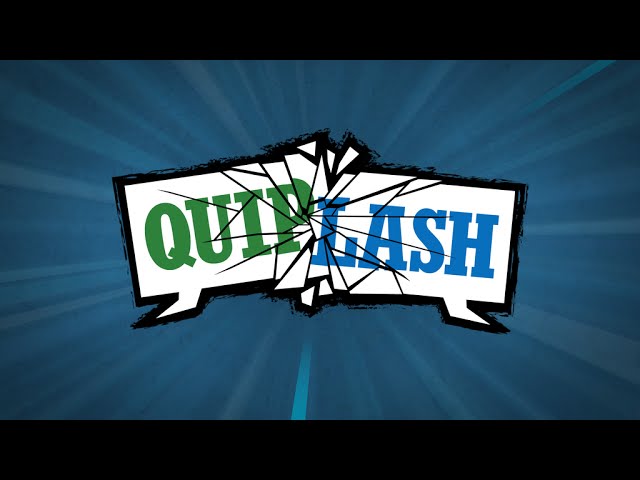 Quiplash
The game that's all about being the wittiest witster in the West (or anywhere else for that matter), Quiplash has had a number of different iterations over the years, each offering hours upon hours of the silliest possible fun. Each round features a series of humorous prompts, with players tasked to think of their best (or worst) response. When pitted against each other, only the side-splittingly funniest responses will take home the points.
Although Quiplash favours more mature audiences, it does feature a family-friendly filter, removing the more suggestive prompts from its repertoire. This party game requires a minimum of three players to begin, with a maximum of eight jokers able to take part. Quiplash, like the rest of the Jackbox games, is available on Steam.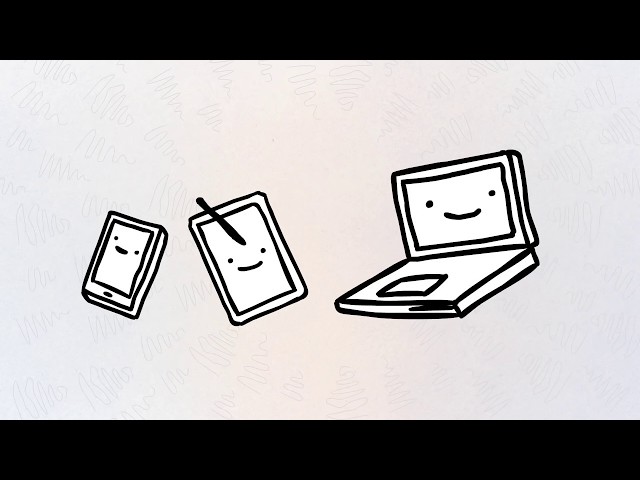 Drawful 2
Drawful 2 is the ultimate test of how creative your family or friends are as a cohesive, well-oiled, art-manufacturing machine. The first round begins with a prompt that two members of the party must draw. At the end of the round, the best rendition is voted upon, with the victor securing some precious points. The next budding Picassos must then add to the previous creation, and so on and so forth until the masterpiece has been completed.
The art of Drawful isn't in the player's ability to craft exquisite works that could be hung in the Louvre, but about being able to take a prompt and make it as utterly ridiculous as humanly possible. As such, it is the perfect game to perfect those 12-headed stick men with chainsaw arms… or something like that. You can check out Drawful 2's Steam store page here.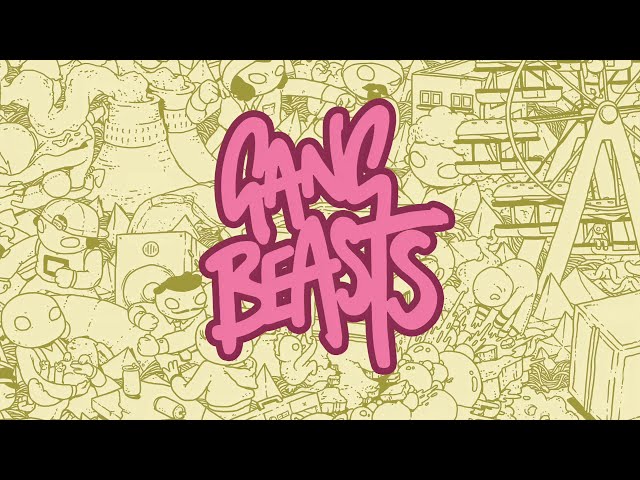 Gang Beasts
Imagine that you've whipped up a nice jelly. Now imagine that jelly has developed sentience, morphed into a humanoid shape, and has started beating the now-living gelatin out of other humanoid-shaped jellies. Well, that's Gang Beasts – a slapstick beat-em-up party game – in a nutshell.
The perfect game if you and a friend or family member have got beef to straighten out, Gang Beasts offers a multitude of arenas to stage your showdown. From launching each other off of a moving truck, to lobbing each other off of a lighthouse, to hurling each other off of a giant zeppelin several thousand feet in the air, the game will surely have a suitable height for your friend or family-flinging needs.
If you are looking for something more collaborative, then the game also features a mode where you can fight off waves of enemies together in a big, squidgy, royal rumble. Gang Beasts can host up to four players, both through local and online multiplayer. You can launch yourself over to the game's Steam page here. The game is also available on PlayStation 4, Xbox One, Mac, and Linux.
the best split-screen games
Our best split-screen games list doesn't only feature two-player experiences, so don't think you won't be able to find something to play with the whole household. Some titles – such as Mario Kart – may divide your screen in half, meriting a larger TV or monitor to ensure the experience isn't affected too much. The majority of games on this list, however, place players in close proximity to one-another, removing the need to segment them.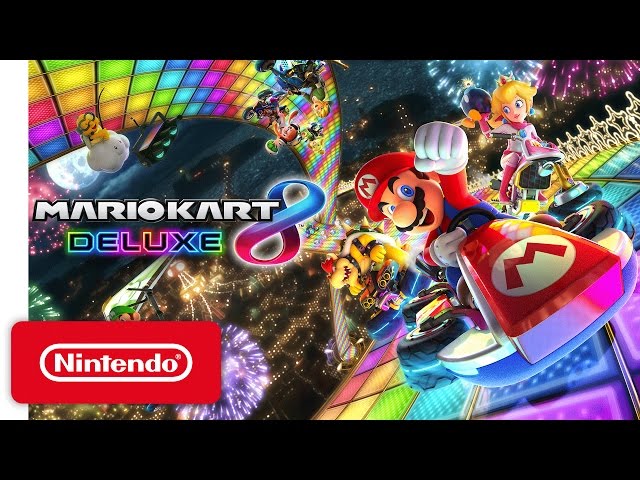 Mario Kart 8 Deluxe
The ideal racing game for every Nintendo fan, Mario Kart 8 Deluxe will put you in the driving seat of one of the franchise's most iconic characters. But if you think this is a simple racer with the iconic mustachioed plumber slapped on the front, then you are sorely mistaken…
Mario Kart games have traditionally been filled with all sorts of rather zesty items for players to pick up while they're zipping around iconic courses such as Bowser's Castle, Moo Moo Meadows, and Rainbow Road. Indeed, Mario Kart 8 Deluxe is no exception, sporting an assortment of over 20 goodies, including a fire-spewing flower, a chompy piranha plant, and a lightning bolt that shrinks your opponents down to size.
Mario Kart 8 Deluxe can be played split-screen on a docked Nintendo Switch, with up to eight players on a single cartridge through the addition of extra Joy Cons. It also supports online play as long as you have a Nintendo Switch Online subscription.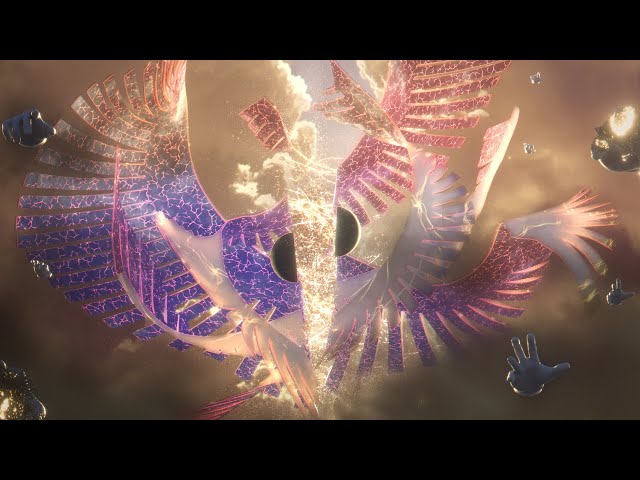 Super Smash Bros. Ultimate
Welcome to Super Smash Bros. Ultimate: the only game where you can beat the snot out of Mario as Sephiroth from Final Fantasy. And it is glorious. This arcade-style beat-'em-up is packed to the rafters with an eclectic roster of characters from across beloved franchises such as Pokémon, Mario, Fire Emblem, Final Fantasy, and Minecraft. Yes, even Minecraft Steve and his pickaxe are picking apart the competition in Ultimate's multitude of arenas.
Super Smash Bros. Ultimate also benefits from the Nintendo Switch's ability to connect up to eight Joy Cons, ensuring nothing but the finest amount of bedlam could possibly come your entourage's way.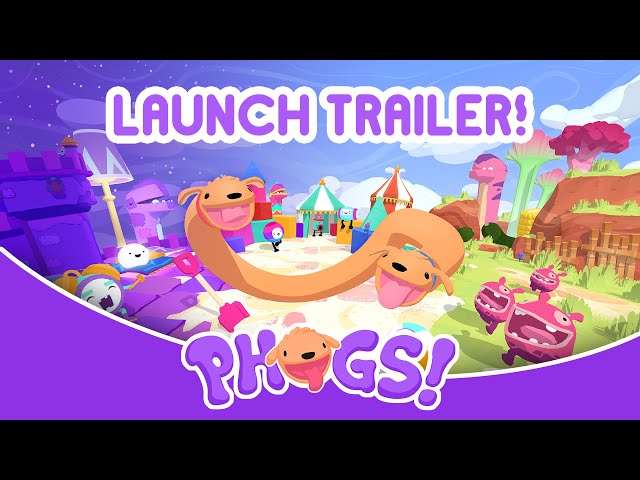 PHOGS!
So there's this dog called Red. Red doesn't have any feet. But what he does have at the bottom of his body instead is another head which belongs to a dog named Blue. These conjoined canine compadres only have three things on their two minds: eating, sleeping, and playing. And this, dear reader, is what underpins PHOGS!: a physics-based puzzler in which these two particularly peppy puppers must scoot their way around three different worlds which, as you may have guessed, correspond with their greatest passions in life.
PHOGS! can be played either as a single or two-player experience (both locally and online). For bonus immersion, developer Bit Loom Games has also implemented shared-controller gameplay, allowing players to test their synchronicity with one-another through the trials and tribulations of two very good boys. We can imagine the sorts of shenanigans this will entail…
PHOGS! is available on Steam, Nintendo Switch, PlayStation 4, Xbox One, and Google Stadia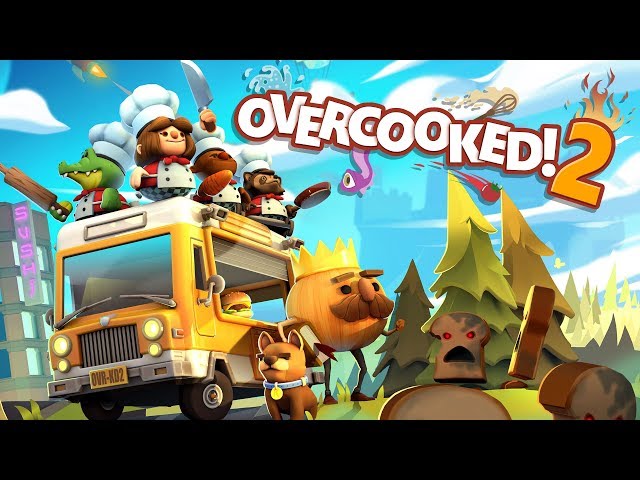 Overcooked 1 & 2
Pure, chaotic couch co-op that will embroil any couch potato, the Overcooked games will soon have you (and up to three other would-be chefs) cooking up a storm. The game's premise is simple: orders come in, food is prepped, and beautiful Michelin star quality dishes are pinged out. Rinse off those dirty dishes and repeat. However, the process isn't quite as simple as it seems.
In Overcooked, certain kitchens may have divisions (physical ones primarily, but if dad keeps burning the pizzas then perhaps familial ones too). This means that certain players may only have access to certain tools or ingredients. As such, planning your production line around obstacles is the key to success. This is complicated further by the fact that kitchens are oftentimes dynamic, constantly changing over the course of a level in the hopes of throwing off your teamwork. Can you handle the heat? Or will chaos consume you?
Overcooked 1 & 2 are available on Steam, PlayStation 4, Xbox One, and Nintendo Switch. Additionally, a remastered version of both games, Overcooked! All You Can Eat, is available on Playstation 5 and Xbox Series X|S. Overcooked has also made it into the best co-op PC games list over on sister site PCGamesN, just in case you wanted even more inspiration.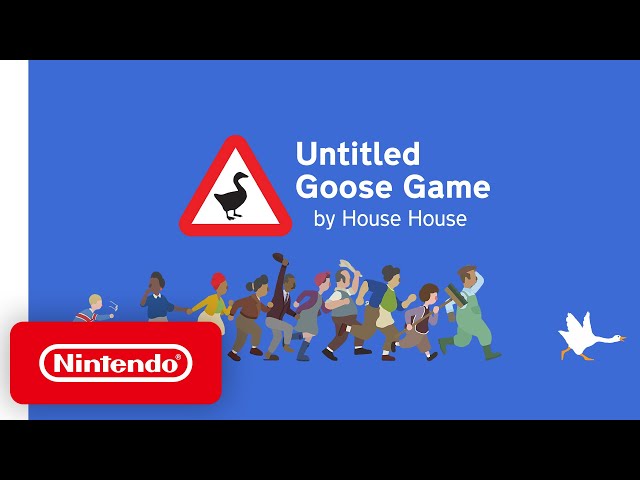 Untitled Goose Game
Honk, honk, honk, honk, honk honk, honk, honk honk honk, honk… honk.
Translation: The Untitled Goose Game will see you take control of one of the most evil beasts known to humanity in the form of a rather horrible goose. Throughout your reign of destruction you will partake in such despicable acts as 'untying the local townboy's shoes so he falls flat on his face', 'trapping the local townboy in a telephone box', and the classic devious deed, 'yoinking the townboy's toy plane, placing the toy plane in the local shop, and then making the townboy buy it back'. 'But why would you do such a thing?' you ask. Well, because the game's to-do list scratches the completionist part of our collective lizard brain, ok?
Now, these schemes are indeed dastardly in isolation, but what if we told you that the game has been recently updated to include a second, equally-wicked goose? That's right, the Untitled Goose Game is also a two-player foray – for the fowlest of play. Unfortunately for those hoping to play cooperatively online, the title only officially supports local co-op. However, PC players can utilise Steam's Remote Play (you can flap over to the game's store page here), while PlayStation 4 players can use the Share Play feature in order to stream the title and play with others virtually. The game is also available on Mac, Nintendo Switch, and Xbox One.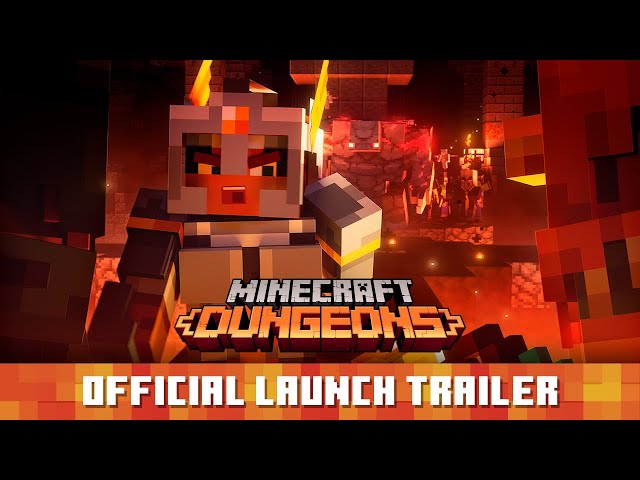 Minecraft Dungeons
Minecraft Dungeons is, as the title suggests, a dungeon-crawler much in the same vein as games like Diablo and Hades. And with that designation comes the usual characteristics for a game of this type – hordes of fodder to cleave through on ever-changing floor layouts, magical weapons with devastating effects, and more loot than you can shake a magical sword at. While you can try and explore these mystery-filled locales on your own, exploration is always best with friends. Fortunately, then, Dungeons features both online and local co-op for up to four players. Here are some handy guides on Minecraft Dungeons' enchantments and artifacts to help you get started.
Minecraft Dungeons is available on PC (Xbox Store and Game Pass), Xbox One, Xbox Series X|S, Nintendo Switch, and PlayStation 4.
Call of Duty: Black Ops Cold War
Call of Duty: Black Ops Cold War – the sixth instalment in the Black Ops series – stations itself in the 1980s, following the height of the Cold War. Although players can't team up to undertake the game's core campaign, split-screen is available to those looking to either take on other operatives online, or mow down legions of the undead in the highly popular zombies mode.
If you are looking for that story element, then have no fear, as Cold War's zombies will have you explore an old Nazi lab in Morasko, Poland, which had been used to conduct a particle-accelerating experiment dubbed 'Projekt Endstation'. As you (and your accomplice if you do choose to play split-screen) see off progressively-meatier waves of hollering zombies, the lab's secrets will eventually be revealed. And, with all things involving space, time, and giant particle accelerators, things may get a little gnarly. But we'll save that for you to discover.
Call of Duty: Black Ops Cold War is available on PC (Battle Net), Xbox One, Xbox Series X|S, PlayStation 4, and PlayStation 5.
So, there you have it: an eclectic assortment of games to be enjoyed by all. We hope you all have a great time with these titles, and please continue to stay safe over the coming months.