Videogame soundtracks might be something that go a little under the radar when it comes to new releases, but the Assassin's Creed Mirage soundtrack is promising something special, and quite unique – a fusion of western music with Arabic elements that reflects the target audience enjoying the best Assassin's Creed games and Assassin's Creed Mirage's setting of ninth-century Baghdad. If you're wondering how Ubisoft is doing that, it's by enlisting videogame soundtrack newcomer Brendan Angelides, Palestinian composer and professor Akram Haddad, and the New York Arabic Orchestra delivering a composition that conveys the raw emotions running through the entire experience.
Discussing the decision to agree to compose the soundtrack for Assassin's Creed Mirage with The Guardian, Angelides was "excited at the prospect of diving into unfamiliar territory", and that this "was an opportunity to connect with a community that has a tremendous wealth of talented musicians".
Prior to this, Angelides composed the soundtrack for 13 Reasons Why, Billions, and the Netflix mini-series Echoes. He has also released a number of albums under his stage names Eskmo and Welder.
With authenticity in mind, when it came to composing the soundtrack ahead of the Assassin's Creed Mirage release date, Andelides found himself reaching out to a number of talented artists – Emel Mathlouthi, a New York-based Tunisian performer, and Layth Sidiq, a Iraqi-born Jordanian violinist and the artistic director for the New York Arabic Orchestra – which led him to Haddad. The Guardian has described this as a "match made in heaven", due to the fact that the music for the game needed to be "primarily aimed at a Western audience" while "incorporating Middle Eastern elements for historical accuracy".
It also sounds like the two have an immense amount of respect for one another, with Haddad praising Angelides' "ability to blend electronic and acoustic elements in a way that feels both organic and cutting edge", while Angelides "could not overstate his appreciation for the way Haddad embodied a sonic blend of Western meets Middle Eastern".
"When incorporating elements from Arabic music into a Western soundscape," Haddad says, "it's essential to be mindful of the specific musical idioms and techniques that are characteristic of that tradition… the use of trills, microtones, [and] glissandos… can add a distinctly Arabic flavor to a melody, but these elements need to be carefully intergrated into the harmony and overall texture of the piece to avoid sounding out of place, or forced".
Haddad continues on to explain that it's also "important to be mindful of the intended audience and musical context". Assassin's Creed Mirage's Basim might be someone familiar to fans of the series, but this period of history isn't something we've really seen explored before in the Assassin's Creed series – and rarely elsewhere in the videogame industry. So, it's important to see Haddad and Angeledis are aware that this soundtrack is going to need to draw on Western practices as much as it is Arabic ones.
With it sounding like Jesper Kyd is taking a step back from writing this composition, someone who worked on Assassin's Creed Valhalla, Revelations, Brotherhood, 2, and the original stealth-action game, Angelides and Haddad's partnership could give way to something truly spectacular and wholly unique. The Guardian describes is as "powerful" and the comments from both musicians definitely bode well.
We don't know for certain if the two worked on the music used in the Assassin's Creed Mirage cinematic reveal trailer, which you can watch below, but it certainly sounds like the unique blend of orchestral and electronic being talked about – and it sounds truly fantastic.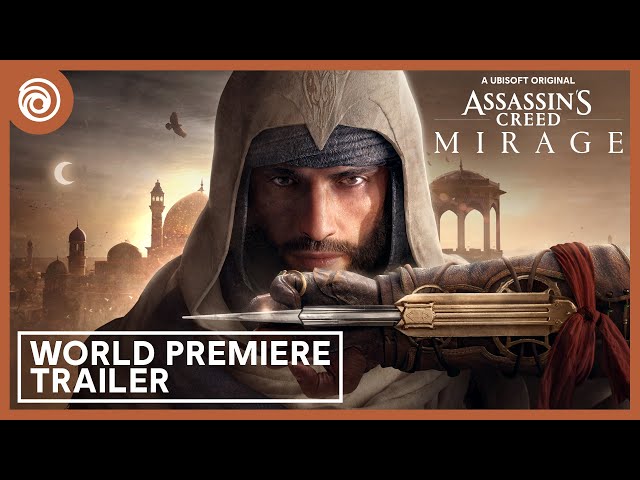 It's not as easy as it could be to isolate the soundtrack between the clashing swords and Shohreh Aghdashloo's narration, but it's certainly something that gives you goosebumps when you listen to it – and that's just the trailer.
Is this going to be one of the best games of all time? It's hard to say, but there's hope. The soundtrack, however, really could be one of the best we get in 2023 – if not one of the best we've seen for a long time. Of course, that also remains to be seen, but it all sounds hopeful for those of you out there that enjoy the music of a game as much as the graphics. And, when you consider the fact that this might be more like IO Interactive's Hitman than you realize, we're really in for a treat.