Look, we all know that Apex Legends is one of the best battle royale games out there right now. But, what if we took this incredibly popular competitive FPS game and translated it into a theme park? Well, one Planet Coaster expert has done just that – virtually, anyway. Talented theme park constructor and die-hard Apex Legends fan 'DoxNotch' has created Amber Rock Station, an Apex Legends-themed theme park set in a former IMC frontier outpost, in Frontier Development's Planet Coaster and it deserves so much more praise. Not only is that incredible in itself, but it also took DoxNotch a whopping year and a half to put together.
In DoxNotch's incredible Amber Rock Station theme park, players are able to explore and experience 13 attractions based on characters from Respawn Entertainment's free-to-play battle royale shooter – and each one has a little bit of a story to it, too.
For example, take Wattson's Tesla Coiler – one of the first rides you come across when you enter Amber Rock Station. Visually, this ride is themed around Wattson's experimentations, electricity, and tesla coils – as you might already expect. However, DoxNotch explains that the concept behind this virtual experience is that the people riding the Tesla Coiler are actually there to weigh down the ride's spinning cars to help Wattson charge her latest inventions.
In a similar fashion, players can also explore Valkyrie's Pilot Academy in Amber Rock Station – a high-speed roller coaster with twists, turns, and sweeping drops. This ride's concept is a little more obvious, with the riders essentially joining a pilot's academy run by Apex Legends' Valkyrie. However, that doesn't mean it isn't one of the most spectacular rides in this virtual theme park.
As you can see in DoxNotch's video tour of Amber Rock Station below, they have utilised Apex Legends' voice lines, sound effects, and custom-built assets to create a Planet Coaster park that perfectly encapsulates the Outlands and the champions of the Apex Games (barring Newcastle and Vantage).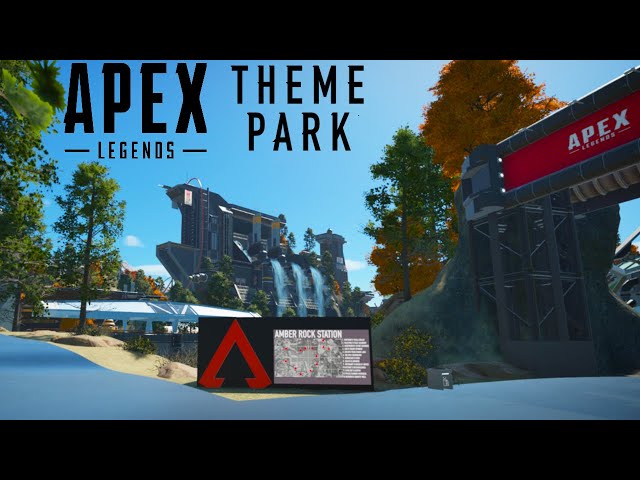 The signature ride of Amber Rock Station is called Escape From Singh Lab, an immersive experience with a thrilling narrative to tie the whole park together. In this ride, DoxNotch has created a virtual experience where riders are unwitting subjects being prepared to test a new branch of warp technology. However, as this testing is about to start, a squad of Wraith, Crypto, and Mirage arrive to help you get out alive – hence the ride's name.
With some clever audio editing, and a bit of voice acting work from DoxNotch himself, this ride is clearly the magnum opus of the theme park and fantastic experience, even virtually. We just hope someone with a lot of money and a lot of love for Apex Legends sees this and thinks about making it all a reality.
If you own Planet Coaster and you want to check all of this out for yourself, you can actually download the Apex Legends-themed Amber Rock Station park for yourself by following this download link right here. Just note that you're going to need access to almost every DLC pack for this game – as a lot has gone into bringing Amber Rock Station to life. We know the Apex Legends community has been stumped by a mysterious yellow symbol in recent weeks, so maybe it's time to blow off some steam with a trip to this incredible (virtual) theme park. It isn't necessarily going to help you climb the Apex Legends ranks, but it looks like a lot of fun.