When Apex Legends first launched back in 2019, the popular battle royale game shipped with a single map – King's Canyon. Since then, Respawn has introduced World's Edge in Season 3, and Olympus in Season 7. Each map has also undergone sweeping changes from season to season, with Season 10: Emergence revamping World's Edge.
However, over time, and despite their numerous iterations to remain as fresh as possible, maps begin to wear out, and players start looking to something new. With four seasons separating the two extra Apex Legends maps released so far, Season 11 is hotly rumoured to introduce yet another new Apex Legends map to the rotation.
So far, there have been a number of reported leaks surrounding the new Apex Legends map for Season 11, including its supposed name – so far 'Tropic Island' and 'Storm Point' have been mentioned. The new map could also hold links to Bangalore's missing brother, Jackson.
But enough with the talking, here's everything we know about the new Apex Legends map for Season 11 – Tropic Island / Storm Point.
Apex Legends new map Season 11 release date
The new Apex Legends map will likely come out on November 3, 2021 with the launch of Season 11.
With Apex Legends seasons typically lasting three months, we can expect Season 11 to drop at the beginning of November. Apex Legends Emergence began on August 3, so we reckon Season 11 could drop on or around November 3.
Apex Legends new map Season 11 teasers
So far there hasn't been a whole lot on the teaser front when it comes to the new Apex Legends map.
A new POI added to Olympus during the Evolution Collection Event patch may link to the new map. The Parachute Pod – a bright orange spherical pod which is located between Powerstation East and the Welcome Center – houses a few little Easter eggs, including a reference to Bangalore's brother, Jackson, and a "contacting origin ship" message which is believed to be connected to a ship on Tropic Island.
This new pod on Olympus seems like it's gonna be important 👀 pic.twitter.com/K6gFJpqWsW

— Shrugtal (@shrugtal) September 14, 2021
Dataminer 'Shrugtal' stated that we could be in for some fresh teasers around mid-October – just a few weeks before Season 11 is set to go live. Since then, the first official image of the new Apex Legends map has been released, which players can check out inside the pod.
First image of "Tropic Island" is now visible in the Olympus Pod. pic.twitter.com/geuX4xaHbn

— Shrugtal (@shrugtal) October 16, 2021
Apex Legends new map Season 11 leaks
The latest leak of the new Apex Legends map we have to hand has been shared by YouTuber 'Thordan Smash', which apparently showcases Tropic Island / Storm Point – complete with POIs – in its entirety. The colours look slightly skewed, though pro player Martin 'gdolphin' Skrydstrup notes this was also the case when the Olympus map leaked at the end of Season 6.
The earliest reports surrounding the new Apex Legends map came back in August 2020, when Shrugtal discovered the name 'Tropic Island' within the game's files. Based on the name, it takes little to imagine that this is the name of a new map, though since then it has also been referred to as 'Storm Point'.
Tropic Island map pic.twitter.com/5tz0lLNkab

— Shrugtal (@shrugtal) August 18, 2020
For the best part of a year after the initial report, things were quiet on the information front. That was until 'GarretLeaks' shared images of Tridents – the hovering vehicles found on Olympus – tagged 'Tropics' in July. As such, it looks like the new map not only will sport the transport, but they'll be pretty dirtied up. This was the first indication that there'd be muddy section on Tropic Island.
New Map – "TROPICS" will have Tidents, these can be differentiated through their dirt splashes.
More Info on vid soon 🙂 pic.twitter.com/vipMWMqliz

— Garret (@GarretLeaks) July 18, 2021
In August, Shrugtal posted a video musing on all of the information discovered about Tropic Island so far. The dataminer suggests that the map could be located on the planet Gaea, birthplace of Rampart, Caustic, and Crypto. Additionally, players may have to kill off AI carthage spiders – which are indigenous to the planet – in order to snag higher tier loot.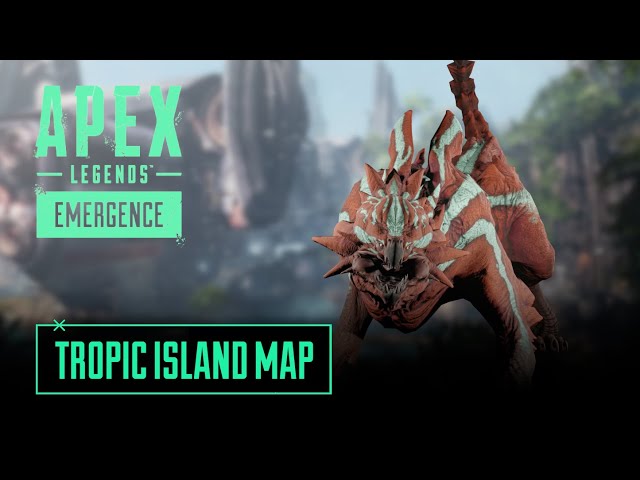 Most recently, screenshots supposedly showing off Tropic Island's landscape and topography have found their way to Reddit. From these images we can see a mixture of muddy patches – supporting previous leaks – sandy beaches, and a cluster of islands out at sea. Taking a Trident may just be the best way to get to some of these POIs, it seems.
We also now know that the beach shot is one of the official teasers for the new Apex Legends map, which can be found in the Olympus Pod. It's possible, then, that these other images could very well be follow-up teasers.
And that's all we have on the new Apex Legends map for now. Needless to say, we will be keeping this page updated as new information appears, and Respawn eventually confirms or denies some of these rumours. While you're waiting for the new Season 11 map, check out our Apex Legends tier list so you know which legends you should be playing when it drops.