One of the more obscure objectives you do in Asobo's rat-infested sequel, A Plague Tale Requiem is not to kill the guard on the docks. This objective gets you a trophy or achievement and is the preferred way to engage with the guard as Lucas doesn't want you to kill him. And, this task actually harkens back to a similar one in Innocence which asked you to save a guard from being devoured. However, below you can find out what you need to do to not kill the guard this time in Requiem.
How to not kill the guard on the docks in A Plague Tale Requiem
To avoid killing the guard on the docks during Chapter 4: Protector's Duty, sub-chapter Obligatory Cooperation in A Plague Tale Requiem you need to do the following:
Wait for the soldier who you worked with to walk down the steps at the end of the section of the level
When he stands still use your sling to fire an Ignifer at his chest. This will set his clothes on fire
Shoot a Tar rock at his chest using your sling to boost the burning and brightness, clearing the rats
Run past the soldier who is disorientated and go through the door on your left
As you can see, the method to complete this trophy or achievement isn't the easiest to work out on your own as you never have to set enemies' clothes on fire in the game. But, when put into practice, actually being able to do this isn't hard at all. If you are also looking for a video guide, you can catch one below from 100% Guides.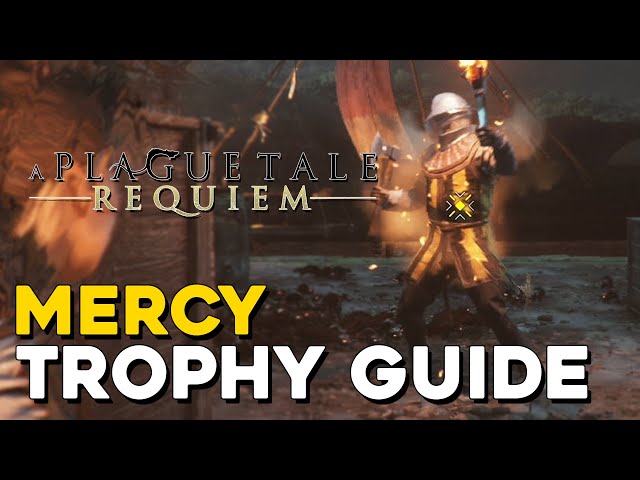 Once you have figured out how to not kill the guard on the docks in A Plague Tale Requiem to get the 'Mercy' achievement and trophy, you can continue on through the chapter list, making your way through the game and unlocking some of the skills or finding more collectibles. If you are looking for more tips to help you through the game, check out our A Plague Tale Requiem walkthrough which is filled with useful information to help you out on your journey.